INNOVATION LEARNING ISLAMIC EDUCATION THROUGH SEMESTER CREDIT SYSTEM (SKS)
Salis Irvan Fuadi

Faculty of Tarbiyah and Teacher Training
Keywords:
Learning PAI, Semester Credit System (SKS)
Abstract
Education must be responsive, innovative and aspirational in accordance with what is needed by the community. This research describes the learning innovation of Islamic Education through Semester Credit System (SKS). The learning innovation of Islamic Education (PAI) through Semester Credit System (SKS) can be innovated in terms of curriculum, materials, methods and learning evaluation of Islamic Religious Education (PAI). Innovation to curriculum with Semester Credit System with continuous pattern. Innovation of the material is done by dividing the subjects of PAI into 4 subjects consisting of PAI 1 Fikih, PAI 2, Akhlak, PAI 3 Al-Qur'an Hadith and PAI 4 SKI. Innovation of learning methods offered to be applied as a whole in the subjects of Islamic Religious Education is student centered or learning centered on learners and collaborative learning. The learning evaluation innovation is generally done by taking into account and adhering to the characteristics and principles of evaluation development that still refer to the evaluation model or assessment on the curriculum of 2013.
Downloads
Download data is not yet available.
References
Badan Standar Nasional Pendidikan, Panduan Penyelenggaraan Sistem Kredit Semester Untuk Sekolah Menengah Pertama/ Madrasash Tsnawiyah dan Sekolah Menegah Atas/Madrasah Aliyah, Jakarta: BSNP, 2010..
Hunafa: Jurnal Studia Islamika Cet.I, Malang: UMM Press, 2009. Vol. 10, No. 1, Juni 2013: 43-73.
Lampiran IV Peraturan Menteri Pendidikan dan Kebudayaan Nomor 81A Tahun 2013, Tentang Implementasi Kurikulum 2013 Mengenai Pedoman Umum Pembelajaran.
Longman Dictionary of Contemporary English.
Lunenburg , Fred C., Theorizing About Curriculum, Conceptions and Definitions,International Journal Of Scholary Academic Intellectual Diversity, Vol. 13. Number I, 2011
Nata, Abuddin, Filsafat Pendidikan Islam, Jakarta: Logos Wacana Ilmu, 1997.
Nawawi, Hadari, Metode Penelitian Bidang Social, Yogyakarta: Gajahmada University Press.
Peraturan Menteri Pendidikan dan Kebudayaan Nomor 69 Tahun 2013, Tentang Kerangka Dasar Dan Struktur Kurikulum Sekolah Menengah Atas/ Madrasah Aliayah.
Permendikbud No 59 tahun 2014
Qowaid, dkk., Inovasi Pembelajaran Pendidikan Agama Islam (SMP), Cet. I, Jakarta: PT. Pena Citasatria, 2007.
Rogan, William R., Modern Elementary Curriculum, New York: Chicago: San Fransisco, Holt Rinehart and Winston, 1966.
Rosana , Dadan, "Penguatan Kurikulum Dengan Pendidikan Kewirausahaan Dan Pembelajaran Aktif Untuk Pengembangan Karakter Bangsa", Jurnal Pendidikan Karakter, journal.uny.ac.id., Tahun IV, Nomor 2, Juni 2014.
Sanjaya, Wina. Perencanaan dan Desain Sistem Pembelajaran, Cet.II, Jakarta: Kencana Prenada Media Group, 2009.
Shadily, Hasan, Kamus Inggris-Indonesia, Jakarta: Gramedia, 1983.
Slameto, Proses Belajar Mengajar Dalam Sistem Kredit Semester (SKS), Jakarta: Bumi Aksara, 1991.
Tanner , D.Tanner an d L. Tanner, Curriculum Development, Theory into Practice, Ed. Englewood Cliffs, NJ: Merrill, 1995.
Tim Penyusun, Model Penyelenggaraan SKS di Sekolah Menengah Atas, Jakarta: Direktur Pembinaan SMA, 2015.
Tim Redaksi Fokus Media, UU Sisdiknas Tahun 2003, Bandung: Fokus Media, 2003.
Tim Redaksi Fokusmedia, Undang-Undang Sistem Pendidikan Nasional, Bandung: Fokusmedia, 2003.
Umar, M. Taufiq, Inovasi Pendidikan Melalui Problem Based Learning, Bagaimana Pendidik Memberdayakan Pemelajar di Era Ilmu Pengetahuan, Cet.II, Jakarta: Kencana Prenada Media Group, 2010.
Undang-Undang Nomor 20 Tahun 2003 Tentan Sistem Pendidikan Nasional.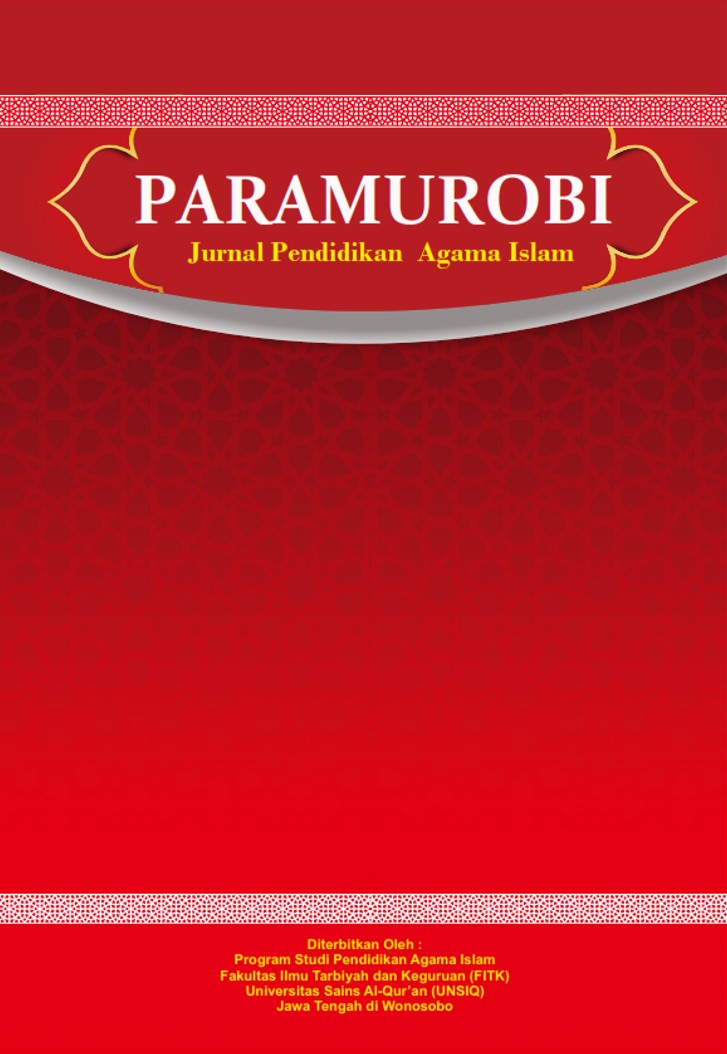 How to Cite
Fuadi, Salis. 2018. PARAMUROBI: JURNAL PENDIDIKAN AGAMA ISLAM 1 (1), 71-83. Accessed June 2, 2023. https://doi.org/https://doi.org/10.32699/paramurobi.v1i1.179.
Copyright Notice
1. Authors retain copyright and grant the journal right of first publication with the work simultaneously licensed under a Creative Commons Attribution License (CC BY-SA 4.0) that allows others to share (copy and redistribute the material in any medium or format), and adapt (remix, transform, and build upon the material) the work for any purpose, even commercially with an acknowledgement of the work's authorship and initial publication in this journal.
2. Authors are able to enter into separate, additional contractual arrangements for the non-exclusive distribution of the journal's published version of the work (e.g., post it to an institutional repository or publish it in a book), with an acknowledgement of its initial publication in this journal.
3. Authors are permitted and encouraged to post their work online (e.g., in institutional repositories or on their website) prior to and during the submission process, as it can lead to productive exchanges, as well as earlier and greater citation of published work (See The Effect of Open Access).
STATISTICS
Abstract viewed = 33 times pdf (Bahasa Indonesia) downloaded = 33 times