REVITALIZING THE FUNCTIONS OF THE MOSQUE AS THE JUVENILE DELINQUENCY PREVENTION EFFORT
Salis Irvan Fuadi

Fakultas Ilmu Tarbiyah dan Keguruan UNSIQ Jawa Tengah
Abstract
masjid difungsikan sebagai pusat kegiatan umat di zaman Rasulluah SAW. Sekarang
ini fungsi masjid hanya digunakan dalam kegiatan yang sifatnya keagmaan saja seperti
sholat. Masyarakat terutama remaja jarang memaksimalkan masjid untuk kegiatan selain
agama. Hal ini bagi remaja akan menimbulkan rasa sungkan pada masjid dan yang lebih
mengkhawatirkan kegiatan remaja kurang terkontrol. Kenakalan remaja sudah sangat
merata di lingkungan masyarakat. Revitalisasi fungsi masjid sebagai upaya mencegah
Juvenile Deliqeuecy (Kenakalan Remaja) sangat diperlukan. Adapun revitalisasi fungsi
masjid sebagai upaya pencegahan Juvenile Deliquency (Kenakalan Remaja) meliputi bidang organisasi, ibadah, pendidikan, sosial dan ekonomi. Dalam bidang organisasi yaitu
memaksimalkan peran ikatan remaja masjid, dalam bidang ibadah yaitu program "malu
tanpa berjama'ah", kemudian dalam bidang pendidikan yaitu "masjid gudang ilmu", serta
" masjid solusi msyarakat" revitalisasi bidang sosial dan yang terakhir bidang ekonomi
yaitu " ekonomi remaja berbasis masjid".
Downloads
Download data is not yet available.
References
A Hj Ab Rahman, A Mohamed, W.I.Wan
Ahmad, F Adam, Z Mohamad. 2012.
"Religious Education Programs In The
Rural Mosques, Terengganu, Malaysia".
British Journal of Humanities and Social
Sciences. November 2011, Vol. 2 (2).
Amin, Samsul Munir. 2009. Sejarah Peradaban
Islam. Jakarta: Amzah
Arief, Armai. 2014. Sejarah Pertumbuhan dan
Perkembangan Lembaga- Lembaga
Pendidikan Islam Klasik. Bandung:
Angkasa.
Astari, Puji. 2014. "Mengembalikan Fungsi
Masjid Sebagai Pusat Peradaban
Masyarakat". Jurnal Ilmu dakwah dan
Pengembangan Komunitas. VOL. 9
No.1 Januari 2014.
Dewan Redaksi Ensiklopedi Islam. 1994.
Ensiklopedi Islam, Cet. Ke 2, PT. Jakarta:
Ichtiar Baru Van Houve.
Fahmi, Asma Hasan. 1997. Sejarah dan
Pendidikan Islam. Jakarta: Bulan
Bintang.
Farahati, Abbasali. 2011. "The Mosque as the
First Political-Ideological Base in the
Islamic Society". Journal of Politics and
Law Vol. 4, No. 1; March.
Fathurrahman. 2015. "Masjid Sebagai Pusat
Pendidikan Islam Masa Klasik". Jurnal
Studi Pemikiran Pendidikan Agama
Islam Kreatif, Vol. XII No. 1 Januari
2015.
Hasarudin. 2011. "Madrasah pada Masa Islam
Klasik: Analisis Historis atas Metode
yang Digunakan," Hunafa: Jurnal Studia
Islamika vol. 8, No. 1 Juni 2011.
Maqdisi, George. 1981. The Rise of Colleges:
Institution of Learning in Islam and the
West, (Edinburgh: Edinburgh UniversityPress: 1981), 21.
Mohd Sanusi, Zuraidah, dkk, The Effects of
Internal Control System, Financial
Management and Accountability of
NPOs: The Perspective of Mosques
in Malaysia, Malaisya: Jurnal
Internasional, 2015.
Mulyono, Rekonstruksi Peran dan Fungsi M U A
D D I B Vol.07 No.01 Januari-Juli 2017.
Muslim, Aziz. 2004. "Manajemen Pengelolaan
Masjid." Jurnal Aplikasi llmu-ilmu
Agama, Vol. V, No. 2, Desember.
Hlm.105-114.
Pertiwi, Ruspita Rani. 2008. "Manajemen
Dakwah berbasis Masjid", Jurnal MD
Vol I No. 1 Juli-Desember.
Zaimeche, Saleh. 2002. Education in Islam The
Role of the Mosque. United Kingdong:
Foundation for Science Technologi and
Civilation.
Zulkiple & Jazeel. 2013. "History, Distribution
and Affiliation of Mosque in Muslim
Minority of Sri Lanka". International
Journal of Humanities and Social
Science Vol. 3 No. 1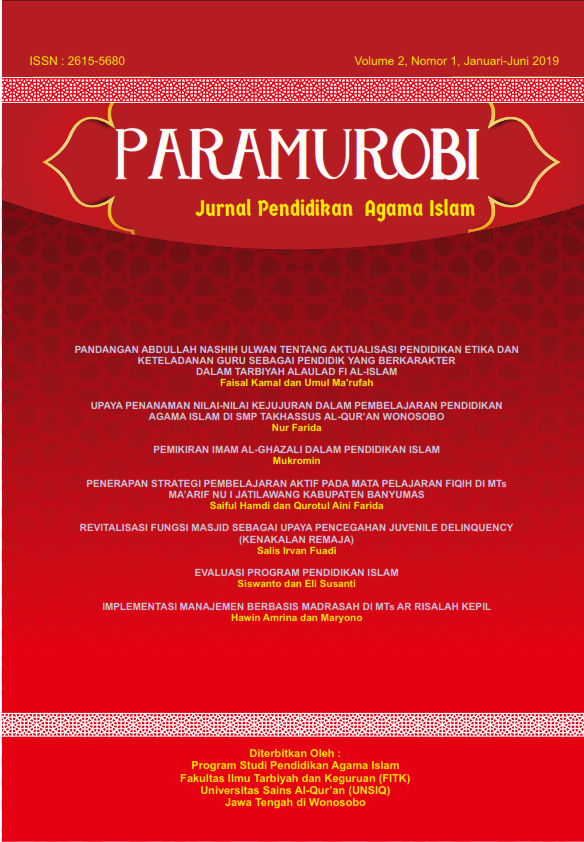 How to Cite
Fuadi, Salis. 2019. PARAMUROBI: JURNAL PENDIDIKAN AGAMA ISLAM 2 (1), 53-64. Accessed September 23, 2023. https://doi.org/https://doi.org/10.32699/paramurobi.v2i1.816.
Copyright Notice
1. Authors retain copyright and grant the journal right of first publication with the work simultaneously licensed under a Creative Commons Attribution License (CC BY-SA 4.0) that allows others to share (copy and redistribute the material in any medium or format), and adapt (remix, transform, and build upon the material) the work for any purpose, even commercially with an acknowledgement of the work's authorship and initial publication in this journal.
2. Authors are able to enter into separate, additional contractual arrangements for the non-exclusive distribution of the journal's published version of the work (e.g., post it to an institutional repository or publish it in a book), with an acknowledgement of its initial publication in this journal.
3. Authors are permitted and encouraged to post their work online (e.g., in institutional repositories or on their website) prior to and during the submission process, as it can lead to productive exchanges, as well as earlier and greater citation of published work (See The Effect of Open Access).
STATISTICS
Abstract viewed = 5 times pdf (Bahasa Indonesia) downloaded = 0 times