POLA ASUH ORANG TUA TERHADAP AKHLAK ANAK
(Studi Komparasi Ditinjau Dari Pekerjaan Orang Tua)
Salis Irvan Fuadi

Fakultas Ilmu Tarbiyah dan Keguruan UNSIQ Wonosobo

Nur Farida

Fakultas Ilmu Tarbiyah dan Keguruan UNSIQ Wonosobo

Rindi Antika

Fakultas Ilmu Tarbiyah dan Keguruan UNSIQ Wonosobo

Dwi Priharti

Fakultas Ilmu Tarbiyah dan Keguruan UNSIQ Wonosobo
Keywords:
morals, parenting, foreign workers, households
Abstract
This research is motivated by problems in social life in the Karangreja Hamlet community, Dempel Village, namely the low quality of individual children's morals. This is due to the parenting style in which they partly become foreign and domestic workers. This study aims to determine the difference between the morals of children with the parenting of overseas workers' parents and parenting patterns of household parents in Karangrejo Hamlet, Dempel Village. This research uses a causal-comparative quantitative approach. For data collection techniques using questionnaires, interviews and documentation. As for the data analysis using t-test statistical analysis. From the results of the t-test analysis, it is known that there is a difference of 1,120 between the parenting patterns of parents of foreign and domestic workers towards the morals of children, with the value of ttable at N = 30, the significance level of 5% (95% confidence level) that is 2.045 tcount <t table or (1,120 <2,045) and at a significance level of 1% that is 2.756, then t <t table (1,120 <2,756). Provisions if tcount <ttable, the results are not significant. From the above analysis it can be concluded that the working hypothesis (Hi) is rejected, while the null hypothesis (Ho) is accepted.
Downloads
Download data is not yet available.
References
Adawiyah,Robiatul. 2017. "Pola Asuh Orangtua dan Implikaisnya Terhadap Pendidikan Anak (Studi Pada Masyarakat Dayak Di Kecamatan Halong Kabupaten Balangan)".Jurnal Pendidikan Kewarganegaraan: Volume 7. FKIP ULM Banjarmasin.
Amelia, Bela dkk. 2015. Jurnal. Hubungan Pola Asuh orang Tua dengan Motivasi Melanjutkan Pendidikan ke Perguruan Tinggi Pada Remaja di Daerah Pesisir Riau. Volume 2. Program Studi Ilmu Keperawatan Universitas Riau.
Daradjat, Zakiah, dkk. 2014. Ilmu Pendidikan Islam. Jakarta: PT Bumi Aksara
Djamarah, Syaiful Bahri. 2014. Pola Asuh Orang Tua Dan Komunikasi Dalam Keluarga. Jakarta: Rineka Cipta
Emzir. 2010. Metodologi Penelitian Pendidikan Kuantitatif & Kualitatif. Jakarta: PT Raja Grafindo Persada.
Hasbullah. 2013. Dasar-dasar Ilmu Pendidikan. Jakarta: Rajawali Pers
Ihsan, Fuad. 2011. Dasar Dasar Kependidikan. Jakarta: Rineka Cipta
Lestari, S dan Gatini. 2010. Pendidikan Islam Kontekstual, Yogyakarta: Pustaka Pelajar
Margono, S. 2010. Metodologi Penelitian Pendidikan. Jakarta: Rineka Cipta
Mufidah, Zulfin Rachma. 2018. "The Implementation Of Parenting Education Program For The Students' Parent To Support The Child-Friendly Education In Elementary School".Jurnal Dimensi Pendidikan dan Pembelajaran: Volume 6 No 3 ICEE: 2018. Universitas Muhammadiyah Ponorogo.
Muhidin, Sambas Ali dan Maman Abdurrahman. 2011. Analisis Korelasi Regersi Dan Jalur Dalam Penelitian. Bandung: CV Pustaka Setia
Nabella, Novi Fuaida. 2018. " Pola Asuh Orang Tua Dalam Pembinaan Akhlak Terhadap Anak (Studi Kasus Tiga Keluarga di Perumnas Pakisjajar Malang" Skiripsi. Universitas Islam Negeri Maulana Malik Ibrahim Malang.
Sarwono, Sarlito Wirawan. 2012. Psikologi Remaja. Jakarta: Rajawali Pers
Sugiyono. 2013. Metode Penelitian Pendidikan: Pendekatan Kuantitatif, kualitatif, dan R&D, Bandung: Alfabeta
Sukardi. 2013. Metodologi Penelitian Pendidikan. Jakarta: Bumi Aksara.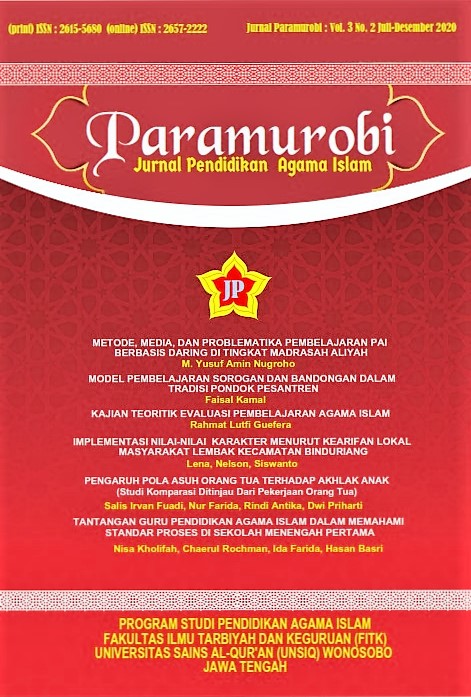 How to Cite
Fuadi, Salis, Nur Farida, Rindi Antika, and Dwi Priharti. 2020. PARAMUROBI: JURNAL PENDIDIKAN AGAMA ISLAM 3 (2), 64-79. Accessed December 10, 2023. https://doi.org/https://doi.org/10.32699/paramurobi.v3i2.1577.
This work is licensed under a Creative Commons Attribution-ShareAlike 4.0 International License.
Copyright Notice
1. Authors retain copyright and grant the journal right of first publication with the work simultaneously licensed under a Creative Commons Attribution License (CC BY-SA 4.0) that allows others to share (copy and redistribute the material in any medium or format), and adapt (remix, transform, and build upon the material) the work for any purpose, even commercially with an acknowledgement of the work's authorship and initial publication in this journal.
2. Authors are able to enter into separate, additional contractual arrangements for the non-exclusive distribution of the journal's published version of the work (e.g., post it to an institutional repository or publish it in a book), with an acknowledgement of its initial publication in this journal.
3. Authors are permitted and encouraged to post their work online (e.g., in institutional repositories or on their website) prior to and during the submission process, as it can lead to productive exchanges, as well as earlier and greater citation of published work (See The Effect of Open Access).
STATISTICS
Abstract viewed = 81 times pdf (Bahasa Indonesia) downloaded = 63 times