PENDIDIKAN PESANTREN DAN PERKEMBANGANNYA
Analisis Undang-Undang Pesantren tentang Klasifikasi dan Model Pendidikan Pesantren
Soffan Rizqi

Universitas Sains Al-Qur'an

Rifqi Muntaqo

Universitas Sains Al-Qur'an

Rahmat Lutfi Guefera

Universitas Sains Al-Qur'an
Keywords:
Islamic Boarding School, Classification, Education Model, Islamic Boarding School Law
Abstract
Islamic boarding school is a forerunner development of education system in Indonesia. It even has a real contribution to the development of education in Indonesia. Historically, it has extraordinary experience in fostering and developing the society. It is  able to increase their roles independently by exploring the potential of the community around them. One of the strategic steps in developing national development goals in the education sector is through enhancing and developing Islamic boarding school. This paper also explains the classification and education model of Islamic boarding school. Therefore, the government also drafts an Islamic boarding school law and religious education which is expected to maximize its potential. The results showed that the Islamic boarding school law and religious education aimed to form individuals who understood and practiced the values ​​of their religious teachings or become religious scholars who believed, have faith, have noble, independent, ta'awun, tawazun, and tawasut. The islamic boarding school law has the advantage of being able to bring into a clearer direction. The drawback is that there is too much intervention in islamic boarding school households. The presence of the Islamic boarding school Law can have both positive and negative effects on the development of Islamic boarding school as a local genius in Indonesia.
Downloads
Download data is not yet available.
References
Ali, Abdullah, 2011, Pendidikan Islam Multikultural di Pesantren, Penerbit: Pustaka Pelajar, Yoyakarta
Anwar, Ali, 2011. Pembaruan Pendidikan di Pesantren Lirboyo Kediri, (Yogyakarta: Pustaka Pelajar.
Abawihda, Ridwan, 2005. Kurikulum Pendidikan Pesantren dan Tantangan Perubahan Global, Penerbit: Pustaka Pelajar, Yogyakarta
Baso, t.th. Pesantren Studies, Buku II: Kosmopolitanisme Peradaban Kaum Santri di Masa Kolonial, pesantren, Jaringan pengetahuan dan Karakter Kosmopolitan kebangsaannya, vol.1 Jakarta: Pustaka Afid
Billah, M, 1999. Pesantren dan Pemberdayaan Masyarakat Memasuki Millenium III, makalah disampaikan dalam seminar di hotel Sahid Jaya Jakarta 8-9 November
Bruinessen, Martin Van, 1994. NU tradisi relasi-relasi kuasa pencarian wacana baru, terj. LkiS, Penerbit: LkiS, Yogyakarta
----------------------, 2012. Kitab Kuning Pesantren Dan Tarekat, Yogyakarta: Gading Publishing
Budiningsih, Dessy Yanti Srie, 2018. Peran Pesantren Salafiyah Dalam Meminimalisir Ajaran Radikalisme (Studi Kasus Di Pondok Pesantren Darussalam Watucongol Magelang). Dalam Jurnal Istiqro, Vol. 16, No. 01
Dhofier, Zamakhsyari, 2011. Tradisi Pesantren. Penerbit: LP3ES, Jakarta
Dirjosandjoto, Pradjarta, 1999. Memelihara Umat Kiai Pesantren-Kiai Langgar di Jawa, Penerbit: LkiS, Yogyakarta
Domar, Mujammil, tt. Pesantren:Dari Transformasi Metodologi Menuju Demokratisasi Institusi, Penerbit: Erlangga, Jakarta
Madjid, Nurcholish, 1985. Bilik-Bilik Pesantren, Penerbit: P3M, Jakarta
Maksudin, 2008. "Pendididikan Nilai Sistem Boarding School di Sekolah Menengah Pertama Islam Terpadu Abubakar Yogyakarta", Disertasi. UIN Sunan Kalijaga Yogyakarta
Masyhud, Sulthon, dkk, 2008. Manajemen Pondok Pesantren, Penerbit: Diva Pustaka, Jakarta
Moedjiono, Imam, 2002. Kepemimpinan dan Keorganisasian. Penerbit: UII Press, Yogyakarta
Muqtafa, M. Khoirul, 2002. Antara Tradisi dan tantangan Modernitas, dalam Jurnal Pesantren, Vol. 1 No. 1
Nazaruddun et al., 1986 . Seri Monografi Pondok Pesantren dan Angkatan Kerja, Proyek Pembinaan dan Bantuan Kepada Pondok Pesantren Jakarta. Penerbit: Depag RI, Jakarta
Noor, Mahpuddin, 2006. Potret Dunia Pesantren, Penerbit: Humaniora, Bandung
Tolib, Abdul 2015. Pendidikan di Pondok Pesantren Modern dalam Jurnal Risalah: Jurnal Pendidikan dan Studi Islam, Vol. 1, No. 1
Wahid, Abdurrahman, 1995. "Pesantren Sebagai Subkultur", dalam M. Dawam Rahardjo (ed), Pesantren dan Pembaharuan, Penerbit: LP3ES
--------------------------, tt. Bunga Rampai Pesantren, Penerbit: CV. Dharma Bhakti
Yappi Mu, 2008. Manajemen Pengembangan Pondok Pesantren, Penerbit: Media Nusantara, Jakarta
Zaeni, A. Wazid, 1995. Dunia Pemikiran Kaum Santri, Penerbit: LKPSM NU DIY, Yogyakarta
Zuhri, Syaifuddin, 1979, Sejarah Kebangkitan Islam dan Perkembangannya di Indonesia, Penerbit: Al-Ma'arif Bandung, Bandung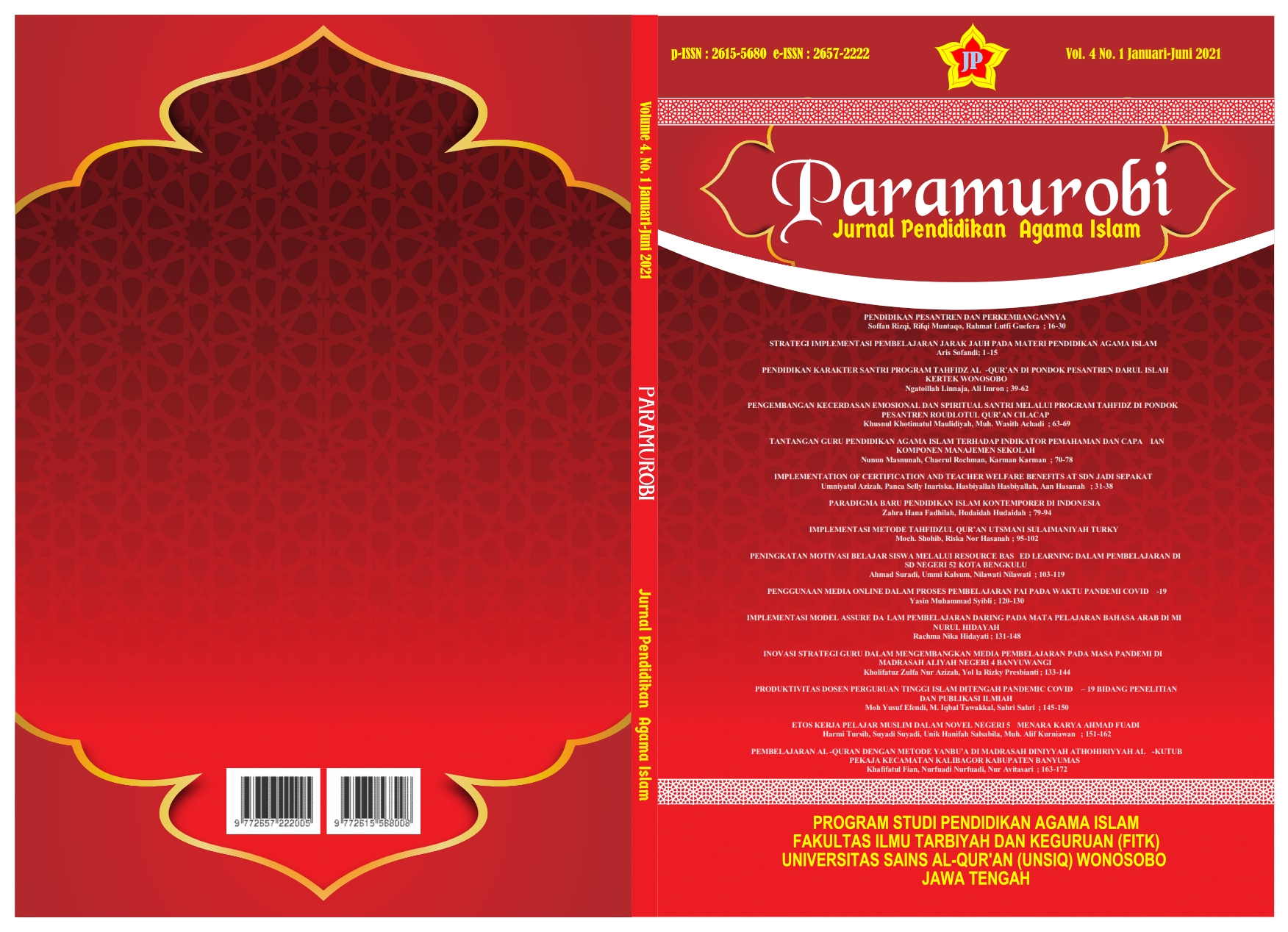 How to Cite
Rizqi, Soffan, Rifqi Muntaqo, and Rahmat Guefera. 2021. PARAMUROBI: JURNAL PENDIDIKAN AGAMA ISLAM 4 (1), 16-30. Accessed September 26, 2023. https://doi.org/https://doi.org/10.32699/paramurobi.v4i1.1689.
This work is licensed under a Creative Commons Attribution-ShareAlike 4.0 International License.
Copyright Notice
1. Authors retain copyright and grant the journal right of first publication with the work simultaneously licensed under a Creative Commons Attribution License (CC BY-SA 4.0) that allows others to share (copy and redistribute the material in any medium or format), and adapt (remix, transform, and build upon the material) the work for any purpose, even commercially with an acknowledgement of the work's authorship and initial publication in this journal.
2. Authors are able to enter into separate, additional contractual arrangements for the non-exclusive distribution of the journal's published version of the work (e.g., post it to an institutional repository or publish it in a book), with an acknowledgement of its initial publication in this journal.
3. Authors are permitted and encouraged to post their work online (e.g., in institutional repositories or on their website) prior to and during the submission process, as it can lead to productive exchanges, as well as earlier and greater citation of published work (See The Effect of Open Access).
STATISTICS
Abstract viewed = 3 times pdf (Bahasa Indonesia) downloaded = 4 times