PERAN SERTA ORGANISASI REMAJA ISLAM DALAM PENANAMAN NILAI-NILAI PENDIDIKAN ISLAM BAGI REMAJA SINDUAGUNG SELOMERTO WONOSOBO
Rifqi Muntaqo

FITK UNSIQ

Septi Rahayu

FITK UNSIQ

Ahmad Zuhdi

FITK UNSIQ
Keywords:
Pedagogy, Islamic Youth Organization, Islamic Education Values and Islamic Education Methods
Abstract
Islam has important life values to apply to people's lives, various methods of application have been exemplified by Islamic figures. The methods used include; exemplary, habituation, advice and punishment. This research takes the object of research in the youth of IPNU-IPPNU Sinduagung, the Islamic youth organization was formed in 2000-2001, over time the IPNU-IPPNU experienced a decrease in interest and not running various activities, so it changed its name to FORMAT (Mosque youth forum). And in the end the Islamic youth organization right on April 1, 2013 again turned into IPNU-IPPNU Sinduagung Selomerto Wonosobo.
This study uses a qualitative method. The results showed that the planting of Islamic education values for adolescents in Sinduagung Village facilitated by various IPNU-IPPNU activities went very well, including by instilling the values of faith in makesta activities, then planting the values of worship in the pilgrimage pilgrimage activities, the values of moral values taken from the simulut duror maulid activities and in various humanitarian fundraising activities are important ways to explore the social values of Sinduagung Selomerto Wonosobo adolescents, with the hope that more care for their environment will increase.
Downloads
Download data is not yet available.
References
Asifudin, Ahmad Faiz. 2012. Pendidikan Islam, Basis Pembangunan Umat, Naasirussunnah.
Aziz, Abd. 2009. Filsafat Pendnididkan Islam. Yogyakarta: Teras.
Hurlock, Elizabeth. B. Psikologi perkembangan. 1996. Jakarta: Erlangga.
Basrowi dan Suwandi. 2008. Memahami Penelitian Kualitatif. Jakarta: Rineka Cipta.
Daradjat, Zakiyah. 2016. Ilmu Pendidikan Islam. Jakarta: PT Bumi Aksara.
Elmubarok, Zaim. 2008. Membumikan Pendidikan Nilai. Bandung: Alfabeta.
Fadeli, Soelaiman dan Mohammad Subhan. 2007. Antologi Nu sejarah istilah amaliah uswah. Surabaya: Khalista.
Hadi, Amirudin dan Haryono. 2005. Metode Penelitian Pendidikan. Bandung: Pustaka Setia.
Ihsan, fuad. 2013. Dasar-dasar Kependidikan. Jakarta: Rineka Cipta.
Ludjito, Ahmad. dkk. 1996. Reformulasi Filsafat Pendidikan Islam. Yogyakarta: Pustaka Pelajar.
Muchsin, M. Bashori. dkk. 2010. Pendidikan Islam Humanistik "alternatif Pendidikan Islam Humanistik. Bandung: Refika Aditama.
Zein, Muhammad. 2015. Bunga Rampai Pemikiran Pendidikan Islam. Yogyakarta: Ombak.
PWNU. 2015. Buku Mata Pelajaran Ke-NU-an Ahlussunah Waljamaah MTs/SMP. Surakarta: CV Sinar abadi.
Raharjo. 2012. pengantar ilmu jiwa agama. Semarang: Pustaka Rizki Putra.
Roqib, Muh. 2009. Ilmu pendidikan islam.Yogyakarta: Lkis Yogyakarta.
Sadullah, Uyoh. 2012. Pengantar Filsafat Pendidikan. Bandung: Alfabeta.
Sanusi, Achmad. 2016. Pendidikan untuk Kearifan mempertimbangkan kembali sistem nilai,belajar dan kecerdasan. Bandung: Nuansa Cendekia.
Syairozi, Mafudz. 2008. Konsep Pendidikan Generasi Tiga Dimensi. Kendal: Jejak pena dan Pustaka Amanah.
Tafsir, Ahmad. 2014. Ilmu Pendidikan Dalam Perspektif Islam. Bandung: Remaja Rosdakarya.
Yusuf, Syamsu. 2006. Psikologi perkembangan anak & remaja. Bandung: Remaja Rosdakarya.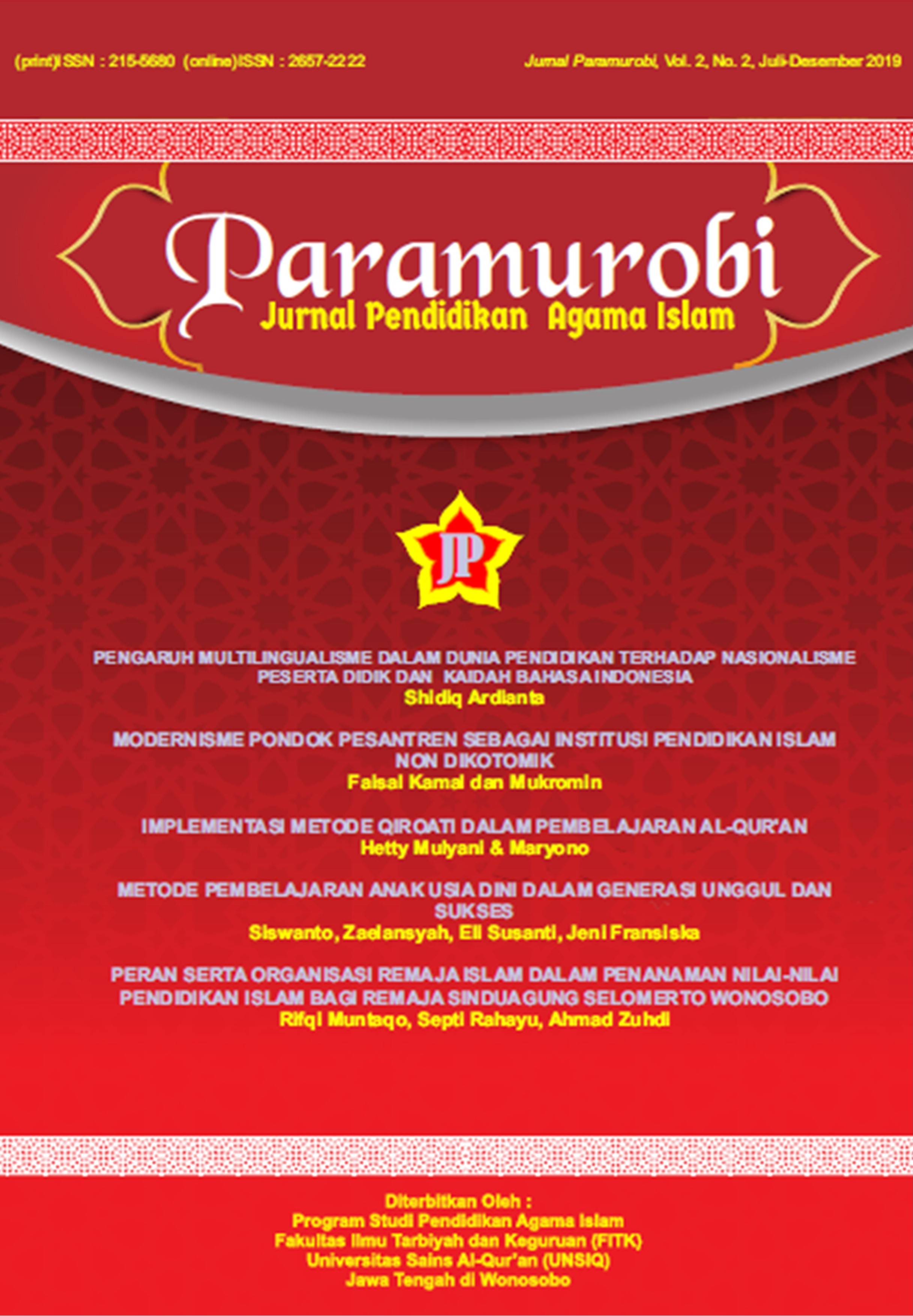 How to Cite
Muntaqo, Rifqi, Septi Rahayu, and Ahmad Zuhdi. 2019. PARAMUROBI: JURNAL PENDIDIKAN AGAMA ISLAM 2 (2), 45-52. Accessed August 7, 2022. https://doi.org/https://doi.org/10.32699/paramurobi.v2i2.1296.
Copyright Notice
1. Authors retain copyright and grant the journal right of first publication with the work simultaneously licensed under a Creative Commons Attribution License (CC BY-SA 4.0) that allows others to share (copy and redistribute the material in any medium or format), and adapt (remix, transform, and build upon the material) the work for any purpose, even commercially with an acknowledgement of the work's authorship and initial publication in this journal.
2. Authors are able to enter into separate, additional contractual arrangements for the non-exclusive distribution of the journal's published version of the work (e.g., post it to an institutional repository or publish it in a book), with an acknowledgement of its initial publication in this journal.
3. Authors are permitted and encouraged to post their work online (e.g., in institutional repositories or on their website) prior to and during the submission process, as it can lead to productive exchanges, as well as earlier and greater citation of published work (See The Effect of Open Access).
STATISTICS
Abstract viewed = 0 times pdf (Bahasa Indonesia) downloaded = 0 times