IMAM AL-GHAZALI'S THOUGHT IN ISLAMIC EDUCATION
Mukromin Mukromin

Fakultas Ilmu Tarbiyah dan Keguruan UNSIQ Jawa Tengah
Keywords:
Al-Ghazali, Islamic education
Abstract
Al-Ghazali is a popular Muslim figure, with thoughts on education based on religion.
Being able to realize education as a strategic tool and media in transforming religious
doctrines. Al-Ghazali's thinking in the field of education places more emphasis on
empiricism, this is because al-Ghazali attaches great importance to education of students.
According to him, it depends on parents and people who educate him.
Downloads
Download data is not yet available.
References
Abuddin Nata, Filsafat Pendidikan Islam,
Jakarta : Logos Wacana Ilmu, 1997, Cet.
III.
Abuddin Nata, Filsafat Pendidikan Islam,
Jakarta : Logos, 1999.
Abuddin Nata, Pemikiran Para Tokoh
Pendidikan Islam, Jakarta : PT. Raja
Grafindo Persada, 2001,
Agus Basri, Pendidikan Sebagai Penggerak
Pembaharuan, Bandung : PT Al-Ma'arif,
1984.
Ahmad D. Marimba, Pengantar Filsafat
Pendidikan Islam, Bandung : Al-Ma'arif,
Cet. 1974.
al-Ghailaini Musthafa, Syekh, Idhatun an-
Nasyi'in, Beirut : al-Ahliyah, 1993.
al-Ghazali dalam kitab Bidayah al-Hidayah.
al-Ghazali, Bidayah al-Hidayah, tt.
al-Ghazali, Ihya Ulum ad-Din, Juz, 1, tt. Dar al-
Kutub.
Bambang, Q. Anees, dkk., Pendidikan Karakter
Berbasis Al-Qur'an, Bandung : Simbiosa
Rekatama Media, 2008.
Fathiyah Hasan Sulaiman, Aliran-aliran dalam
Pendidikan, (Studi Tentang Aliran
Pendidikan menurut Al-Ghazali, ), (terj.),
Agil Husin al-Munawwar dan Hadri
Hasan, dari judul asli kitab Mazahib fi
at-Tarbiyah Bahstun fi al-Mazahib at-
Tarbawy 'inda al-Ghazali, Semarang :
Thoha Putra, 1993.
Hidayat Muhammad Mansur, Tadris al-Lughoh
al-Arabiyah, Juz 1, Jakarta : CV. Biru, tt.
Jalaluddin, dkk. Filsafat Pendidikan
Islam, Konsep dan Perkembangan
Pemikirannya, Jakarta : PT. Raja
Grafindo Persada, 1994.
Muhammad Fadhil al-Jamaly, Filsafat
Pendidikan dalam Al-Qur'an, Surabaya
: PT. Bina Ilmu, 1986.
Pasaribu dan Simanjuntak, Pendidikan
Nasional, Bandung : Tarsito, 1978.
Sayyid Sabiq, Islamuna, Libanon, Dar al-Kitab
al-'Arabi, Beirut, 1956.
Suwito, dkk., Sejarah Sosial Pendidikan Islam,
Jakarta : Kencana Prenada Media Group,
2008.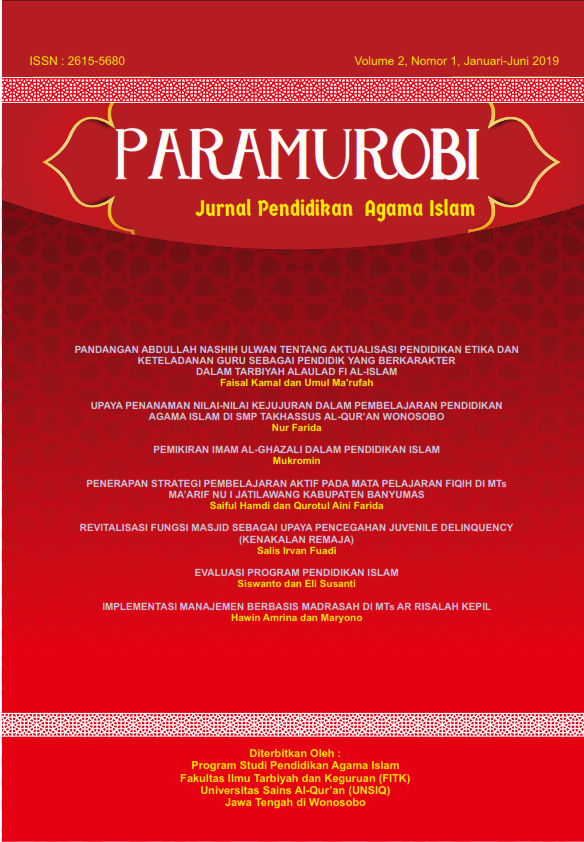 How to Cite
Mukromin, Mukromin. 2019. PARAMUROBI: JURNAL PENDIDIKAN AGAMA ISLAM 2 (1), 33-42. Accessed January 18, 2022. https://doi.org/https://doi.org/10.32699/paramurobi.v2i1.814.
Copyright Notice
1. Authors retain copyright and grant the journal right of first publication with the work simultaneously licensed under a Creative Commons Attribution License (CC BY-SA 4.0) that allows others to share (copy and redistribute the material in any medium or format), and adapt (remix, transform, and build upon the material) the work for any purpose, even commercially with an acknowledgement of the work's authorship and initial publication in this journal.
2. Authors are able to enter into separate, additional contractual arrangements for the non-exclusive distribution of the journal's published version of the work (e.g., post it to an institutional repository or publish it in a book), with an acknowledgement of its initial publication in this journal.
3. Authors are permitted and encouraged to post their work online (e.g., in institutional repositories or on their website) prior to and during the submission process, as it can lead to productive exchanges, as well as earlier and greater citation of published work (See The Effect of Open Access).
STATISTICS
Abstract viewed = 2 times pdf (Bahasa Indonesia) downloaded = 3 times