KONSEP DAN APLIKASI MODEL PEMBELAJARAN BERBASIS EDUTAIMENT DALAM MENUMBUHKAN KREATIVITAS ANAK USIA DINI
Vava Imam Agus Faisal

Fakultas Ilmu Tarbiyah dan Keguruan UNSIQ Jawa Tengah

Mukromin Mukromin

Fakultas Ilmu Tarbiyah dan Keguruan UNSIQ Jawa Tengah
Abstract
The topics examined in this theme is how the concept of berbasisedutaimen learning in fostering the potential of creativity can run in either. The process of learning in early childhood is regarded as the gold. A wide variety of learning support cleaner refining its development. The development happens in children can be seen from the growth of creativity in him. Creativity is the activity of the child in learning activities to respond to that. Emergence of learning-based edutaiment is strategic step in developing creativity. Interpretation of eduataiment-based learning has synergy with the pattern of early childhood learning. Learning emphasis edutaiment gives an atmosphere of active and fun for children. Emplementasi-based learning edutaiment sacara consistent thing to do and there is nothing in order for sustainable development of developing creativity in either. Standards of competence of educators was instrumental in optimizing edutaiment-based learning. Educators appropriate competence could run the process of internalization of learning with a wide variety of teaching. Independently, creativity can grow within the children through a fun learning atmosphere. Educators give referrals and seluasnya space for the growing important role early childhood kreativas
Downloads
Download data is not yet available.
References
Bobbi De Porter, dkk., Quantum Teaching: Mempraktikkan Quantum Learning di Ruang-Ruang Kelas, terj. Ary Nilandari, Bandung: Kaifa, 1999
Hamruni, Konsep Edutainment dalam Pendidikan Islam, Yogyakarta: Sukses Offset, 2008
Johar Permana, Mulyani Sumantri, Strategi Belajar Mengajar, Bandung: C.V Maulana, 2001
Meller, John p. Humanizing The Classroom: Models Of Teaching In AffektifvEducation, New York: praeger publishers, 1976
Mulyasa , E, Implementasi Kurikulum 2004 Panduan Pembelajaran KBK, Bandung: Remaja Rosda Karya, 2004
Mulyasa ,E., Kurikulum Berbasis Kompetensi, Bandung: Remaja Rosdakarya, 2004
Munandar , Utami, , Kretivitas dan Keberbakatan : Strategi Mengujudkan Potensi Kreatif dan Bakat, Jakarta : Grafindo Pustaka Utama , 2002
Munandar, Utami, mengembangkan bakat dan kreatifitas anak sekolah: petunjuk bagi para guru dan orang tua, Jakarta : Gramedia Widiasarana Indonesia, 1992
Nashori, H. Fuad & Rachmy Diana M. Mengembangkan Kreativitas Dalam Persepektif Psikologi Islam, Yogyakarta : Menara Kudus , 2002
Nasution, S., Kurikulum dan Pengajaran, Jakarta: Bina Aksara, 2004
Sholeh, A khudhori, Pemikiran Islam Kontemporer. Yogyakarta : Jendela, 2003
Silberman, Melvin L., Aktive Learning: 101 Strategies To Teacb Any Subject, USA: Allynv& bacon, 1996
Supriono, Abu Ahmadi , Psikologi Belajar , Jakarta : Rinika Cipta .1991
Supriyadi, Dedi, kreativitas, kebudayaan dan perkembangan iptek, Bandung : ALFABETA, 2002
Sutrisno, Revolusi Pendidikan Di Indonesia, Membedah Metode Dan Teknik Pendidikan Berbasis Kompetens, Yogyakarta : Ar-Ruzz, 2005.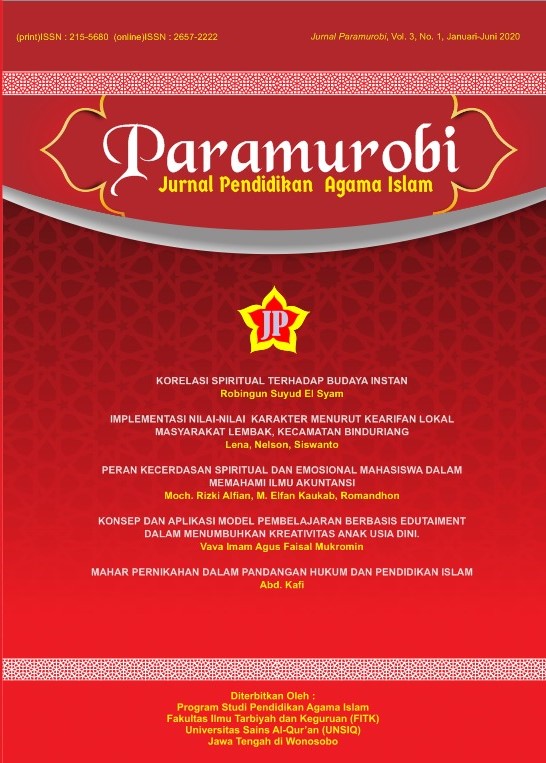 How to Cite
Agus FaisalVava, and Mukromin Mukromin. 2020. PARAMUROBI: JURNAL PENDIDIKAN AGAMA ISLAM 3 (1), 46-54. Accessed December 11, 2023. https://doi.org/https://doi.org/10.32699/paramurobi.v3i1.1435.
This work is licensed under a Creative Commons Attribution-ShareAlike 4.0 International License.
Copyright Notice
1. Authors retain copyright and grant the journal right of first publication with the work simultaneously licensed under a Creative Commons Attribution License (CC BY-SA 4.0) that allows others to share (copy and redistribute the material in any medium or format), and adapt (remix, transform, and build upon the material) the work for any purpose, even commercially with an acknowledgement of the work's authorship and initial publication in this journal.
2. Authors are able to enter into separate, additional contractual arrangements for the non-exclusive distribution of the journal's published version of the work (e.g., post it to an institutional repository or publish it in a book), with an acknowledgement of its initial publication in this journal.
3. Authors are permitted and encouraged to post their work online (e.g., in institutional repositories or on their website) prior to and during the submission process, as it can lead to productive exchanges, as well as earlier and greater citation of published work (See The Effect of Open Access).
STATISTICS
Abstract viewed = 71 times pdf (Bahasa Indonesia) downloaded = 67 times