TANTANGAN GURU PENDIDIKAN AGAMA ISLAM DALAM MEMAHAMI STANDAR PROSES DI SEKOLAH MENENGAH PERTAMA
Nisa Kholifah

Universitas Negeri Islam Sunan Gunung Djati Bandung

Chaerul Rochman

Pascasarjana UIN Sunan Gunung Djati Bandung

Ida Farida

Pascasarjana UIN Sunan Gunung Djati Bandung

Hasan Basri

Pascasarjana UIN Sunan Gunung Djati Bandung
Keywords:
percepstion, process standards, education
Abstract
This study aims to analize understanding of the educational process standards in PAI and non-PAI teachers. This is important to discuss in order to know the understanding of the standard education process in junior high. The method used in this study uses descriptive quantitative research including five PAI teachers and five Non PAI teacher and this study describes the teacher's understanding of the Process Standard indicators through the calculation of perception on each of the Indicators. The instrument used was a questionnaire about understanding Standard Process. The conclusion of this research is that both of them have a high level of understanding (very good) but the difference is the challenges faced by each teacher. Both PAI Teachers and Non PAI Teachers.
Downloads
Download data is not yet available.
References
Bahtiar, R. S. 2019 'EFEKTIVITAS PENGGUNAAN MEDIA PAPAN WAKTU PADA PEMBELAJARAN PENGHITUNGAN WAKTU BAGI SISWA KELAS III SEKOLAH DASAR', Jurnal Bidang Pendidikan Dasar, 3(1), pp. 14–23. doi: 10.21067/jbpd.v3i1.2857.
Eviliyanida. 2011 'MODEL PEMBELAJARAN KOOPERATIF', Visipena Journal, 2(1), pp. 21–27. doi: 10.46244/visipena.v2i1.36.
Cece Wijaya, dkk. 1992. Kemampuan Dasar Guru Dalam Proses Belajar-Mengajar. Bandung: PT Remaja Rosdakarya;.
Hastuti, Tri Ani. 2019. "Implikasi Profesionalisme Guru untuk Pembelajaran Berorientasi Berfikir Tingkat Tinggi (HOTS) dalam Menghadapi Era Revolusi Industri 4.0." Prosiding Seminar Nasional Pascasarjana UNNES vol 2 no 1 ISSN: 2686-6404.
Hidayat, Tatang. 2019. "Analisis Peraturan Menteri Pendidikan Dan Kebudayaan Republik Indonesia Nomor 22 Tahun 2016 Tentang Standar Proses Pendidikan Dasar Dan Menengah Serta Implikasinya Dalam Pembelajaran Pai Di Sekolah." Jurnal MuróbbîIlmu Pendidikan Volume 3 Nomor 1.
Ika Krisdiana, Davi Apriandi, Reza Kusuma Setiansyah. 2014 . "Analisis Kesulitan Yang Dihadapi Oleh Guru Dan Peserta Didik Sekolah Menengah Pertama Dalam Implementasi Kurikulum 2013 Pada Mata Pelajaran Matematika (Studi Kasus Eks-Karesidenan Madiun)." Jurnal Ilmiah Pendidikan Matematika Vol 3, No 1.
Lantip Diat Prasojo, Predik Abia Kande, Amirul Mukminin. 2018 . "Evaluasi Pelaksanaan STtandar Proses Pendidikan Pada SMP Kabupaten Sleman." Jurnal Penelitian dan Evaluasi Pendidikan Volume 22, No 1.
Oktradiksa, Ahwy. 2017. "PKU bagi MI Muhammadiyah Madukoro dan Wonogiri Kabupaten Magelang melalui Implementasi Standar Nasional Pendidikan Dasar dalam Pengembangan Mutu Madrasah." Ahwy 2017, September 7: 1-20.
Sahertian, Piet A. 2000. Konsep Dasar dan Teknik Supervisi Pendidikan dalam Rangka Pengembangan Sumber Daya Manusia. Jakarta: PT. Rineka Cipta.
Saragih, Hasan. 2008. "Kompetensi Minimal Seorang Guru Dalam Mengajar." Jurnal Tabularasa Volume 5 Nomor 1.
Suryana, Y. 2009. Metodologi Penelitian Pendidikan (Cetakan ke 3 ed., Vol. III). Bandung.
Tatang Hidayat, Aceng Kosasih. 2019. "Analisis Peraturan Menteri Pendidikan Dan Kebudayaan Republik Indonesia Nomor 22 Tahun 2016 Tentang Standar Proses Pendidikan Dasar Dan Menengah Serta Implikasinya Dalam Pembelajaran Pai Di Sekolah." Muróbbî: Jurnal Ilmu Pendidikan Volume 3 Nomor 1 p-ISSN 2579-4191;e-ISSN 2580-6963; 45-69.
Usman, H. 2014. Manajeman: teori, praktik, dan riset pendidikan (4th ed.). Jakarta: PT Bumi Aksara.
Wahyuni, Endang. 2017. "Efektifitas Pendampingan Guru Sasaran Implementasi Kurikulum 2013 pada Pembelajaran Geografi SMA N di Kabupaten Sragen Tahun Pelajaran 2016/2017." Mei 24, Publikasi Ilmiah ed.: 1-39.
Yudistia Ariany, Ardi ardi, Yosi Laila Rahmi. 2018. "Analisis Pemahaman Guru IPA se-Kecamatan Lima Kaum terhadap Pelaksanaan Standar Proses dan Standar Penilaian Kurikulum 2013." JEP (Jurnal Eksakta Pendidikan) Vol 2 No 1.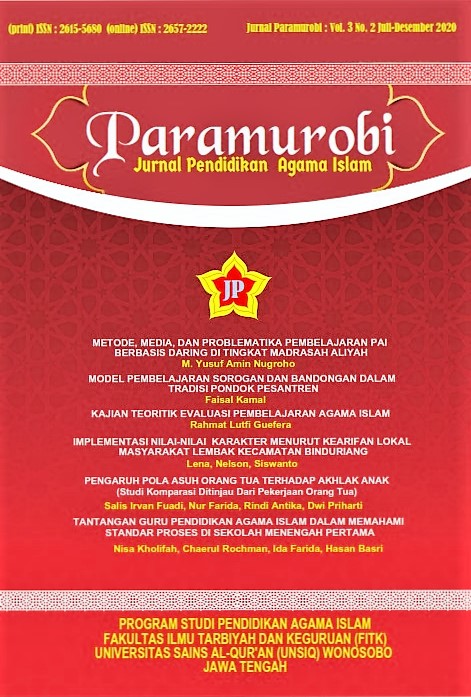 How to Cite
Kholifah, Nisa, Chaerul Rochman, Ida Farida, and Hasan Basri. 2020. PARAMUROBI: JURNAL PENDIDIKAN AGAMA ISLAM 3 (2), 102-13. Accessed November 27, 2021. https://doi.org/https://doi.org/10.32699/paramurobi.v3i2.1292.
This work is licensed under a Creative Commons Attribution-ShareAlike 4.0 International License.
Copyright Notice
1. Authors retain copyright and grant the journal right of first publication with the work simultaneously licensed under a Creative Commons Attribution License (CC BY-SA 4.0) that allows others to share (copy and redistribute the material in any medium or format), and adapt (remix, transform, and build upon the material) the work for any purpose, even commercially with an acknowledgement of the work's authorship and initial publication in this journal.
2. Authors are able to enter into separate, additional contractual arrangements for the non-exclusive distribution of the journal's published version of the work (e.g., post it to an institutional repository or publish it in a book), with an acknowledgement of its initial publication in this journal.
3. Authors are permitted and encouraged to post their work online (e.g., in institutional repositories or on their website) prior to and during the submission process, as it can lead to productive exchanges, as well as earlier and greater citation of published work (See The Effect of Open Access).
STATISTICS
Abstract viewed = 0 times pdf (Bahasa Indonesia) downloaded = 0 times