STRATEGI PEMASARAN JASA PENDIDIKAN DALAM MENINGKATKAN CITRA SEKOLAH
Mahmud MY

UIN Sultan Thaha Saifuddin Jambi

Najmul Hayat

UIN Sulthan Thaha Saifuddin Jambi

Fransisko Chaniago

UIN Sulthan Thaha Saifuddin Jambi

Mentari Erlianto

UIN Sultan Thaha Saifuddin Jambi
Keywords:
Educational Services Marketing Strategy, School Image
Abstract
The purpose of this study was to find out how the marketing strategy of education in Al-Arief Islamic Private High School. This type of research is descriptive qualitative research. The method used in data collection is observation, interviews and documentation. Meanwhile, in analyzing the data, the researcher used several steps, namely by reducing, presenting and verifying the data. The results of the study have shown that overall the Al-Arief Islamic Private High School has implemented a marketing strategy for educational services that is quite good in improving the school's image. This can be seen from the existing education service marketing mix. This school has offered a product that is in accordance with the needs of the community, the fees charged by the Al-Arief Islamic Private High School are still very affordable when compared to established private schools in general, and this school is in a strategic place to carry out educational activities. The marketing strategy carried out by the Al-Arief Islamic Private High School is by carrying out promotions through student guardians, print media, social media and school output.
Downloads
Download data is not yet available.
References
Aditia Fradito, Suti'ah, Muliyadi, Strategi Pemasaran Pendidikan Dalam Meningkatkan Citra Sekolah. Al-Idarah: Jurnal Kependidikan Islam Volume 10 Nomor 1, 2020 http://ejournal.radenintan.ac.id/index.php/idaroh.
Alma, Buchari. 2013. Manajemen Pemasaran Dan Pemasaran Jasa, Bandung: Alfabeta.
David Wijaya, 2015. Pemasaran Jasa Pendidikan, Jakarta: Salemba Empat.
Engkoswra & Komariah. 2010. Administrasi Pendidikan, Bandung: Alfabeta.
Faizin, Imam. 2017. Strategi Pemasaran Jasa Pendidikan dalam Meningkatkan Nilai Jual Madrasah, Jurnal Madaniyah Vol. 7 no. 2
Fandy Tjiptono. 2000 Strategi Pemasaran, edisi 2, Yogyakarta. Andy. Ghozali, Imam.
Graham J Hooley, Nigel F. Piercy, Brigitte Nicoulaud. 2013 Marketing Strategy and Competitive Positioning. London: Prentice Hall.
Ikatan Bankir Indonesia (IBI). 2014. Strategi Sukses Bisnis Bank. Jakarta: PT Gramedia Pustaka Utama.
Khasanah, Afidatun. 2015. "Pemasaran Jasa Pendidikan Sebagai Strategi Peningkatan mutu di SD Alam Baturraden" Jurnal el-Tarbawi Vol VIII, No. 2.
M. Nur Rianto Al Arif, 2014. Dasar-Dasar Pemasaran Bank Syariah, Bandung: Alfabeta.
Mudrajad Kuncoro. 2005. Strategi Bagaimana Meraih Keunggulan Kompetitif. Surakarta: Erlangga.
Sutisna. 2013. Perilaku Konsumen Dan Komunikasi Pemasaran. Bandung: PT Remaja Rosdakarya Offset.
Wijaya, David. 2008. Pemasaran Jasa Pendidikan Sebagai Upaya untuk Meningkatkan Daya Saing Sekolah. Jurnal Pendidikan Penabur- No.11/Tahun ke-7/Desember.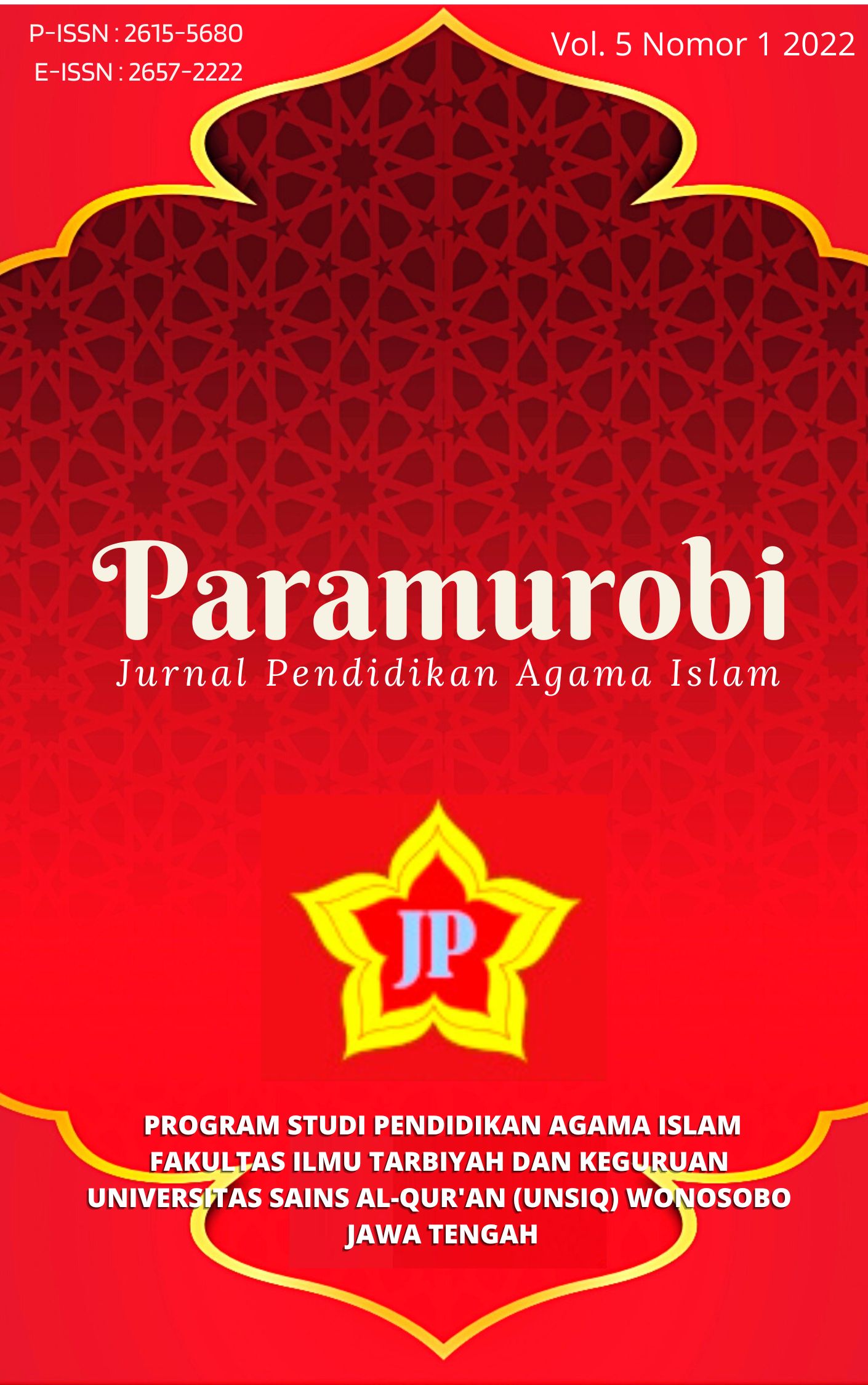 How to Cite
MY, Mahmud, Najmul Hayat, Fransisko Chaniago, and Mentari Erlianto. 2022. PARAMUROBI: JURNAL PENDIDIKAN AGAMA ISLAM 5 (1), 20-34. Accessed December 10, 2023. https://doi.org/https://doi.org/10.32699/paramurobi.v5i1.2717.
This work is licensed under a Creative Commons Attribution-ShareAlike 4.0 International License.
Copyright Notice
1. Authors retain copyright and grant the journal right of first publication with the work simultaneously licensed under a Creative Commons Attribution License (CC BY-SA 4.0) that allows others to share (copy and redistribute the material in any medium or format), and adapt (remix, transform, and build upon the material) the work for any purpose, even commercially with an acknowledgement of the work's authorship and initial publication in this journal.
2. Authors are able to enter into separate, additional contractual arrangements for the non-exclusive distribution of the journal's published version of the work (e.g., post it to an institutional repository or publish it in a book), with an acknowledgement of its initial publication in this journal.
3. Authors are permitted and encouraged to post their work online (e.g., in institutional repositories or on their website) prior to and during the submission process, as it can lead to productive exchanges, as well as earlier and greater citation of published work (See The Effect of Open Access).
STATISTICS
Abstract viewed = 520 times PDF (Bahasa Indonesia) downloaded = 394 times