KOMUNIKASI DALAM PENDIDIKAN ANAK
Analisis QS Luqman Ayat 12-19
Nurma Yunita Yunita

IAIN Curup

Irni Latifa Irsal

IAIN Curup Bengkulu
Keywords:
Communication; education;child;
Abstract
This study aims to determine how communication is applied by Luqman in educating his children stated in QS. Luqman verses 12-19, by of showing styles, methods, theories, materials and characteristics of parents or educators in educating their children or students.  Therefore it can be a reference in communicating with children in achieving educational goals. This research is a content analysis research using the tahlili method, namely the interpretation method which explains the content of the verses of the Qur'an from all its aspects. The results of this study are: First, the educational material in Surah Luqman is about monotheism or the prohibition of associating partners with Allah, being safe or believing that every action must have a reward, morality to parents, human beings and morality to the environment. Second, the criteria for educators in QS. Luqman are patient, sincere, knowledgeable and pious and Third, Educational Communication Methods in Surah Luqman verses 12-19 are the advice method, the exemplary method and the habituation method.
Downloads
Download data is not yet available.
References
Abdullah, Al Ghamidi. Cara Mengajar Anak Ala Luqman Al Hakim,Yogyakarta: penerbit sabil, 2011.
Addamasyqiy, Abil fida Isma'il bin katsir. Tafsir Al-Qur'anul Adhim Ibnu katsir,juz 3, singapura: kutanahazu pinag, tt.
Ahmadi, Ideology pendidikan, Paradigma Humanisme Teosintris, Yogyakarta: pustaka pelajar, 2006.
al Siddeqy, Teuku Muhammad Hasbi. Tafsir Al Qur'anul Majid al Nur, Semarang: Pustaka Rizki Putra, 2000.
al-Razi, Muhammad. Mukhtar al Shihah, Kairo: al-Saktah al-Jadid, 1329 H.
Alwi, Marjani Materi dan Metode Pendidikan Agama bagi Anak Berusia Dibawah Lima Tahun, Makasar: Alauddin Universy Press, 2011.
Aqsar, Muhammad Aidil. Komunikasi Dalam Pendidikan, Jurnal Al-Hadi. Volume III No. 2 Januari-Juni 2018.
Arief, Armai. Pengantar Ilmu dan Metodologi Pendidikan, Jakarta: Ciputat Pers, 2002.
Baharun, Hasan. Pendidikan Anak dalam Keluarga; Telaah Epistemologis, Pedagogik; Jurnal Pendidikan, Vol. 3, No. 2 Januari-Juni 2016.
Bahri, Husnul. Strategi Komunikasi terhadap Anak Usia Dini, core.ac.uk, Vol. XI, No. 1, Juni 2018.
Barsihannor, Belajar dari Luqmanal Al Hakim, Yougyakarta: kota kembang, 2009.
Community, Muslim Life Style. Ensiklopedia Nabi Muhammad Saw, Sebagai pendidik. Jld 7, Jakarta:PT Lintera Abadi, 2011.
Fitriani, Ditha Prasanti dan Dinda Rakhma. Jurnal Obsesi : Jurnal Pendidikan Anak Usia Dini, Volume 2 Issue 2, 2018.
Gunawan, Heri. Pendidikan Islam, Jakarta: Remaja Rosdakarya, 2014.
Hamka, Tafsir al- Azhar Juz 3, Jakarta: Pustaka Panjimas, 1984.
Hardjana,Agus M. Komunikasi Intrapersonal & Interpersonal, Yogyakarta: Kanisius, 2007.
Novia, Windy. Kamus Lengkap Bahasa Indonesia, Surabay: Kashiko Press, 2007.
Nufus, Hayati dan Rohani. Pendidikan Anak Menurut Surat Luqman Ayat 12-19 dalam Tafsir Ibnu Katsir, Jurnal al - iltizam , Vol.2, No.1, Juni 2017.
Shihab, M. Quraish. Tafsir Al-Misbah, Vol. 2, Jakarta: Lentera Hati, 2000.
Sukardjo, Landasan Pendidikan, Jakarta: Rajawali Pers, 2012.
Suryani, Cut. Konsep pendidikan keluarga dalam Surat luqman ayat 12-19, Jurnal Ilmiah Didaktika Vol. XIII, No. 1, Agustus 2012.
Taubah, Mufatihtut. Pendidikan Anak dalam Keluarga Perspektif Islam, Jurnal Pendidikan Agama Islam Volume 03, Nomor 01, Mei 2015.
Trisnawati, Wahyu dan Sugito. Pendidikan Anak dalam Keluarga Era Covid-19, Jurnal Obsesi : Jurnal Pendidikan Anak Usia Dini, 5 (1), 2021.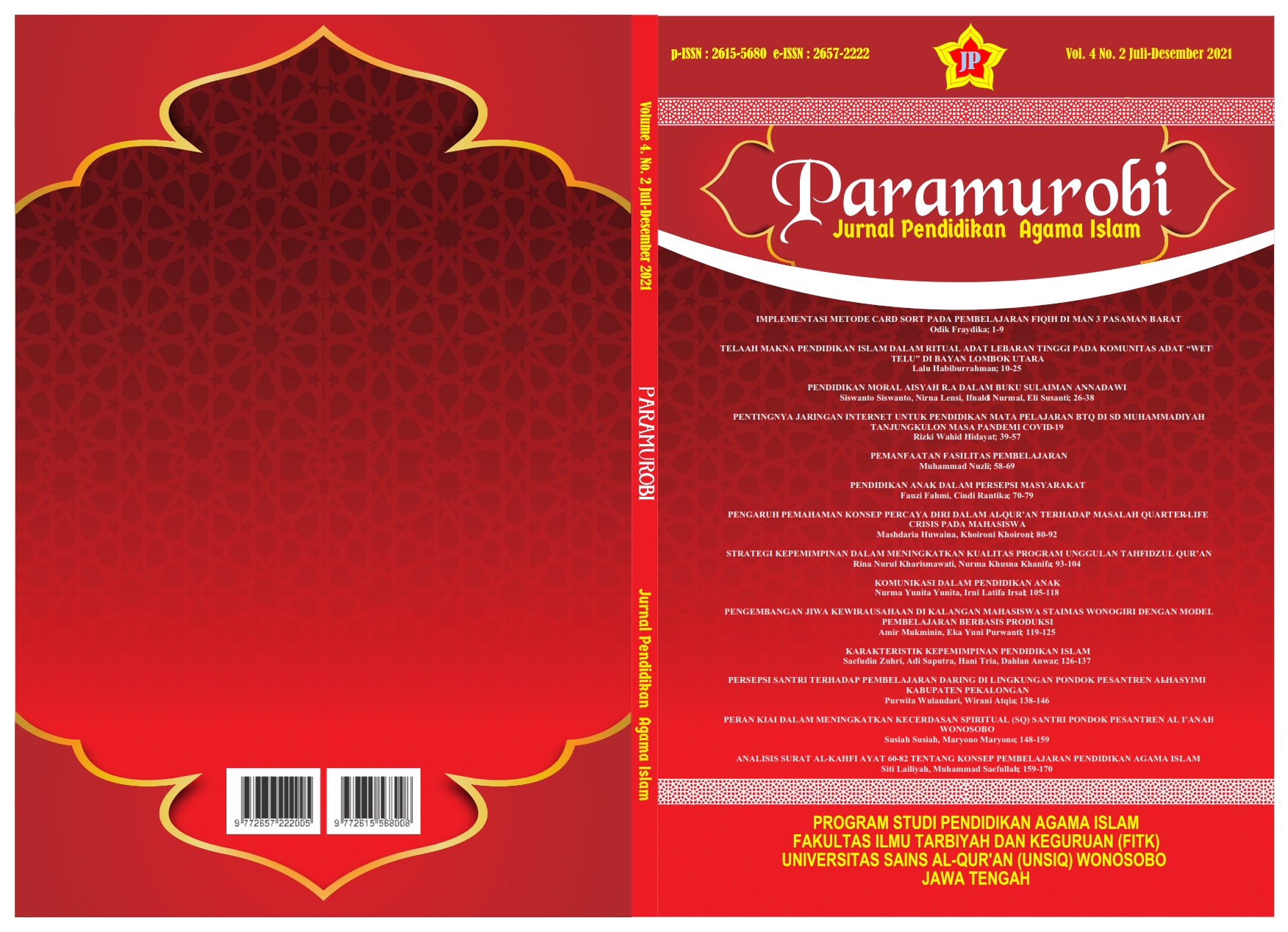 How to Cite
Yunita, Nurma, and Irni Irsal. 2021. PARAMUROBI: JURNAL PENDIDIKAN AGAMA ISLAM 4 (2), 105-18. Accessed June 2, 2023. https://doi.org/https://doi.org/10.32699/paramurobi.v4i2.2045.
This work is licensed under a Creative Commons Attribution-ShareAlike 4.0 International License.
Copyright Notice
1. Authors retain copyright and grant the journal right of first publication with the work simultaneously licensed under a Creative Commons Attribution License (CC BY-SA 4.0) that allows others to share (copy and redistribute the material in any medium or format), and adapt (remix, transform, and build upon the material) the work for any purpose, even commercially with an acknowledgement of the work's authorship and initial publication in this journal.
2. Authors are able to enter into separate, additional contractual arrangements for the non-exclusive distribution of the journal's published version of the work (e.g., post it to an institutional repository or publish it in a book), with an acknowledgement of its initial publication in this journal.
3. Authors are permitted and encouraged to post their work online (e.g., in institutional repositories or on their website) prior to and during the submission process, as it can lead to productive exchanges, as well as earlier and greater citation of published work (See The Effect of Open Access).
STATISTICS
Abstract viewed = 0 times pdf (Bahasa Indonesia) downloaded = 0 times