TELAAH MAKNA PENDIDIKAN ISLAM DALAM RITUAL ADAT LEBARAN TINGGI PADA KOMUNITAS ADAT "WETU TELU" DI BAYAN LOMBOK UTARA
Lalu Habiburrahman

STKIP HAMZAR
Keywords:
Islamic Education, Lebaran High, Wetu Telu
Abstract
This research focuses on the study of the study of the meaning of Islamic education in the traditional rituals of Lebaran Tinggi in the "wetu telu" traditional community in Bayan, North Lombok. The problem in this research is to examine and examine the meanings of Islamic education in the traditional rituals of Eid al-Fitr in the Bayan community, the series of ritual implementations, and the function of the traditional rituals of Lebaran Tinggi. This study uses a study of social identity from an educational perspective or the meaning of Islamic education in rituals. The method used in analyzing this research problem is a descriptive method with field research techniques. The Adatlebaran Tinggi ritual specifically describes the ritual traditions and series of customs of the local Bayan community which are carried out to maintain ancestral heritage for indigenous peoples and serve to show the existence and standard of living of the communal who carries out this tradition.
Downloads
Download data is not yet available.
References
Abu Nashim Muchtar, Antara Tradisi dan Sendi-Sendi Tauhid, (Yogyakarta: Arta Media,
2003) Sulaiman, Menguak Makna Kearifan Lokal Pada Masyarakat Multikultural,
(Semarang: Robar Bersama, 2011)
Agus Bustanuddin, Agama Dalam Kehidupan Manusia: Pengantar Antropoligi Agama,
(Jakarta: Grafindo Persada, 2006)
Ajid Tohir dan Ading Kusdiana, Islam di ASIA Selatan; Melacak Perkembangan Sosial,
Politik Ummat Islam Di India, Pakistan Dan Bangladesh, (Bandung: Humaniora,
2006)
Badri Yatim, Sejarah Peradaban Islam: Dirasah Islamiyah II, (Jakrta: PT. Raja Grafindo
Persada, 2008)
Bassam Tibi, The Crisis of Moderen Islam, (Salt Lake City: University of Utah press, 1988)

Clifford Gertz, Kebudayaan dan Agama, terj. Francisco Budi Hardiman, (Yogyakarta:
Kanisius, 1992)
Depdikbud, Monografi Daerah Nusa Tenggara Barat, (Mataram: Depdikbud, 1975)
Ernest Cassier, Manusia dan Kebudayaan, terj. Alois A. Nugroho (Jakarta: Gramedia,
1990)
Erni Budiwanti, Islam Sasak; Wetu Telu Versus Waktu Lima, Cet. II, (Yogyakarta: Lkis
Printing Cemerlang, 2013)
Fauzi Fahri, Penyingkapan Kuasa Simbol, Aproriasi Reflektif Pemikiran Piere Bourdieu,
(Yogyakarta: Juxtapos, 2007)
H. Bahrudin, Bahri, Study Sejarah dan Budaya Lombok, (Lombok Timur : Pusankanda,
2014)
Judith Ecklund, Tradition or Non Tradition: Adat, Islam, and Local Control on Lombok,
(New York: Cornell Univercity Press, 1981)
https://id.wikipedia.org/wiki/Mistisisme. 2 Juni2021
Koenjaraningrat, Beberapa Pokok Antropolgi Sosial, (Jakarta: Dian Rakyat, 1985)
Imam Suprayogo, Metodologi Penelitian Sosial Agama, (Bandung: Remaja Rosda karya, 2001)
______________, Sejarah Teori Antropologi I, (Jakarta: UI Press, 1987)
P.S. Hari Susanto, Mitos Menurut Mircea Eliade, (Yogyakarta: Kanisius, 1987)
Uka Tjandrasasmita, Sejarah Nasional Indonesia III, (jakarta: PN. Balai Pustaka, 1984)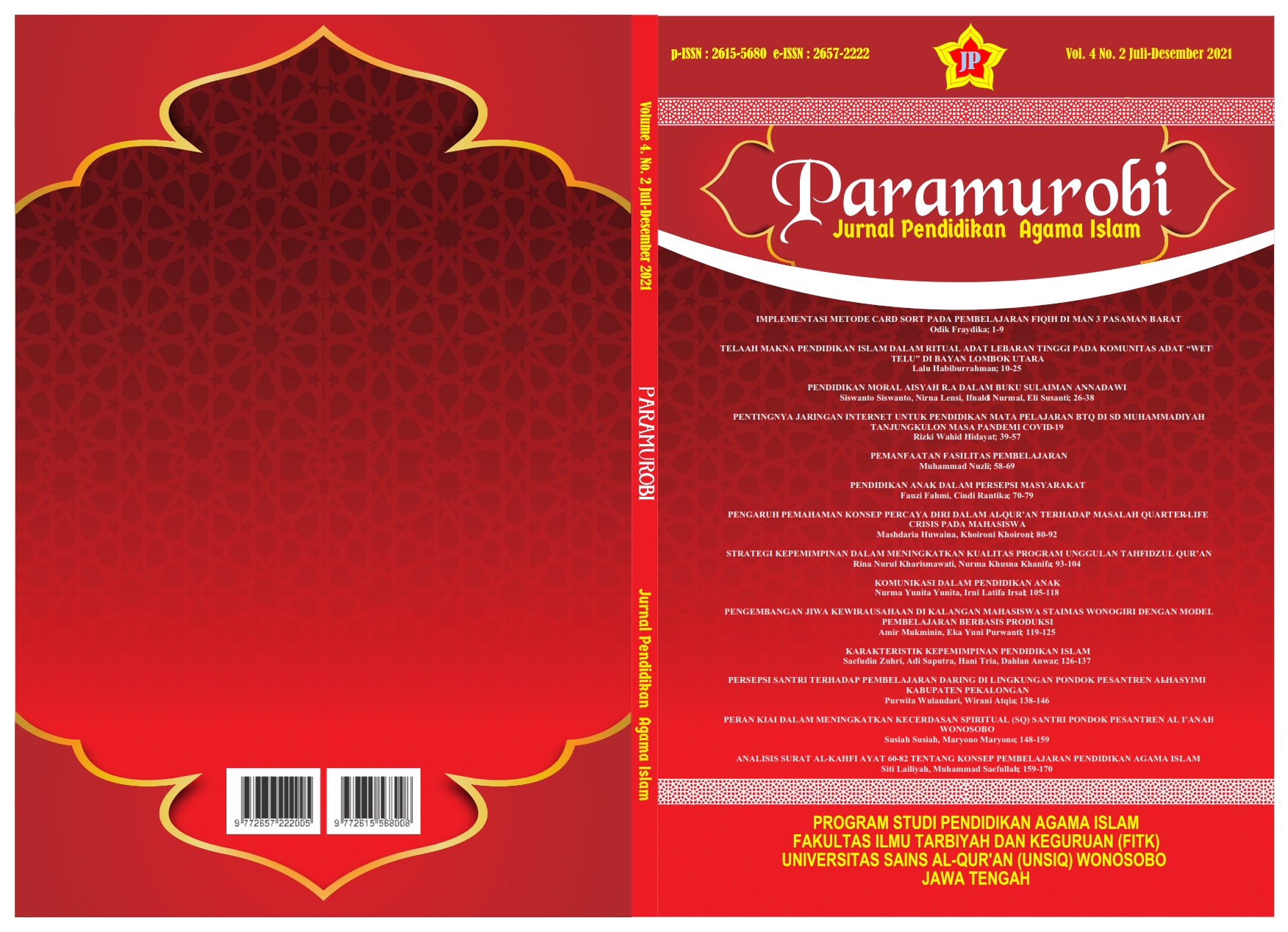 How to Cite
Habiburrahman, Lalu. 2021. PARAMUROBI: JURNAL PENDIDIKAN AGAMA ISLAM 4 (2), 10-25. Accessed August 12, 2022. https://doi.org/https://doi.org/10.32699/paramurobi.v4i2.1900.
This work is licensed under a Creative Commons Attribution-ShareAlike 4.0 International License.
Copyright Notice
1. Authors retain copyright and grant the journal right of first publication with the work simultaneously licensed under a Creative Commons Attribution License (CC BY-SA 4.0) that allows others to share (copy and redistribute the material in any medium or format), and adapt (remix, transform, and build upon the material) the work for any purpose, even commercially with an acknowledgement of the work's authorship and initial publication in this journal.
2. Authors are able to enter into separate, additional contractual arrangements for the non-exclusive distribution of the journal's published version of the work (e.g., post it to an institutional repository or publish it in a book), with an acknowledgement of its initial publication in this journal.
3. Authors are permitted and encouraged to post their work online (e.g., in institutional repositories or on their website) prior to and during the submission process, as it can lead to productive exchanges, as well as earlier and greater citation of published work (See The Effect of Open Access).
STATISTICS
Abstract viewed = 0 times pdf (Bahasa Indonesia) downloaded = 0 times