PEMANFAATAN DAN PENGEMBANGAN BLOG SEBAGAI MEDIA DAN SUMBER BELAJAR PADA MATA PELAJARAN FIQIH TINGKAT MADRASAH TSANAWIYAH
Yusuf Amin Nugroho

Faculty of Tarbiyah and Teacher Training UNSIQ Central Java
Keywords:
Learning Media, Learning Resources, Blog, Fiqih
Abstract
In order to actualize creative learning meaningful, a teacher must be smart in choosing the media, determine the method, and also motivate students to utilize media and learning resources. Many media and learning resources that can be utilized to support the success of students in school uniform jurisprudence (MTs), one of which is to utilize the internet media. The purpose of this research to provide the knowledge and practical measures related to the utilization and development of blogs as a media and learning resources jurisprudence on the level of MTs. Hopefully, this study can provide inspiration and motivation for teachers in the school to design learning strategies that are more meaningful for the students, one of them made the blog as a media and learning resources. This research includes developmental research combined with library research, the aim is to develop, expand and dig deeper into the theory about the use and development of blogs as a source of study subjects Fiqih MTs level, also explains the steps to create a blog to be used as a media and appropriate learning resources. Development blog itself could do with providing exciting content students need, easily understood navigation, link your blog with social media, provide links to sites that are important, pay attention to readability, and practice search engine optimation (SEO).Extra blog as media and learning resources jurisprudence MTs ultimate level that makes learning more interesting, fun, make students active learning, interactive and flexible, student motivation and be a means for directing students to use the Internet more intelligent. The weakness is the limitation of infrastructure, increasing teacher workload, and fragility of misunderstanding in receiving information. Media and blog-based learning resources are also less suitable to improve the competence of affective, and hence learning fiqih face-to-face is still needed.
Downloads
Download data is not yet available.
References
Ace Suryadi, "Pemanfaatan ICT dalam Pembelajaran" dalam Jurnal Pendidikan Terbuka dan Jarak Jauh, Volume 8, Nomor 1, Maret 2007.
Fatah Syukur, Teknologi Pendidikan, (Semarang: RaSAIL, 2005).
Herman Dwi Surjono, Membangun Course E-Learning Berbasis Moodle (Edisi Kedua). (Yogyakarta: UNY Press, 2007).
Merah Cipta Media, Indonesia Digital Lanscape 2013 (PPT)
Mohamad Surya, Bunga Rampai Guru dan Pendidikan, cet. (Jakarta: Balai Pustaka, 2004).
Mohamad Surya, Bunga Rampai Guru dan Pendidikan, cet. (Jakarta: Balai Pustaka, 2004).
Muhaimin, Paradigma Pendidikan Islam: Upaya mengefektifkan Pendidikan Agama Islam di Sekolah, (Bandung: PT.Remaja Rosdakarya, 2008).
Munir, Pendidikan Dunia Maya, Ilmu & Aplikasi Pendidikan, (Bandung: Imtima, 2007).
Naidu, Som, E-learning: A Guidebook of Principles, Procedures and Practises. (Revised Edition: CEMCA, 2006) (E-book, Pdf)
Wijaya Kusuma, Blog untuk Pendidikan, (Jakarta: Indeks, 2012).
Y. Maryono dan B. Patmi Istiana, Teknologi Informasi dan Komunikasi, SMP Kelas IX, (Jakarta: Penerbit Quadra, 2002).
Http://en.wikipedia.org/wiki/Information_and_communications_technology, diakses pada 30 September 204, http://id.wikipedia.org/wiki/Blog, diunduh 30 Oktober 204.
http://www.edukasi.kompas.com/read/2014/01/06/1252090/Mengapa.Siswa.Kelas.Online.Lebih.Unggul.dari.Kelas.Konvensional. Senin, 6 Januari 2014, Diakses 30 Oktober 2014.
Muhsin Wijaya, Pengembangan Model Pembelajaran e-Learning Berbasis Web dengan Prinsipe-Pedagogy dalam Meningkatkan Hasil Belajar. http://www.bpkpenabur.or.id/files/Hal.%2020-37%20Pengembangan%20Model%20PembelajaranR.pdf diakses 30 Oktober 2014.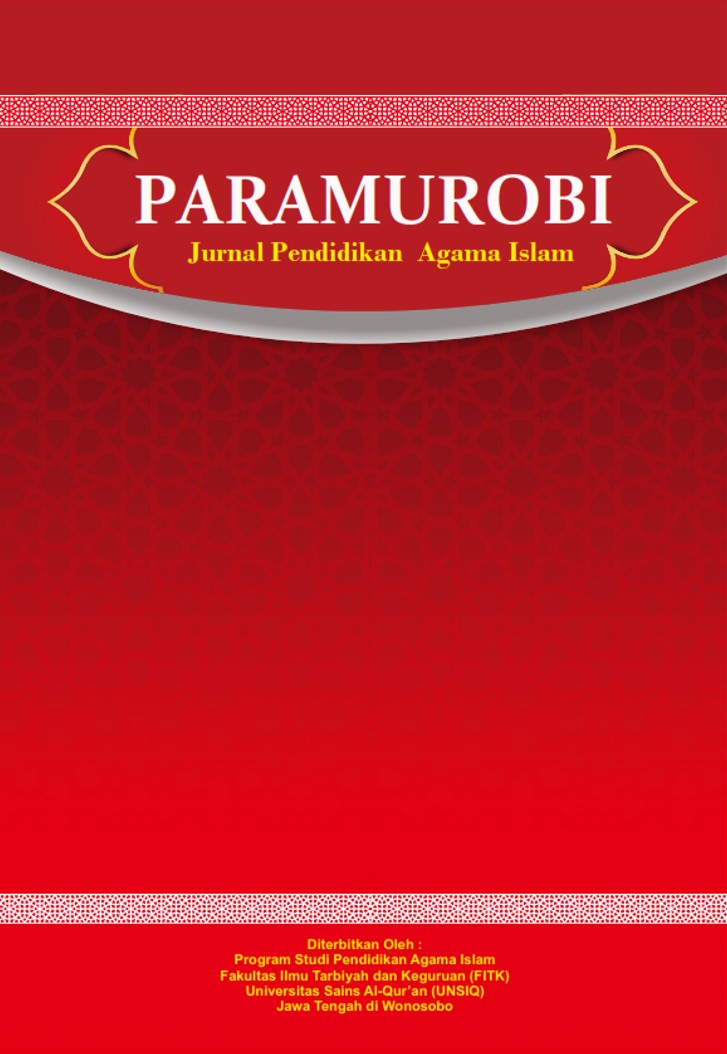 How to Cite
Nugroho, Yusuf. 2018. PARAMUROBI: JURNAL PENDIDIKAN AGAMA ISLAM 1 (1), 15-28. Accessed September 23, 2023. https://doi.org/https://doi.org/10.32699/paramurobi.v1i1.175.
Copyright Notice
1. Authors retain copyright and grant the journal right of first publication with the work simultaneously licensed under a Creative Commons Attribution License (CC BY-SA 4.0) that allows others to share (copy and redistribute the material in any medium or format), and adapt (remix, transform, and build upon the material) the work for any purpose, even commercially with an acknowledgement of the work's authorship and initial publication in this journal.
2. Authors are able to enter into separate, additional contractual arrangements for the non-exclusive distribution of the journal's published version of the work (e.g., post it to an institutional repository or publish it in a book), with an acknowledgement of its initial publication in this journal.
3. Authors are permitted and encouraged to post their work online (e.g., in institutional repositories or on their website) prior to and during the submission process, as it can lead to productive exchanges, as well as earlier and greater citation of published work (See The Effect of Open Access).
STATISTICS
Abstract viewed = 38 times pdf (Bahasa Indonesia) downloaded = 38 times