Ushul Tafsir and Qawaid Tafsir Nusantara: A Review Of Nawawi Al Bantani's Book Of Tafsir Marah Labid
Andri Nirwana

andri.nirwana@ ums.ac.id

Erlan Dwi Cahyo

Muhammadiyah University of Surakarta
Keywords:
Tafsir, Tafsir Rule, Marah Labid Nawawi al Bantani
Abstract
Tafsir is an effort to understand the Quran to find out the meaning and content of the verses of the Quran It is a result of human labor (it is different from the Quran) that has developed and changed from classical period to contemporary. It is diverse in terms of methods (manhaj/tariqah), patterns (nau'), and approaches (alwan). The book of Tafsir Marah Labid or Tafsir Al Munir written by Syekh Nawawi Al-Bantani is considered an interpretation that connects between traditional times and modern times.  It is different from other tafsir in Archepelago because it uses Arabic, of which was novel in Nusantara's works during the time. Other than that, Tafsir Marah Labid also contains some of the teachings that represent its time when Dutch colonialist colonized Nusantara.
Downloads
Download data is not yet available.
References
Al-Bantani, N. (1997). Marah Labid Li Kasyfi Ma'na Qur'an Majid. Surabaya: Al-Hidayah, tt.
Al-Jawi, M. N. (2014). Marah Labid Tafsir Al-Nawawi. Semarang: Toha Putera, Tt), Juz, 1.
Al-Zuhaili, W. (1996). Usul al-fiqh al-Islami. Dar Fikr.
Al Jawi, M. N., & bin Umar, M. (2017). Marah Labid li Kasyfi Ma'na Qur'an Majid. Jakarta: Daar Ihya'al Kutub Al 'Arabiyah.
Al Ma'i, Z. bin 'Iwad. (1974). Dirasat fi al Tafsir al Maudhu'i li al Quran al Karim. Mathabi' al Farazdaq at Tijariyyah.
Avivy, A. L. F., Dakir, J., & Ibrahim, M. (2015). Isra'iliyyat in interpretive literature of Indonesia: A comparison between Tafsir Marah Labid and Tafsir al-Azhar. Mediterranean Journal of Social Sciences, 6(3), 401. https://doi.org/10.5901/mjss.2015.v6n3s2p401
Bahary, A. (2015). Tafsir Nusantara Studi kritis terhadap Marah Labid Nawawi al-Bantani. ULUL ALBAB Jurnal Studi Islam, 16(2), 176-190. https://doi.org/10.18860/ua.v16i2.3179
Harun, S. (2000). Nilai-Nilai Ahlak dalam Al Quran; Mutiara Surah AlFatihah. Ciputat: Kafur.
Hidayat, A. W. (2019). Pemikiran Syekh Nawawi Al-Bantani Dan Relevansinya Di Era Modern. Aqlam: Journal of Islam and Plurality, 4(2) 196-214.
Ilman, R. Z. (2019). Analisis Kritis Kitab Magnumopus Syaikh Nawawi al-Bantani. Kontemplasi: Jurnal Ilmu-Ilmu Ushuluddin, 7(2), 299–336. https://doi.org/10.21274/kontem.2019.7.2.299-336
Islam, D. R. E. H. (1997). Ensiklopedi Hukum Islam. In Jakarta: PT. Ichtiar Van Hoeve.
Khaeroni, K. (2021). Pemikiran Syekh Nawawi Al-Bantani Tentang Pendidikan dalam Kitab Tafsir MarāḤ Labīd. Syekh Nawawi Al-Bantani s Thought About Education in the Scripture of Marah Labid. Geneologi Pai Jurnal Pendidikan Agama Islam, 8(1), 232–333.
Maftuh, R. (2018). Inklusisifitas Pemikiran Syaikh Nawawi al-Bantani Studi Atas Konsep Ahl al-Fatrah dalam Tafsir Marāḥ Labīd. Maghza: Jurnal Ilmu Al-Qur'an Dan Tafsir, 3(1), 119–133. https://doi.org/10.24090/maghza.v3i1.1960
Masnida. (2016). Karakteristik Dan Manhaj Tafsir Marah Labid Karya Syekh Nawawi Al-Bantani. Jurnal Darussalam: Jurnal Pendidikan, Komunikasi Dan Pemikiran Hukum Islam, VIII,(1), 192–201.
Matheson, V., & Milner, A. C. (1981). Perceptions of the Haj. In Perceptions of the Haj. ISEAS Publishing.
Muchtar, A. (2001). Tunduk kepada Allah: fungsi dan peran agama demi kehidupan manusia. Jakarta: Khazanah Baru.
Muhammad, K. H. H. (2001). Fiqh Perempuan Refleksi Kiai atas Wacana Agama dan Gender. LKIS PELANGI AKSARA.
Mujahiddin, A., & Asror, M. (2021). Telaah Tafsir Marah Labid Karya Nawawi al-Bantani. In Ulumul Qur'an: Jurnal Kajian Ilmu Al-Qur'an dan Tafsir (Vol. 1, Issue 1) 81-87.
Rahman, A. (2018). Diskursus Biografi, Kontestasi Politis-Teologis dan Metodologi Tafsir. MIQOT: Jurnal Ilmu-Ilmu Keislaman, 42(1), 1-22. https://doi.org/10.30821/miqot.v42i1.419
Rahman, Abd. (1996). Nawāwī al-Bantānī: An intellectual master of the pesantren tradition. Studia Islamika, Vol. 3, No. 3. 81-114.
Setiadi, Y., Iman, M. T., & Farkhan, M. (2021). The Characteristics of the Concise Exegesis of the Holy Quran published by LPMQ of Ministry of Religious Affairs of Indonesia. Jurnal Indo-Islamika, 11(2), 141–166. https://doi.org/10.15408/jii.v11i2.22324
Shihab, M. Q. (2007). Membumikan Al-Qur'an, Fungsi dan Peran Wahyu dalam Masyarakat (Cet. I). Bandung: Mizan Media Utama.
Suwarjin, S. (2017). Biografi Intelektual Syekh Nawawi Al-Bantani. Tsaqofah dan Tarikh: Jurnal Kebudayaan dan Sejarah Islam, 2(2), 189-202. https://doi.org/10.29300/ttjksi.v2i2.717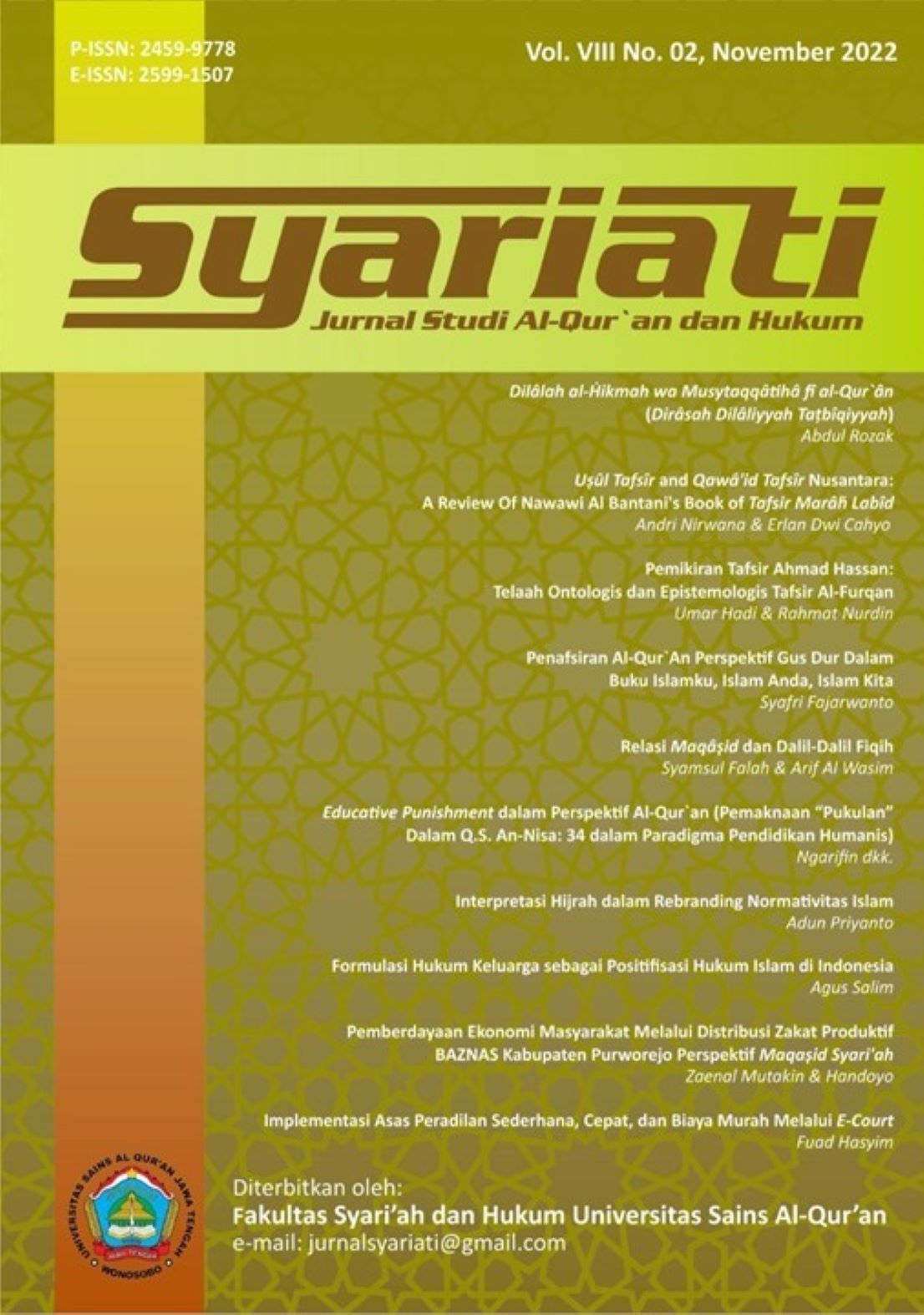 How to Cite
NirwanaA. and CahyoE. D. (2022) "Ushul Tafsir and Qawaid Tafsir Nusantara: A Review Of Nawawi Al Bantani's Book Of Tafsir Marah Labid", Syariati: Jurnal Studi Al-Qur'an dan Hukum, 8(2), pp. 151 - 162. doi: https://doi.org/10.32699/syariati.v8i2.4249.
STATISTICS
Abstract viewed = 0 times PDF downloaded = 0 times