Historiografi Tafsir Era Klasik: Dinamika Penafsiran Al-Qur`An Dari Masa Nabi Hingga Tâbi'în
Hilmy Pratomo

Universitas Sains Al-Qur'an
Keywords:
Interpretation, History, Methodology, Approach
Abstract
The interpretation of the Koran is an effort without ever reaching the point of stopping, In every time and place, it always present interpreters with different styles, methodologies and different characteristics. Husein al-Dzahabi mapping the tafsir for three phase, phase Muhammad and his friends (sahabat), tabi'in (friends of sahabat). This paper deal with history tafsir from Muhammad phase to the codification phase. The main problem will be studied in this paper is trying to analyze development interpretation Koran to view the flow of interpretation in terms of methodological aspects and approach interpreting the Koran.
Downloads
Download data is not yet available.
References
Amîn, Aḣmad. 1969. Fajr al-Islâm. Beirut: Dâr al-Kitâb al-'Arabî.
———. 1998. Ḍuḣâ al-Islâm. Vol. II. Cairo: Maktabah Usrah.
Andalusî, Abû Ḣayyân al-. 1993. al-Baḣru al-Muḣîṭ. Beirut: Dâr al-Kutub al-'Ilmiyyah.
Baidan, Nashruddin. 2011. Wawasan Baru Ilmu Tafsir. Yogyakarta: Pustaka Pelajar.
Balṭâjî, Muḣammad. t.t. Manhaj 'Umar Ibn Khaṭṭab fî al-Tasyrî.' Cairo: Dâr al-Fikr al-'Arabî.
Ghânî, Abd al-Fattâh 'Abd. 2006. Rauḍah aṭ-Ṭâlibîn fi Manâhij al-Mufassirîn. Cairo: Al-Azhar University.
Goldziher, Ignaz. 2015. Mazhab Tafsir Dari Klasik Hingga Kontemporer. Diterjemahkan oleh M. Alaika Salamullah. Yogyakarta: Kalimedia.
Ibn Sulaimân, Musâ'id. t.t. Syarh Muqaddimah fî Uṣûl at-Tafsîr. Riyâḍ: Dâr Ibn Jauzî.
Ibnu 'Asyûr, Muḣammad Fâḍil. 1997. At-Tafsîr wa Rijâluhu. Cairo: Majma' Buhûṡ al-Islâmiyyah.
Ibnu Manẓûr, Jamaluddin Muhammad ibn Mukarram ibn Ali. t.t. Lisân al-'Arab. Cairo: Dâr al-Ma'ârif.
Kaṣîr, Ibn. 2006. Tafsîr Al-Qur`ân Al-'Aẓîm. Vol. IV. Beirut: Maktabah 'Aṣriyyah.
Khudri, 'Abdullah Ibn 'Ali al-. 1999. Tafsîr at-Tâbi'în. Vol. I. Riyadh: Dâr al-Waṭan li an-Nasyr.
Mustaqim, Abdul. 2012. Dinamika Sejarah Tafsir Al-Qur`an. Yogyakarta: Adab Press.
Pusat Pembinaan dan Pengembangan Bahasa, Tim Penyusun. 1988. "Kamus Besar Bahasa Indonesia." Dalam . Jakarta: Balai Pustaka.
Qaṭṭân, Mannâ Khalîl al-. t.t. Mabâhiṡ fî 'Ulûm al-Qur`ân. Cairo: Maktabah Wahbah.
Râzî, Muḣammad Ibn Abû Bakar Ibn 'Abdul Qâdîr ar-. 2010. Mukhtâr aṣ-Ṣiḣḣaḣ. Beirut: Dâr al-Ma'rifah.
Saeed, Abdullah. 2015. Paradigma, Prinsip dan Metode Penafsiran Kontekstualis atas Al-Qur`an. Diterjemahkan oleh Lien Iffah Naf'atu Fina. Yogyakarta: Lembaga Ladang Kata.
———. 2016. Al-Qur`an Abad 21 Tafsir Kontekstual. Diterjemahkan oleh Ervan Nurtawab. Bandung: Mizan.
Shihab, Quraish. 1994. Membumikan Al-Qur`an. Bandung: Mizan.
Suyûṭî, Jalâl ad-Dîn Abdurraḣmân ibn Abî Bakar as-. 2008. al-Itqân fî 'Ulûm al-Qur`an. Beirut: Muassasah Ar-Risâlah Nâsyirûn.
Syafruddin. 2009. Paradigma Tafsir Tekstual dan Kontekstual; Usaha Memaknai Kembali Pesan Al-Qur`an. Yogyakarta: Pustaka Pelajar.
Syinqiṭî, Muḣammad al-Amîn asy-. 2005. Aḍwâ' al-Bayân fî Îḍâḣ Al-Qur`ân bi Al-Qur`ân. Vol. II. Cairo: Dâr al-Ḣadiṡ.
Żahabî, Husein aż-. 2005. at-Tafsîr wa al-Mufassirûn. Cairo: Dâr al-Hadîṡ.
Zarkasyî, Badruddîn Muḣammad Ibn 'Abdillah az-. 2006. al-Burhân fî 'Ulûm al-Qur`ân. Cairo: Dâr al-Ḣadîṡ.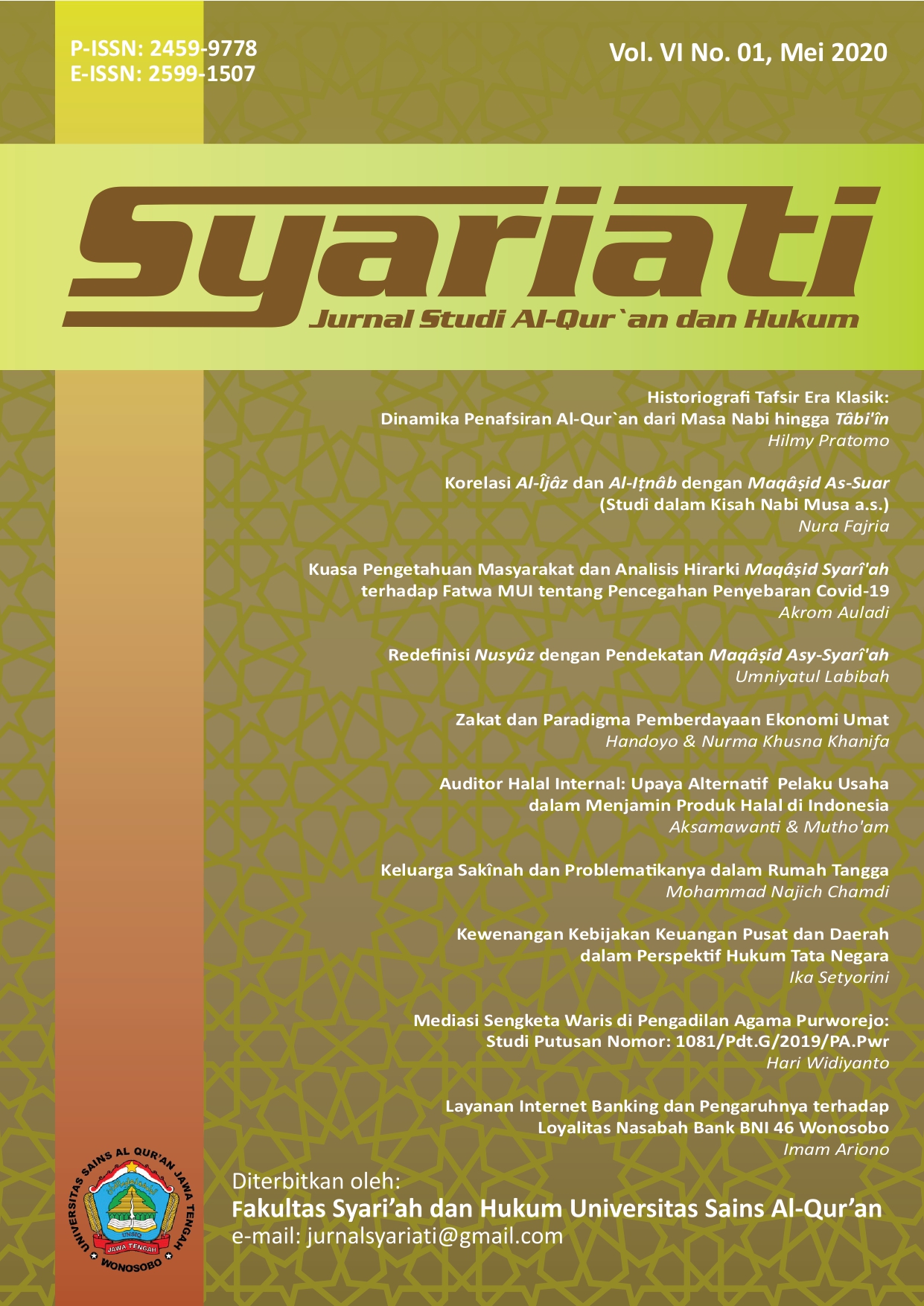 How to Cite
PratomoH. (2020) "Historiografi Tafsir Era Klasik: Dinamika Penafsiran Al-Qur`An Dari Masa Nabi Hingga Tâbi'în", Syariati: Jurnal Studi Al-Qur'an dan Hukum, 6(01), pp. 1 - 16. doi: https://doi.org/10.32699/syariati.v6i01.1258.
STATISTICS
Abstract viewed = 219 times PDF downloaded = 303 times