Gerakan Pembaharuan Keagamaan Reformis-Modernis
Studi Terhadap Muhammadiyah dan Nahdlatul Ulama
Yeyen Subandi

Program Doktor Politik Islam - Universitas Muhammadiyah Yogyakarta
Abstract
The change of civilization to another civilization is not always through a "peace" path. Even history has proved the changes of civilization often occured through collective movements or better known as social movements. The emergence of reform and modernization (change) in the Islamic world in the beginning of the 20th century stemed from a reaction to European expansion and glory. Modernism (modernist) carried in the Islamic movement is usually interpreted as a way of thinking with Western civilization, referring to the pursuit of backwardness through a fundamental search of ethics to Islam for political and cultural awakening. The Islamic Movement calls on Muslims to overcome the shackled state of stagnation and backwardness. A number of movements such as Muhammadiyah and Nahdlatul Ulama in Indonesia have attempted to realize the purification of Islam from all aspects by returning it to the Qur'an and As-Sunnah. These two patterns of struggle or renewal are pioneered by the Salafi movement which is affirmed by Jamaluddin al-Afghany and Muhammad Abduh, with emphasis on the political aspect of statehood or social society. The struggle of the movement is more emphasized to seize and control the various state institutions, especially the legislature. Religious movement to master over various state institutions is believed to bring the glory of Islam. Islam will be able to determine the laws, rules, decisions and policies of a truly Islam.
Downloads
Download data is not yet available.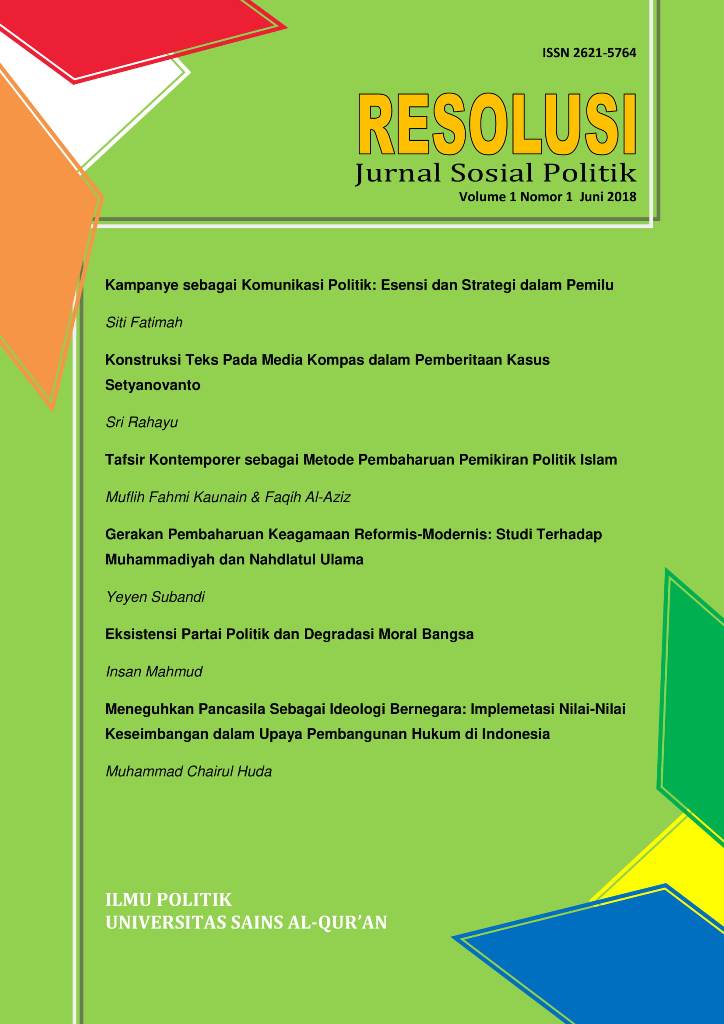 How to Cite
SubandiY. (2018, June 29). Gerakan Pembaharuan Keagamaan Reformis-Modernis. Resolusi: Jurnal Sosial Politik, 1(1), 54-66. https://doi.org/https://doi.org/10.32699/resolusi.v1i1.158
By submitting a manuscript, the authors understand that if accepted for publication, the authors hold and retain their article's copyright. The copyright is without any restriction.
As the publisher of Resolusi: Jurnal Sosial Politik, the Department of Political Science - Universitas Sains Al-Qur'an attempts its best to facilitate everyone who wish to publish their article by ensuring that every article meets academic rules and ethics.
STATISTICS
Abstract viewed = 75 times PDF (Bahasa Indonesia) downloaded = 69 times