METODE SIMULASI DALAM OPTIMALISASI KINERJA TERMAL RUMAH VERNAKULAR DI DAERAH DATARAN RENDAH
Hidayatus Sibyan

Fakultas Teknik dan Ilmu Komputer Universitas Sains Al Qur'an (UNSIQ) Wonosobo

Muhamat Fuat Asnawi

Fakultas Teknik dan Ilmu Komputer Universitas Sains Al Qur'an (UNSIQ) Wonosobo
Keywords:
simulation, revit, local house, beach
Abstract
Energi menjadi permasalahan krusial yang selalu dicari solusi penyelesaiannya dalam semua bidang. Bidang Teknik Informatika atau komputer sangat berkaitan erat dengan bidang lain seperti adanya software komputer untuk mensimulasikan kinerja bangunan dalam melakukan penghematan energi.
Metode simulasi dengan penggunaan software komputer untuk bangunan banyak berkembang. Salah satu metode yang senantiasa berkembang adalah Program Revit. Penelitian ini akan melihat optimalisasi kinerja termal bangunan dengan menggunakan Software Revit.
Target khusus penelitian ini adalah membandingkan kinerja termal rumah tinggal lokal tersebut dengan metode simulasi khususnya dalam penghematan energi. Penelitian akan mengambil fokus rumah lokal di daerah dataran rendah (pantai). Penelitian akan menggunakan variabel iklim yaitu suhu udara, kelembaban udara, kecepatan angin dan suhu radiasi matahari rata-rata. Sebelum masuk ke metode simulasi, dilakukan survey lapangan untuk mengetahui data-data variabel iklim yang riil.
Data rumah tinggal dan hasil pengukuran akan dimasukkan ke dalam software simulasi. Hasil simulasi analisa energi Rumah tinggal dengan penggunaan total energi tahunan terkecil (total EUI) adalah rumah Bapak Pujiono rumah tinggal berdinding kayu dengan total EUI sebesar 727 MJ/sm/yr. Penggunaan energi listrik tahunan (Electricity EUI) 168 kWh/sm/yr dengan biaya sekitar $10.08 (Rp134.033.65). Penggunaan energi bahan bakar tahunan (Fuel EUI) 123 MJ/sm/yr dengan biaya sekitar $13.53 (Rp179.908.27)
References
Asadi, S., Fakhari, M., & Sendi, M. (2016). A study on the thermal behavior of traditional residential buildings: Rasoulian house case study. Journal of Building Engineering, 7, 334342. http://doi.org/10.1016/j.jobe.2016.07.012

Barbosa, S., & Kenneth, I. (2014). Perspectives of double skin faades for naturally ventilated buildings : A review. Renewable and Sustainable Energy Reviews

Cipta, Komang, 2017, Autodesk Revit, https://student.unud.ac.id/komangcipta/news/36629, diakses pada 3 Februari 2017

Eddy I.S. 2012. Kenyamanan Termal Indoor Pada Bangunan Di Daerah Beriklim Tropis Lembab. Journal Indonesian Green Technology Journal.Vol. 1 No. 1, Hal.13-19.

Hermawan and Prianto, E., 2017, Thermal evaluation for exposed stone house with quantitative and qualitative approach in mountainous area, Wonosobo, Indonesia, IOP Conf. Series: Earth and Environmental Science 99 (2017) 012017, pp.1-10. do i :10.1088/1755-1315/99/1/012017

Hermawan, Prianto, E., and Setyowati, E., 2015, Thermal comfort of wood-wall house in coastal and mountainous region in tropical area. Procedia Engineering 125 pp.725-731 (2015). doi:10.1016/j.proeng.2015.11.114

Hermawan, Prianto, E., Setyowati, E., and Sunaryo, 2017, The comparison of vernacular residences thermal comfort in coastal with that in mountainous regions of tropical areas, AIP Conference Proceedings 1903, 080001 (2017), pp. 080001-1 - 080001-8. https://doi.org/10.1063/1.5011589

I Putu, Z.A, 2014. Ragam Arsitektur Berdasar Iklim dan Tempat. Bali: Universitas Udayana.

Jeong, W. S., & Kim, K. H. (2016). A performance evaluation of the BIM-based object-oriented physical modeling technique for building thermal simulations: A comparative case study. Sustainability (Switzerland), 8(7), 127. http://doi.org/10.3390/su8070648

Khayatian, F., Sarto, L., & DallO, G. (2016). Application of neural networks for evaluating energy performance certificates of residential buildings. Energy and Buildings, 125, 4554. http://doi.org/10.1016/j.enbuild.2016.04.067

Perez, I. O., & stergaard, P. A. (2014). Potential of natural ventilation in temperate countries A case study of Denmark. Applied Energy , 520530.

Reyna, L. (2015). Casa Pasiva: House Standards in the Dominican Republic. Retrieved from http://scholarworks.rit.edu/theses/8953/

Sanjaya, Prana, 2017, mengenal revit architecture, http://www.tentangcad.com/2008/06/mengenal-revit-architecture/ diakses pada 23 Januari 2017

Yang, L., Yan, H., Xu, Y., & Lam, J. C. (2013). Residential Thermal Environment In Cold ClimatesAt High Altitudes And Building Energy Use Implications. Energy and Buildings Journal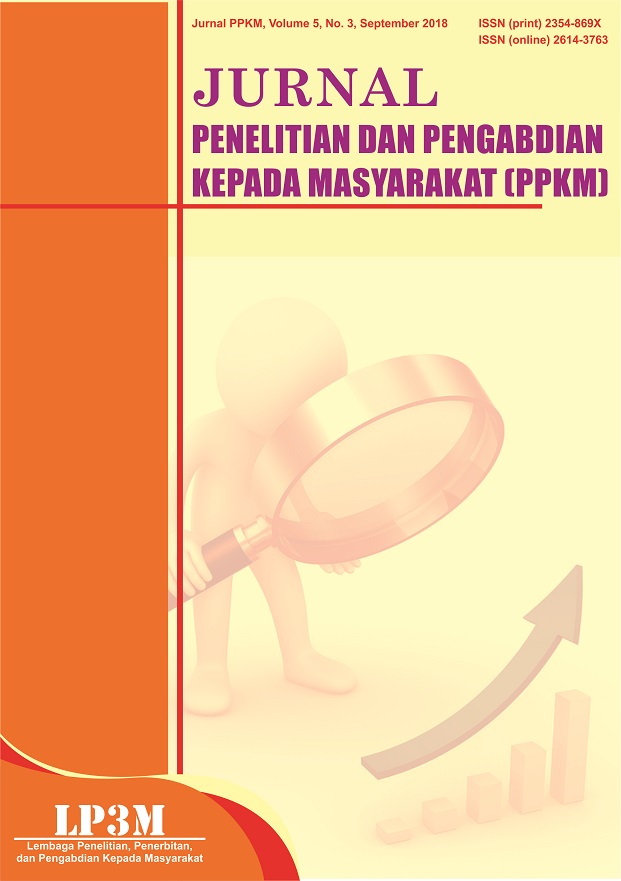 How to Cite
Sibyan, H. and Asnawi, M. (2018) "METODE SIMULASI DALAM OPTIMALISASI KINERJA TERMAL RUMAH VERNAKULAR DI DAERAH DATARAN RENDAH", Jurnal Penelitian dan Pengabdian Kepada Masyarakat UNSIQ, 5(3), pp. 267-280. doi: https://doi.org/10.32699/ppkm.v5i3.474.