Prediksi Kenyamanan Termal dengan PMV di SMK 1 Wonosobo
Hermawan Hermawan

Mahasiswa Program Doktor Arsitektur UNDIP Semarang

Eddy Prianto

Doktor Arsitektur UNDIP Semarang

Erni Setyowati

Doktor Arsitektur UNDIP Semarang
Keywords:
Kenyamanan Termal, PMV, SMK 1 Wonosobo
Abstract
Kenyamanan Termal merupakan kondisi pikir seseorang terhadap lingkungannya. Dewasa ini telah banyak penelitian kenyamanan termal yang menggunakan kenyamanan termal adaptif dikarenakan bahwa PMV (Predicted Mean Vote) tidak cocok untuk ruang yang berventilasi alami. PMV hanya cocok untuk ruang yang berventilasi buatan (AC). Salah satu ruang laboratorium komputer di SMK 1 Wonosobo menggunakan gabungan ventilasi alami dan buatan sehingga perlu diverifikasi apakah PMV berlaku di ruang dengan ventilasi gabungan di SMK 1 Wonosobo. Metode yang digunakan menggunakan metode kuantitatif dengan berdasar pada teori PMV dari Fanger. Kondisi Iklim diukur menggunakan alat-alat pengukur iklim. Software yang digunakan adalah Software ASHRAE yang berdasar pada teori PMV. Hasil yang didapat bahwa prediksi kenyamanan termal di SMK 1 agak hangat (agak tidak nyaman)
Downloads
Download data is not yet available.
References
Arens, E; Humphreys, M.A; de Dear, R.J and Zhang, H. 2010. Are 'Class A' temperature requirements realistik or desirable? Building and Environment Journal.
Conceicao, E.Z.E; Gomes, J.M.M; Antao, N.H and Lucio, M.M.J.R. 2011. Application of a developed adaptive model in the evaluation of thermal comfort in ventilated kindergarten occupied spaces. Building and Environment Journal.
Deuble, M.P; de Dear, R.J. 2012. Mixed-Mode Buildings. A double standard in occupants comfort expectations. Building and Environment Journal.
Halawa, E and van Hoof, J. 2012. The Adaptive Approach to Thermal Comfort: A Critical Overview. Energy and Buildings Journal.
Indraganti, M and Rao, K.D. 2010. Effect of age, gender, economic group and tenure on thermal comfort: A field study ini residential buildings in hot and dry climate with seasonal variations. Energy and Building Journal.
Kim, J and de Dear, R. 2012. Impact of Different Building Ventilation Modes on Occupant Expectations of The Main IEQ Factors. Building and Environment Journal. Prianto, E. 2003. Design Jendela yang Tanggap Terhadap Tuntutan Kenyamanan Penghuni. BP UNDIP: Semarang
Prianto, E. 2012. Dasar-Dasar Teori Kenyamanan Termal. Buku Ajar Fisika Bangunan Arsitektur UNDIP. Semarang.
Sugini. 2012. The Effectiveness of The PMV Model in Predicting The Qualtiy of Thermal Comfort in Learning Environments in A Warm Humid Tropical Zone. International Journal of Engineering & Technology IJET-IJENS.
Ter Mors, S; Hensen, J.L.M; Loomans, M.G.L.C. and Boerstra, A.C. 2011. Adaptive thermal comfort in primary school classrooms: Creating and validating PMV-based comfort charts. Building and Environment Journal.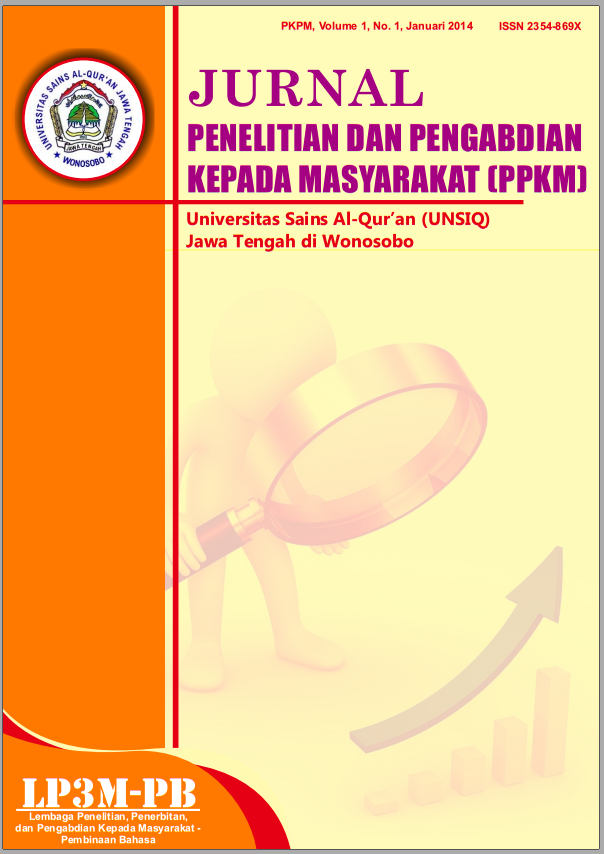 How to Cite
HermawanH., PriantoE. and SetyowatiE. (2014) "Prediksi Kenyamanan Termal dengan PMV di SMK 1 Wonosobo", Jurnal Penelitian dan Pengabdian Kepada Masyarakat UNSIQ, 1(1), pp. 13-20. doi: https://doi.org/10.32699/ppkm.v1i1.229.
STATISTICS
Abstract viewed = 9 times PDF downloaded = 5 times