Evaluasi Termal Dinding Bangunan dengan Vertikal Garden
Ratih Widiastuti

Mahasiswa S2 Magister Teknik Arsitektur, Fakultas Teknik, Universitas Diponegoro, Semarang

Eddy Prianto

Dosen Jurusan Arsitektur Universitas Diponegoro, Semarang

Wahyu Setia Budi

Guru Besar Jurusan Fisika, Fakultas Matematika dan Sciences, Universitas Diponegoro
Keywords:
suhu permukaan, vertical garden
Abstract
Saat ini, aspek penghijauan di kota-kota besar mulai diperhatikan. Permasalahan lingkungan perkotaan akibat adanya Urban Heat Island (UHI) menjadi latar belakang dari pemilik bangunan untuk mengaplikasikan konsep vertical garden pada bangunan mereka. Kemampuan vertical garden dalam menurunkan profil suhu permukaan dinding merupakan salah satu aspek dasar untuk menciptakan kenyamanan termal bagi penggunanya. Penelitian ini merupakan hasil studi dari pengaruh vertical garden terhadap kondisi termal bangunan PT. Pertamina Semarang. Profil suhu permukaan dinding interior ruangan bervertical garden lebih rendah bila dibandingkan dengan ruangan non vertical garden. Rata-rata selisih profil suhunya adalah 1.4C-2.1C. Selisih minimum terjadi pada awal pengukuran sedangkan selisih maksimum terjadi pada akhir pengukuran dengan sebaran suhunya semakin ke atas profil suhunya semakin panas. Dari hasil studi juga diketahui bahwa vertical garden mampu menurunkan suhu permukaan dinding non vertical garden yang berada pada satu area dengan dinding bervertical garden
Downloads
Download data is not yet available.
References
Bass B., Baskaran B., Evaluating Rooftop And Vertical Gardens As An Adaptation Strategy For Urban Areas. Institute for Research and Construction. NRCC-46737, Project number A020, CCAF report B1046, National Research Council, Ottawa, Canada, 2003.
Laopanitchakul, Vichai et al, Climbing-Plant on solid wall for Reducing Energy in Tropical Climate, Sustainable Building Conference 08, Soul, Korea, 2008.
Papadakis G., Tsamis P., Kyritsis S., An Experimental Investigation Of The Effect Of Shading With Plants For Solar Control Of Buildings. Energy and Buildings 33 (2001) 831–6.
Peck S.W., Callaghan C., Bass B., Kuhn M.E., Research Report: Greenbacks From Green Roofs: Forging A New Industry In Canada, Canadian Mortgage and Housing Corporation (CMHC), Ottawa, Canada, 1999.
Prianto, E., Aplikasi Green Wall Pada Gedung Pemerintah Dalam Menciptakan Kenyamanan Di Kota Semarang : Sebuah Studi Awal, Jurnal Pembangunan Kota Semarang Berbasis Sains & Teknologi RIPTEK, Vol.7, No.1, Semarang Hal 1-14, 2013.
Rashid, R. et al, Natural Green Application Technology On Building In Dense Dhaka City Is Provide A Sustainable, Energy Saving, Comfortable And Healthy Environment, Research Journal, University Technology Malaysia.
Takakura, T. et al, Cooling Effect Of Greenery Cover Over A Building, Energy and Buildings 31 (2000), pp. 1-6.
Stec W.J., Paassen A.H.C., Maziar A., Modelling The Double Skin Facade With Plants, Energy and Buildings, 37 (2005) 419–27.
Wong N.H., Tan A.Y.K, Chen Y, Sekar K, Tan P.Y, Chan D, Chiang K, Wong N.C., Thermal Evaluation Of Vertical Greenery Systems For Building Walls. Building and Environment, 45 (2010) 663-672.
http://www.greencsreen.com, diakses pada 2 Agustus 2013.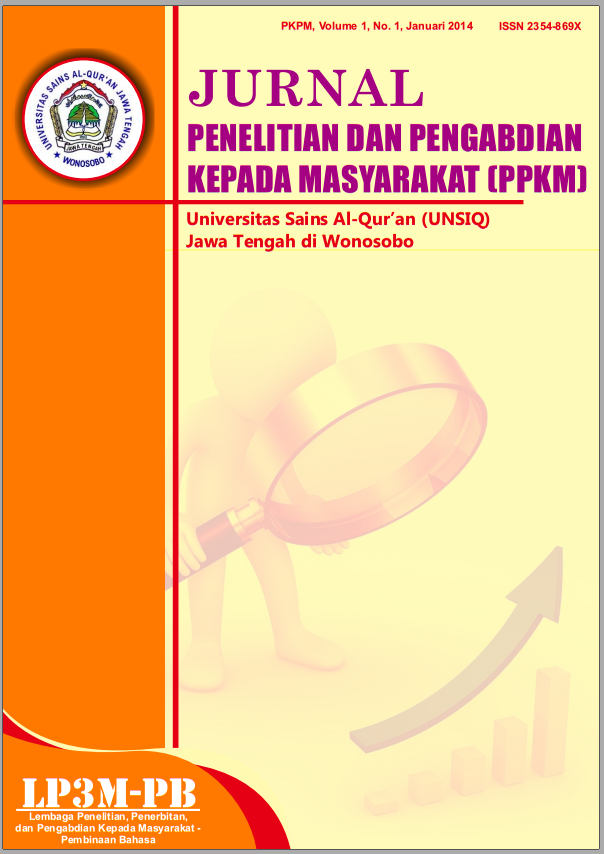 How to Cite
WidiastutiR., PriantoE. and BudiW. (2014) "Evaluasi Termal Dinding Bangunan dengan Vertikal Garden", Jurnal Penelitian dan Pengabdian Kepada Masyarakat UNSIQ, 1(1), pp. 1-12. doi: https://doi.org/10.32699/ppkm.v1i1.228.
STATISTICS
Abstract viewed = 12 times PDF downloaded = 12 times