GEOMETRI PAHAT BUBUT HSS PADA PROSES MEMBUBUT MUKA POROS BAJA KARBON RENDAH DARI HASIL PEMOTONGAN MENGGUNAKAN LAS OXY-ACETYLEN
Roni Suhartono

Program Studi Teknik Mesin Universitas Sains Al Quran (UNSIQ) Wonosobo
Keywords:
Geometri Pahat Bubut, Pembubutan Muka, Baja Karbon Rendah, Las Oxyacetylen
Abstract
Tujuan penelitian ini adalah menjadikan tolak ukur proses pembubutan poros.
Pemotongan poros tersebut menggunakan las Oxy-acetylen sebelum masuk pada
proses pembubutan. Pembahasan utama dari penelitian ini adalah penggunaan
geometri yang sesuai, sehingga pahat tidak menjadi tumpul saat digunakan untuk
menyayat poros yang mengalami perubahan struktur dikarenakan sebelumya
terdapat proses pengelasan pada bagian luarnya. Hal ini dilakukan dengan
menggunanakan penggabungan dari beberapa pendekatan, yaitu pendekatan teori,
ekperimental dan dikomparasikan dengan literatur. Pengujian yang dilakukan
menggunakan baja karbon rendah dengan jenis St 37 berdiameter 20 mm dengan
modifikasi geometri pahat membentuk radius 3 mm dan 5 mm
Downloads
Download data is not yet available.
References
Heinz Tschatsch, 2008, Applied Machining Technology, Springer, New York. Helmi A. Youssef & Hassan El-Hofy, 2008, Machining Technology Machine Tools and Operations, CRC Press, New York. H.N. Gupta, R. C. Gupta & Arun Mittal, 2009, Manufacturing Processes, second edition, New Age International (P) Limited Publishers, New Delhi. Thomas Childs, Katsuhiro, dkk, 2000, Metal Machining Theory and Applications, Arnold, London.

Tim Fakultas Teknik, (2004), Mempergunakan Mesin Bubut (Komplek), Yogyakarta: Universitas Negeri Yogyakarta.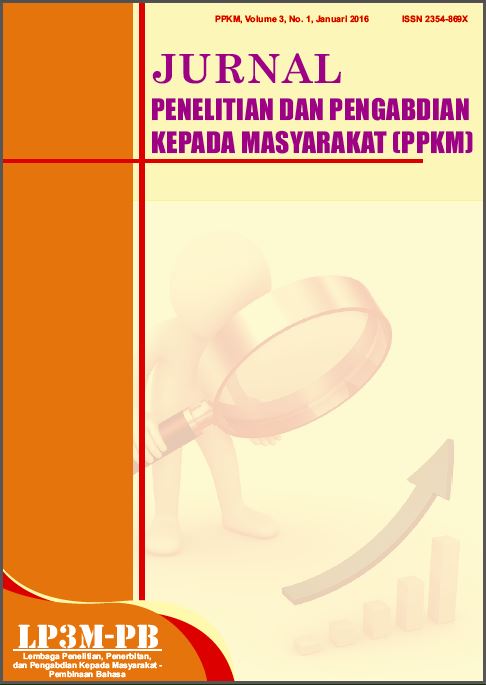 How to Cite
SuhartonoR. (2016) "GEOMETRI PAHAT BUBUT HSS PADA PROSES MEMBUBUT MUKA POROS BAJA KARBON RENDAH DARI HASIL PEMOTONGAN MENGGUNAKAN LAS OXY-ACETYLEN", Jurnal Penelitian dan Pengabdian Kepada Masyarakat UNSIQ, 3(1), pp. 45-48. doi: https://doi.org/10.32699/ppkm.v3i1.335.
STATISTICS
Abstract viewed = 4 times PDF downloaded = 17 times