PEMBERDAYAAN MASYARAKAT DESA PLUMUTAN KABUPATEN SEMARANG MENENTUKAN POSISI DAN KEDALAMAN SUMBER AIR BAWAH PERMUKAAN DENGAN TEKNOLOGI TEPAT GUNA DOWSING DAN GEOLISTRIK
Supriyadi Supriyadi

Universitas Negeri Semarang

Khumaedi Khumaedi

Universitas Negeri Semarang

Sugiyanto Sugiyanto

Universitas Negeri Semarang

Upik Nurbaiti

Universitas Negeri Semarang

Rodhotul Muttaqin

Universitas Negeri Semarang

Muhammad Badrus Siroj

Universitas Negeri Semarang
Keywords:
geoelectric method, dowsing, groundwater
Abstract
This activity was motivated by the fact that Semarang district was declared by the National Disaster Management Agency (BPBN) as a drought-prone area. Plumutan Village became one of the villages in the Bancak sub-district, Semarang district in 2019 .. The methods used are lectures, discussions, and training. For training on the use of appropriate technology, Dowsing and Geoelectricity is carried out in practice in a predetermined location. The results of the activity showed that the participant's experience increased by being given the practice of making and using dowsing to obtain initial information on the position of areas that have groundwater potential, and experience in using geolistic tools assisted by the service team in several locations that had been determined by the Dowsing tool. The results of geoelectric measurements are then processed using the IP2Win device to obtain a cross-sectional map of the soil layer which shows that at point 1 the depth of the aquifer is 87.4 m and point 2 is at a depth of 83.6 m.
Downloads
Download data is not yet available.
References
Adiat K.A.N., Nawawi M.N.M., Abdullah K. 2013. Application of Multi-Criteria Decision Analysis to Geoelectric and Geologic Parameters for Spatial Prediction of Groundwater Resources Potential and Aquifer Evaluation. Pure and Applied Geophysics, vol.170, pp. 453–471
Ilyichev P.V., and Bobrovsky V.V. 2015. Application of pseudonoise signals in systems of active geoelectric exploration (Results of mathematical simulation and field experiments). Seismic Instruments, vol.51, pp. 53–64.
Iswinaro C. 2019. Sebanyak 1.259 Desa di Jawa Tengah Darurat Kekeringan. https://jateng.suara.com/read/2019/06/12/175310/. Didownload 1 Maret 2020.
Mustakim, Royanto D. 2019. Kekeringan Panjang, Warga Semarang Ambil Air di Bekas Galian. https://www.vivanews.com/berita/nasional/6927. Didownload 1 Maret 2020
Mogaji K.A., Omobude O.B. 2017. Modelling of Geolectric Parameters for Assessing Groundwater Potentiality in a Multifaceted Geologic Terrain, Ipinsa Southwest, Nigeria-A GIS Based GODT Approach. NRIAG Journal of Astronomy and Geophysics 6, pp. 434-451. https://doi.org/10.1016/j.nrjag.2017.07.001.
Neritarani R. 2019. Identifikasi dan Strategi Mitigasi Bencana Kekeringan Potensial di Kabupaten Semaraang. Jurnal Perencanaan Wilayah dan Kota, vol.8, no.1.
Nwodu L.I., Ekine A.S., and Nwankwo C.N. 2013. Geoelectric Survey for Mapping Groundwater Flow Pattern in Okigwe District, Southeastern Nigeria. British Journal of Applied Science and Technology, 3(3), pp. 485-500.
Safuan A. 2019. 14 Kabupaten di Jateng Kekeringan.https://mediaindonesia.com/read/detail/246707-14. Didownload 2 Maret 2020.
Sulaefi 2017. Pengaruh Pelatihan dan Pengembangan Terhadap Disiplin Kerja dan Kinerja Karyawan. Jurnal Manajemen dan Kewirausahaan. Vol.5, No1, pp.8-21.
Telford, WM., 1990. Applied Geophysics Second Edition, Cambridge University.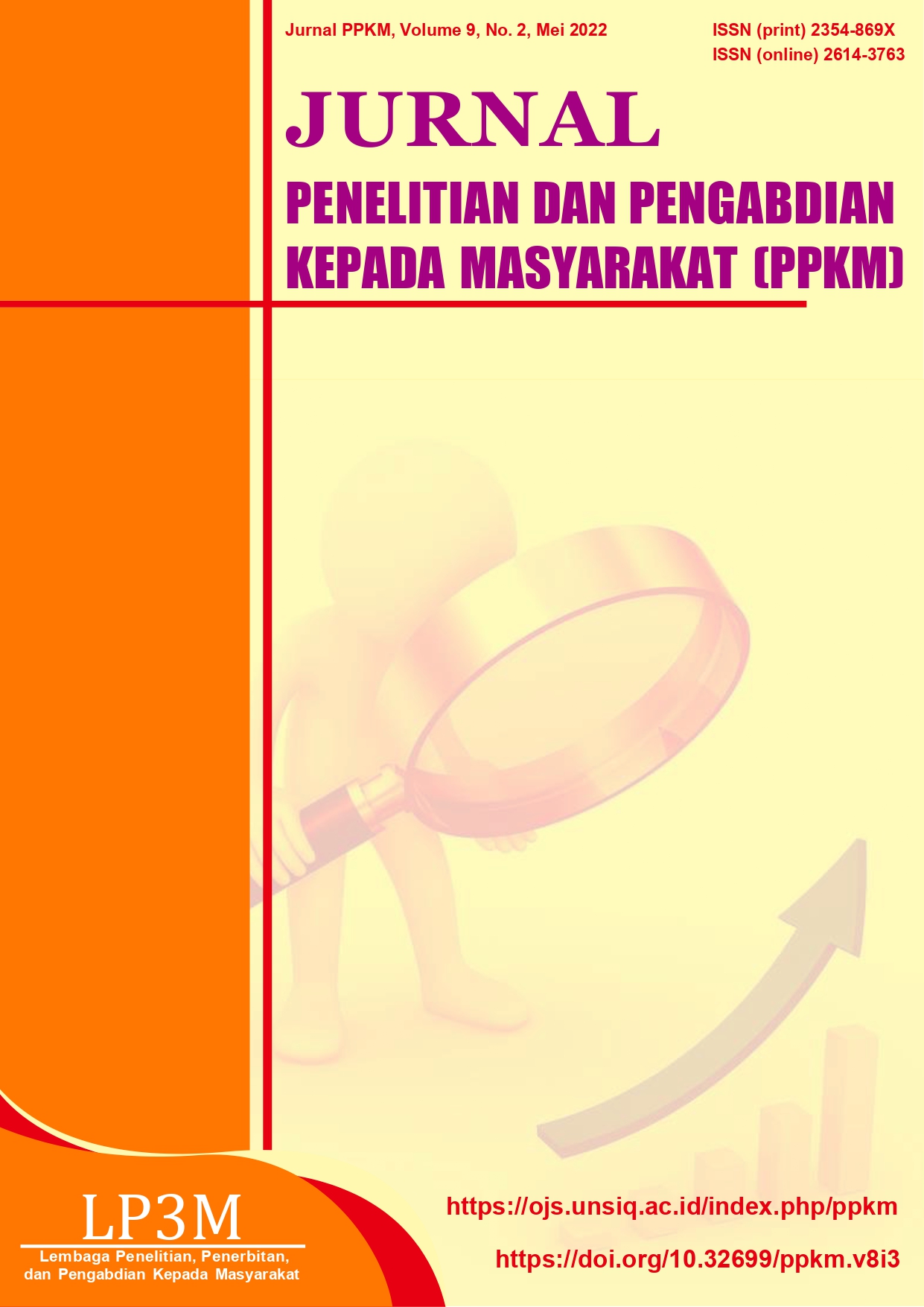 How to Cite
SupriyadiS., KhumaediK., SugiyantoS., NurbaitiU., MuttaqinR. and SirojM. (2022) "PEMBERDAYAAN MASYARAKAT DESA PLUMUTAN KABUPATEN SEMARANG MENENTUKAN POSISI DAN KEDALAMAN SUMBER AIR BAWAH PERMUKAAN DENGAN TEKNOLOGI TEPAT GUNA DOWSING DAN GEOLISTRIK", Jurnal Penelitian dan Pengabdian Kepada Masyarakat UNSIQ, 9(2), pp. 160-166. doi: https://doi.org/10.32699/ppkm.v9i2.1952.
This work is licensed under a Creative Commons Attribution-NonCommercial-ShareAlike 4.0 International License.
STATISTICS
Abstract viewed = 0 times PDF downloaded = 0 times