PENGARUH USER INTERFACE TOKO ONLINE TERHADAP KENYAMANAN PENGGUNA STUDI KASUS PADA E – COMMERCE WONOSOBO MALL
Basiroh Basiroh

Universitas Nahdlatul Ulama Al Ghazali

Dian Asmarajati

Universitas Sains Al-Quran

Wilanti Fatmafury

Universitas Sains Al-Quran
Keywords:
Analisis, Usability Testing, E – commerce, Kuesioner, Wonosobo Mall
Abstract
Perkembangan teknologi yang sangat pesat membuat para pelaku bisnis mulai melakukan proses jual-beli secara online, hal ini membuat banyak e-commerce mulai bermunculan di Indonesia yang membuat persaingan bisnis pun berpindah menjadi online, salah satunya adalah e-commerce Wonosobo Mall. Wonosobo Mall adalah e – commerce yang digunakan penulis untuk melakukan studi analisis tentang user interface terhadap kenyamanan pengguna menggunakan metode regresi linier sederhana dan usability testing. Dari 79 responden yang berpartisipasi dalam penelitian ini, 47 responden berjenis kelamin laki – laki sedangkan 32 responden berjenis kelamin perempuan. Dari pengujian yang dilakukan dapat disebut e – commerce Wonosobo Mall adalah baik. Penelitian bertujuan untuk memperoleh hasil yaitu prosentase usability testing untuk mengukur penggunaan e – commerce Wonosobo Mall. Pada penelitian ini menggunakan pengujian secara objektif dengan pengujian secara langsung kepada responden pengguna e - commerce Wonosobo Mall dengan menggunakan kuesioner yang memiliki 5 skala yaitu: learnability, efficiency, memorability, errors dan satisfaction.
Downloads
Download data is not yet available.
References
Nielson, Jacob. (2003). Usability 101:Introduction to usability.
Holbrook, M. B. & Hirschman, E. C. (1982). The experiental aspects of consumption: consumer fantasies, feelings and fun, Journal of Consumer Research, 9(2), 132-141.
Koufaris M. (2002). Applying the Technology Acceptance Model of Flow Theory to Online Consumer Behaviour, Information Systems Research, 13(2), 205-223.
Pikkarainen, T., Kari Pikkarainen. (2004). Consumer Acceptance Of Online Banking: An Extension of the Technology Acceptance Model. Internet Research. 14 (3) pp.224-235.
Novianti, D. (2017). Sistem Informasi Keuangan Menggunakan Human Computer Interaction. INTI TALAFA J. Tek. Inform, 9(2), 25-45.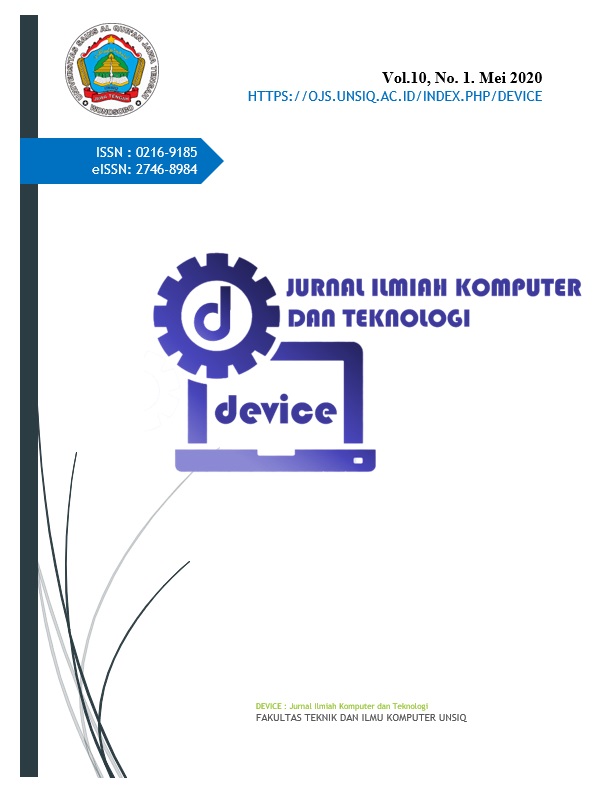 How to Cite
BasirohB., AsmarajatiD., & FatmafuryW. (2020, May 31). PENGARUH USER INTERFACE TOKO ONLINE TERHADAP KENYAMANAN PENGGUNA STUDI KASUS PADA E – COMMERCE WONOSOBO MALL. Device, 10(1), 33-37. https://doi.org/https://doi.org/10.32699/device.v10i1.1484
STATISTICS
Abstract viewed = 0 times PDF downloaded = 0 times