Al-Qur'an dalam Pemahaman Muslim Kontemporer
M. Elfan Kaukab

Universitas Sains Al-Qur`an Jawa Tengah Di Wonosobo
Keywords:
Al Qur'an, Abdullah Saeed, Cendekiawan Muslim, Kontemporer
Abstract
Al Qur`an dan umat Islam adalah dua hal yang tidak bisa dipisahkan. Bagi umat Islam, ajaran etis Al Qur`an bersifat mutlak dan bisa diaplikasikan di segala ruang dan waktu (shâlih li kull zamân wa makân) Tapi fenomena dewasa ini telah menunjukkan sebaliknya, relevansi Al Qur`an mulai digugat dan dipertanyakan. Bahkan dalam beberapa kasus, ajaran etis Al Qur`an dijadikan sebagai justifikasi terhadap tindakan yang bersifat destruktif. Polemik ini kemudian menggugah para intelektualis muslim untuk lebih intens pada pengkajian Al Qur`an. Penyimpangan, dalam arti perbedaan, sebenarnya tidak dapat dihindarkan, tetapi mengikuti secara mutlak otoritas pendapat tradisionalis yang sangat tekstualis dalam memahami suatu teks juga tidak akan menjawab persoalan. Bagaimana Al Qur`an dipahami saat ini untuk memenuhi kebutuhan masyarakat? Abdullah Saeed, seorang cendekiawan Muslim terkemuka, mengeksplorasi penafsiran isi etika-hukum Al Qur`an, sambil mempertimbangkan sifat perubahan dunia modern. Saeed mengeksplorasi perdebatan terkini seputar interpretasi Al Qur`an dan dampaknya terhadap pemahaman kontemporer tentang teks suci ini. Membahas relevansi teks dengan isu-isu modern tanpa mengkompromikan keseluruhan kerangka Al-Qur'an serta keyakinan dan praktik intinya, ia mengusulkan pendekatan baru, yang mempertimbangkan konteks penafsiran historis dan kontemporer. Menginspirasi debat yang sehat, buku ini adalah bacaan penting bagi siswa dan cendekiawan yang mencari pendekatan kontemporer untuk penafsiran teks Al Qur`an.
Downloads
Download data is not yet available.
References
Ali, Maulana Muhammad, Introduction to the Study of the Holy Quran, Columbus, OH: Ahmadiyya Anjuman Isha'at Islam Lahore Inc., 1992.
Asad, Muhammad, The Message of the Quran, Gibraltar: Dar al-Andalus, 1980.
Boullata, Issa J., 'Literary Structures and the Quran', in Jane Dammen McAuliffe (ed.) Encyclopaedia of the Qur∞ån, vol. III, Leiden: E.J. Brill, 2001, pp. 192–205.
Chaudhary, Tahir, 'Tafsr Literature: Its Origins and Development', in N.K. Singh and A.R. Agwan (eds) Encyclopaedia of the Holy Quran, Dehli: Global Vision 5 vols, 2000, pp. 1473–1488.
Haleem, Muhammad Abdel, Understanding the Qur∞ån: Themes and Style, London and New York: I.B. Tauris, 1999.
Lane, Edward William, Arabic–English Lexicon, New York: Ungar Pub. Co., 1955–1956.
Watt, W. Montgomery, Bell's Introduction to the Quran,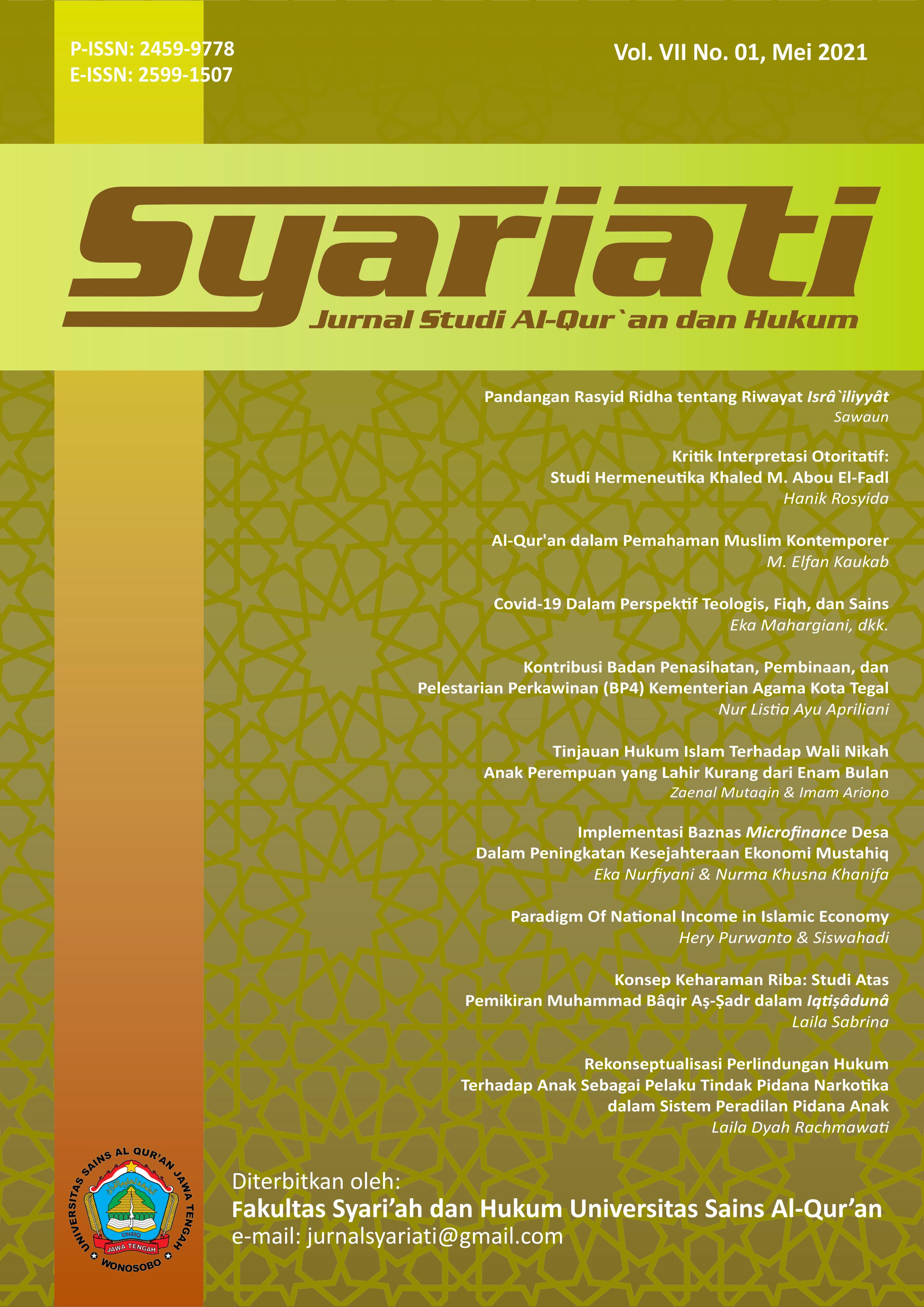 How to Cite
KaukabM. (2021) "Al-Qur'an dalam Pemahaman Muslim Kontemporer", Syariati: Jurnal Studi Al-Qur'an dan Hukum, 7(1), pp. 33 - 42. doi: https://doi.org/10.32699/syariati.v7i1.1850.
STATISTICS
Abstract viewed = 176 times PDF downloaded = 81 times