TEORI AKUNTANSI KONSEP AKUNTANSI PENDAPATAN
Sri Hartiyah

Program Studi Akuntansi Universitas Sains Al Qur'an (UNSIQ) Wonosobo
Keywords:
akuntansi, akuntansi keuangan, pendapatan
Abstract
Menyajikan informasi yang relevan bagi para penggunanya guna pengambilan keputusan adalah tujuan dari akuntansi keuangan dan pendapatan sebagai unsur akuntansi yang merupakan unsur kehidupan dari suatu perusahaan. Pendapatan adalah penghasilan yang timbul dari aktivitas perusahaan yang biasa dan dikenal dengan sebutan berbeda seperti penjualan, penghasilan jasa (fees), bunga, deviden, royalty, dan sewa. Pendapatan biasanya diukur dalam satuan harga pertukaran yang berlaku, pendapatan harus diakui setelah kejadian penting atau setelah proses penjualan pada dasarnya telah diselesaikan.
Downloads
Download data is not yet available.
References
American Accounting Association, 1964 Concepts and Standards Research Committee. "The realization Concept". The Accounting Review, April 1965, pp. 312-22
American Accounting Association, 1972-73 Committee and concept and Standards. "External Reporting" . The Accounting Review, supplement to 1974, pp. 203-22
Arnett, HE., "Recognition as a Function of Measurement in the Realization Concept" The Accounting Review (Oktober 1963), h. 733-741
Belkaqui, Ahmed R., "Accounting Theory",Salemba Empat, 2006.
Chariri, A dan Ghozali, I.2003, Toeri Akuntansi, Edisi Revisi,Semarang: Badan Penerbit Universitas Diponegoro.
Hendriksen, ES and M.Van Breda, "Teoti Akuntansi", Edisi Kelima,Interaksara, 2002
Horngren, Charles T., "How Should We Interpret the Realization Concept?" The Accounting Review (Oktober 1965), h. 323-333
Ikatan Akuntansi Indonesia (IAI) 2009. Pernyataan Standar Akuntansi Keuangan Revisi 2009. Installment Accounting
Cerf, Alan Robert, "Accounting for Retail Land Sales. " The accounting review, July 1975, pp. 451 – 65
Myers, I.H., ., "The Critical Event and the Recognition of Net Profit" The Accounting Review (Oktober 1959), h. 528-532
Scoot, D.R.,"Financial Accounting Theory", Prentiice Hall,Second Edition, 2000
Scoot, Richard A., and Rita K. Scott, "Installment Accounting" It is Inconsistent? "Journal of Accountancy, November 1979, pp. 52-58
Staubus, G.J.., "Revenue and Revenue Accounts" The Accounting Review (Juli 1956), h. 284-294
Suwardjono, Teori Akuntansi : Perekayasaan Pelaporan Keuangan, BPFE Yogyakarta, Edisi Ketiga, 2005.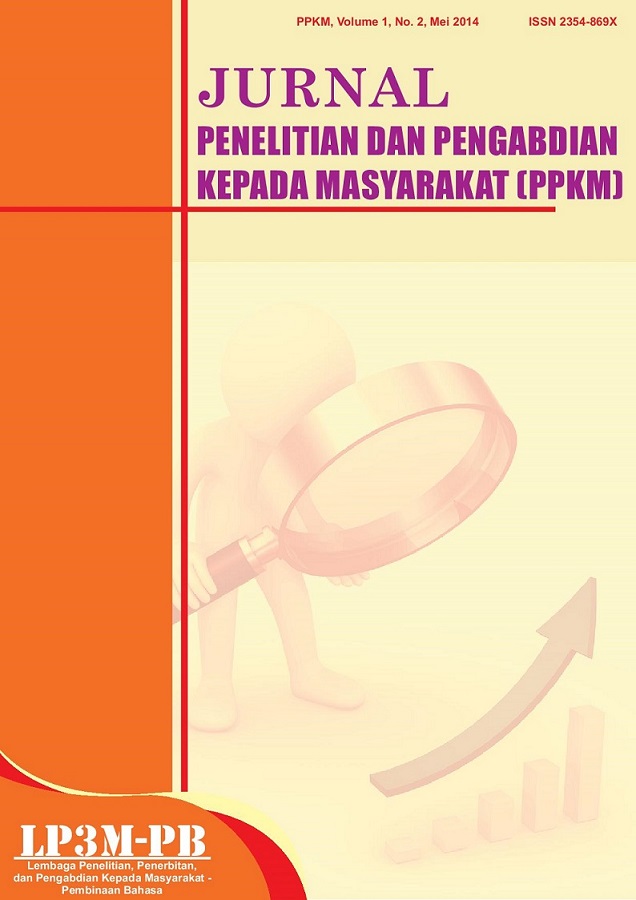 How to Cite
HartiyahS. (2014) "TEORI AKUNTANSI KONSEP AKUNTANSI PENDAPATAN", Jurnal Penelitian dan Pengabdian Kepada Masyarakat UNSIQ, 1(2), pp. 84-88. doi: https://doi.org/10.32699/ppkm.v1i2.237.
STATISTICS
Abstract viewed = 8 times PDF downloaded = 35 times