RELEVANSI FIQH INFORMASI MUHAMMADIYAH DALAM PENGELOLAAN HOAX DALAM ERA DISRUPSI INFORMASI
Surwandono Surwandono

Universitas Muhammadiyah Yogyakarta

M. Elfan Kaukab

Program Studi Akuntansi Fakultas Ekonomi dan Bisnis, Universitas Sains Al-Qur'an, Wonosobo
Keywords:
Literasi, Fiqh Informasi, Muhammadiyah, Hoax
Abstract
Artikel ini mempunyai tujuan untuk menggerakan persyarikatan Muhammadiyah sebagai organisasi yang integratif di tengah disrupsi informasi melalui internalisasi nilai integratif Islam yang digali dari prinsip-prinsip Maqashid Shariah di Desa Palbapang Barat Kecamatan Bantul dan Kabupaten Bantul Bantul Yogyakarta.
Desa Palpabang dipilih sebagai lokasi pengabdian terkait dengan posisi sosial desa Palbapang sebagai desa percontohan dalam praktik kehidupan Islami warga Muhammadiyah di kabupaten Bantul. Organisasi Muhammadiyah merupakan organisasi otonom Muhammadiyah yang memiliki kontribusi besar dalam gerak kehidupan social, ekonomi dan keagamaan di masyarakat seperti  masjid, sekolah dasar dan Taman Pendidikan Bustanul Atfal.
Metode pengabdian masyarakat menggunakan pendekatan literasi fiqh informasi dan diperkaya dengan diskusi terfokus terhadap pengelolaan hoax dalam masyarakat. Hasil pengabdian menunjukan bahwa terdapat hubungan yang positif antara peningkatan literasi fiqh informasi dengan komitmen untuk melakukan aktivitas komunikasi yang sehat dan menghindari penyebaran hoax
Downloads
Download data is not yet available.
References
Afrilia, S., TRIANA, R. and Rokim, S. (2018) 'Pandangan Al-Qur'an Terhadap Realitas Hoax', Al - Tadabbur: Jurnal Ilmu Al-Qur'an dan Tafsir, 3(01). doi: 10.30868/at.v3i01.254.
Alfayez, B. E. (2020) 'The relationship between cognitive style and commitment to the strategic planning in public organizations', Management Science Letters, 10(11), pp. 2655–2664. doi: 10.5267/j.msl.2020.3.027.
Anwar, S. (2005) 'Fatwā, purification and dynamization: A study of tarjīh in muhammadiyah', Islamic Law and Society, 12(1), pp. 27–44. doi: 10.1163/1568519053123894.
Arianto, B. (2020) 'Salah Kaprah Ihwal Buzzer: Analisis Percakapan Warganet di Media Sosial', JIIP: Jurnal Ilmiah Ilmu Pemerintahan, 5(1), pp. 1–20. doi: 10.14710/jiip.v5i1.7287.
Asriadi, A. (2020) 'Komunikasi Efektif Dalam Organisasi', RETORIKA : Jurnal Kajian Komunikasi dan Penyiaran Islam, 2(1), pp. 36–50. doi: 10.47435/retorika.v2i1.358.
Azhar, M. (2021) 'Wawancara dengan Prof. Muhammad Azhar'.
Beldo, L. (2019) 'Stock morality:: Whalers, activists, and the power of the state in the Makah whaling conflict', American Ethnologist, 46(1), pp. 47–60. doi: 10.1111/amet.12733.
Bufacchi, V. (2021) 'Truth, lies and tweets: A Consensus Theory of Post-Truth', Philosophy and Social Criticism, 47(3), pp. 347–361. doi: 10.1177/0191453719896382.
Chakkarwar, V. and Tamane, S. (2020) 'Social Media Analytics during Pandemic for Covid19 using Topic Modeling', Proceedings of the 2020 International Conference on Smart Innovations in Design, Environment, Management, Planning and Computing, ICSIDEMPC 2020, pp. 279–282. doi: 10.1109/ICSIDEMPC49020.2020.9299617.
Erlin, Fitri, T. A. and Susandri (2015) 'Using Social Networks: Facebook Usage at the Riau College Students', in Procedia Computer Science. doi: 10.1016/j.procs.2015.07.543.
Fariadi, R. (2020) Nilai-Nilai Dasar Fikih Informasi: (Perspektif Majelis Tarjih Muhammadiyah). Available at: https://tarjih.or.id/wp-content/uploads/2020/09/52.-Nilai-nilai-dasar-Fikih-Informasi.-converted.pdf (Accessed: 15 April 2021).
Fauzi, N. A. F. (2019) 'Nalar Fikih Baru Muhammadiyah: Membangun Paradigma Hukum Islam yang Holistik Muhammadiya's New Fiqh Reasoning: Constructing a Holistic Islamic Law Paradigm', Afkaruna, 15(1). Available at: journal.umy.ac.id.
Fauzi, N. A. F. and Ayub, A. (2019) 'Fikih Informasi : Muhammadiyah's Perspective on Guidance in Using Social Media', Indonesian Journal of Islam and Muslim Societies, 9(2), pp. 267–294. doi: 10.18326/ijims.v9i2.267-294.
Van Heekeren, M. (2020) 'The Curative Effect of Social Media on Fake News: A Historical Re-evaluation', Journalism Studies, 21(3), pp. 306–318. doi: 10.1080/1461670X.2019.1642136.
Jati Wahyuni (2019) 'Nilai-nilai Pendidikan dari Kisah Haditsul Ifki dalam Q.S. An-Nur Ayat 11-20 tentang Sikap Tabayyun dan Kehati-hatian Menerima Berita di Era Teknologi Informasi', Jurnal Pendidikan Islam Indonesia, 4(1), pp. 66–73. doi: 10.35316/jpii.v4i1.171.
Kementerian LHK (2020) Cerdas Berliterasi di Era Disrupsi Informasi. Available at: https://www.menlhk.go.id/site/single_post/2972/cerdas-berliterasi-di-era-disrupsi-informasi (Accessed: 21 January 2021).
Kumparan.com (2019) Muhammadiyah Rilis 'Fikih Informasi', Buku Panduan Bermedia Sosial. Available at: https://kumparan.com/kumparannews/muhammadiyah-rilis-fikih-informasi-buku-panduan-bermedia-sosial-1550191228873371638 (Accessed: 15 January 2021).
Langlois, G. (2014) Meaning in the age of social media, Meaning in the Age of Social Media. doi: 10.1057/9781137356611.
Marwan, M. R. and Ahyad (2017) 'Analisis Penyebaran Berita Hoaks di Indonesia', Universitas Gunadarma.
Masfupah, A. (2020) 'Kontekstualisasi Ayat Al-Qur'an Dalam Menghadapi Fenomena Hoax', Komunike, 12(1), pp. 99–113. doi: 10.20414/jurkom.v12i1.2246.
Murtiningsih, M. (2020) 'Solusi Qurani Membangun Masyarakat Anti Hoax', Jurnal Ilmu Agama: Mengkaji Doktrin, Pemikiran, dan Fenomena Agama, 21(2), pp. 215–234. doi: 10.19109/jia.v21i2.7419.
Rusdiana, A. (2019) 'Manajemen Resolusi Konflik: Sebuah Tawaran Dalam Islam', Jurnal Educationem, 1(01), pp. 73–92.
Saputra, A. (2018) 'Maqashid syariah: Term hoaks dalam al-Quran dan hikmah untuk kemaslahatan manusia', Lembaga Kajian, Penelitian dan Pengembangan Mahasiswa UIN Maulana Malik Ibrahim Malang, 7(1), pp. 41–54. Available at: http://urj.uin-malang.ac.id/index.php/lorong/article/view/223.
Saputra, M. and Al Siddiq, I. H. (2020) 'Social media and digital citizenship: The urgency of digital literacy in the middle of a disrupted society Era', International Journal of Emerging Technologies in Learning, 15(7), pp. 156–161. doi: 10.3991/IJET.V15I07.13239.
Silalahi, R. R. and Sevilla, V. (2020) 'Rekontruksi Makna Hoaks di Tengah Arus Informasi Digital', Global Komunika, 1(1), pp. 8–17.
Wijana, I. D. P. (2020) 'Pragmatik sebagai penangkal hoaks dan peran ilmuwan bahasa di era digital', Jala Bahasa, 16(2), pp. 171–178.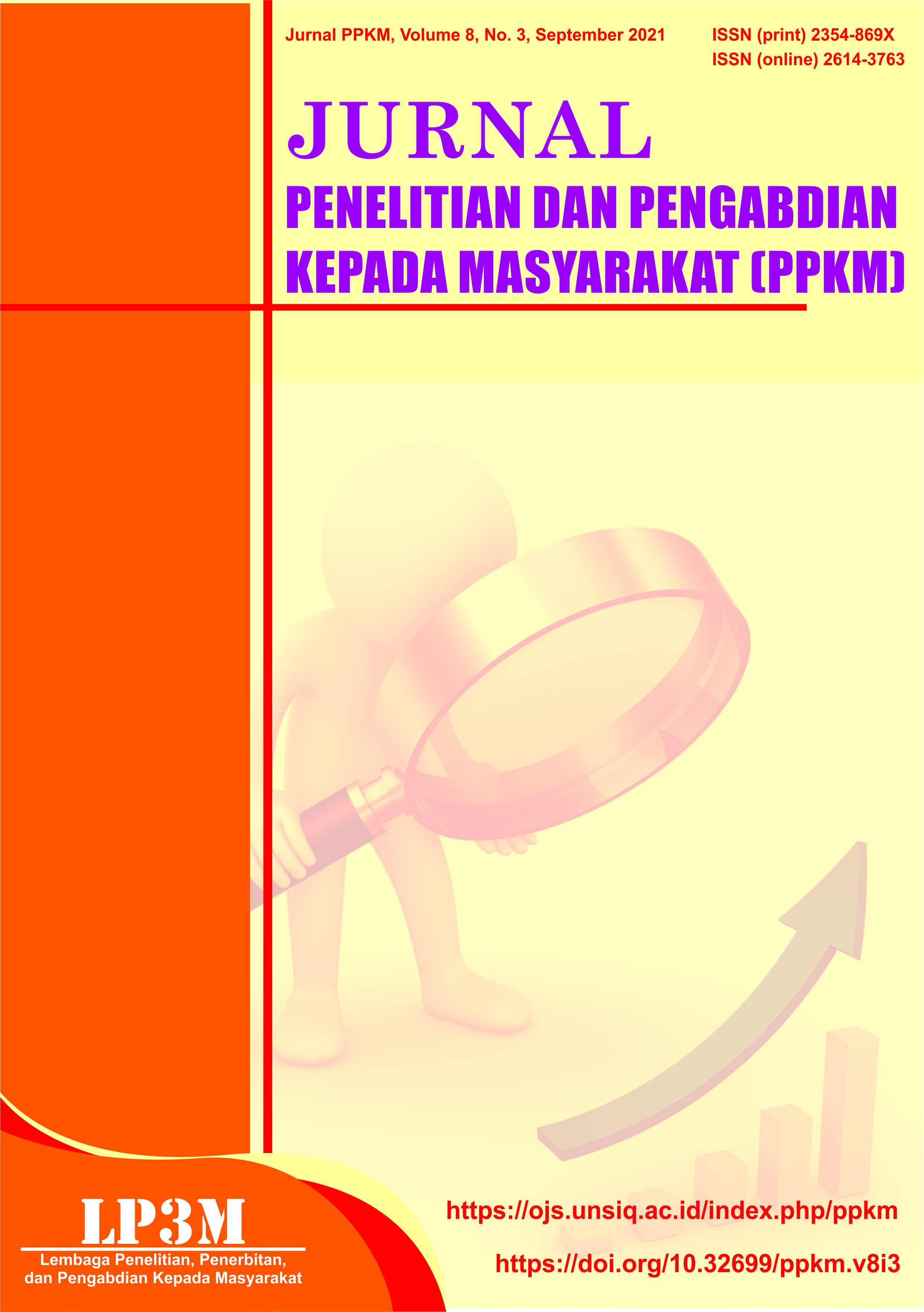 How to Cite
SurwandonoS. and KaukabM. E. (2021) "RELEVANSI FIQH INFORMASI MUHAMMADIYAH DALAM PENGELOLAAN HOAX DALAM ERA DISRUPSI INFORMASI", Jurnal Penelitian dan Pengabdian Kepada Masyarakat UNSIQ, 8(3), pp. 283-290. doi: https://doi.org/10.32699/ppkm.v8i3.1842.
This work is licensed under a Creative Commons Attribution-NonCommercial-ShareAlike 4.0 International License.
STATISTICS
Abstract viewed = 0 times PDF downloaded = 0 times