KESALAHAN GRAMATIKA BAHASA ARAB (STUDI KASUS TULISAN AL-IKHTIṠHAR MAHASISWA SASTRA ARAB UGM)
Ahmad Mufarih Hasan Fadly

Institiut Agama Islam Darussalam Blokagung
Keywords:
Analisis kesalahan, Kesalahan Gramatika, Sastra Arab, Al-Ikhtishor
Abstract
Penelitian ini bertujuan untuk mengetahui jenis-jenis kesalahan gramatika, pun penyebabnya dan juga implikasinya terhadap makna yang dihasilkan dari teks yang bersumber dari tulisan al-iktisar, sebuah ringkasan dari skripsi, mahasiswa Sastra Arab Universitas Gadjah Mada. Untuk mengetahui hal itu, penelitian ini menggunakan metode analisis Gass dan Selinker. Hasilnya, ditemukan enam jenis bentuk kesalahan gramatika yang disebabkan oleh dua hal utama, yaitu faktor intralingual dan interlingual. Kesalahan-kesalahan tersebut juga memiliki implikasi terhadap produksi makna, baik secara Lokal maupun Global. 
Downloads
Download data is not yet available.
References
Ardana. 2014. Analisis Kesalahan Pembentukan Kata Kerja oleh Mahasiswa Amerika (Studi Kasus Mahasiswa Amerika Program critical language scholarship di Universitas Negeri Malang). Yogyakarta. Tesis FIB UGM tidak diterbitkan.
Arabski, Janusz. 2006. Cross-linguistic Influences In The Second Language
Lexicon. Clevendon: the Cromwell press ltd.
Brown, Douglas H.2008. Prinsip Pembelajaran dan Pengajaran Bahasa: terjemahan oleh Noor Cholis dan Yusi Avianto Pareanom. Jakarta: Kedutaan Amerika Serikat
Burt, M & Kiparsky C. The Gooficon: A Repair Manual For English. Rowley: Newbury House.
Corder, S Pit. 1979. Introducing Applied Linguistics. New York: Penguin Books
Crystal, David. . A Dictionary of Linguistics and Phonetics. New York: Basil
Blackwell Ltd.
Dulay, Heidi C. 1982. Language Two. New York: Oxford University Press. Farghal, Mohammad A. 1992. The Arabic Topic-Coment Structure. Journal King
Saudi University. Vol. IV/1992. Hal:47:62.
Gass, Susan & Larry Selinker. 2008. Second Language Acquisition: An
Introduction Course. New York: Routledge
Al-Gulayaini, Mustafa. 2008. Ad-durusu al-'Arabiyyatu. Beirut: Daru al-Bayani
Kesuma, Tri Mastoyo Jati. 2007. Pengantar (Metode) Penelitian Bahasa.
Yogyakarta: Saraswatibooks.
Kridalaksana, Harimurti. 2003. Kamus Linguistik. Jakarta : PT. Gramedia Pustaka
Utama
Ma'luf, Louis. 1973. Al-munjid fi al-lugati wa al-a'lami. Beirut:daru al-masyriqi
Ma'sum, Muhammad. tt. Al-amsilatu At-tasrifiyyatu. Jombang: Maktabah Syaikh
Salim bin Sa'id Nabhani
Mahsun. 2012. Metode Penelitian Bahasa: Tahapan Strategi, Metode, dan
Tekniknya. Jakarta: rajawali press.
Munawwir, Ahmad Warson. 1997. Kamus Al-Munawwir Arab-Indonesia
Terlengkap. Yogyakarta: Pustaka Progresif
Nur, Abdul Jawat. 2003. "Beberapa Penyimpangan Pemakaian Bahasa Arab Pada Papan Nama Di Kota Yogyakarta". Yogyakarta: Laporan penelitian Fakultas Ilmu Budaya UGM.
Parera, Jos Daniel. 1997. Linguistik Edukasional. Jakarta: Penerbit Erlangga.
Parker, Frank. 1986. Linguistics For Non-Linguist. London : Taylor & Francis
Ltd.
Pawlak, Miroslaw. 2014. Error Correction In The Foreign Language Classroom.
New York: Springer.
Ryding, Karen C. 2005. A Reference Grammar of Modern Standard Arabic. New
York: Cambridge University Press.
Richard, Jack C. 1974. Error Analysis: Perspective on Second Language
Acquisition. New York: Longman publishing.
Sudaryanto. 1993. Metode dan Aneka Teknik Analisis Bahasa. Yogyakarta: Duta Wacana University Press.
Turnbull, Miles & Jennifer Dailey-O'cain. 2009. First Language Use in Second and Foreign Language. Clevendon: the Cromwell Press Ltd.
Verhaar, J.W.M. 2001. Asas-Asas Linguistik Umum. Yogyakarta:UGM Press.
Wright, W. 1979. A Grammar of The Arabic Language. Cambridge : Cambridge
University Press.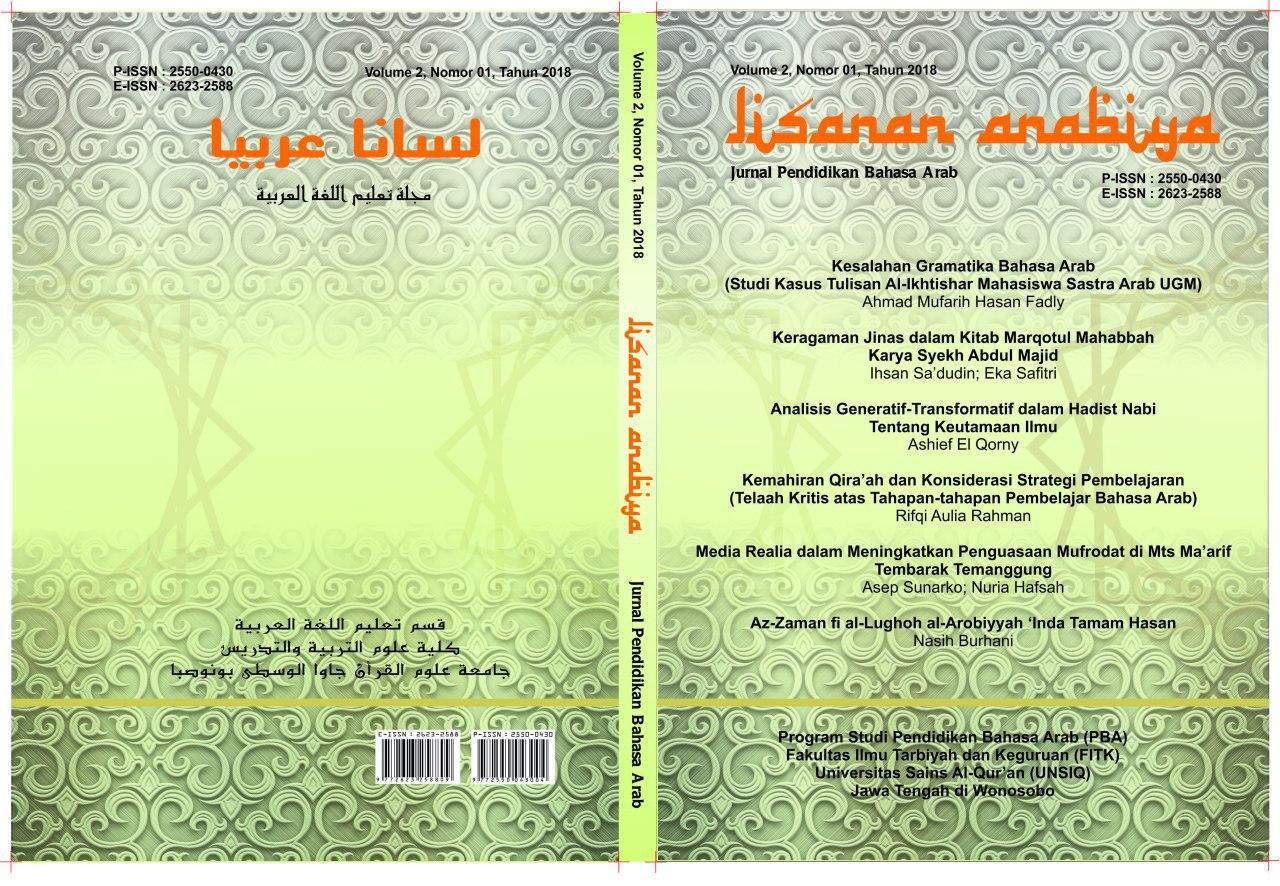 How to Cite
Hasan FadlyA. (2019, January 24). KESALAHAN GRAMATIKA BAHASA ARAB (STUDI KASUS TULISAN AL-IKHTIṠHAR MAHASISWA SASTRA ARAB UGM). Lisanan Arabiya: Jurnal Pendidikan Bahasa Arab, 2(1), 25-56. Retrieved from https://ojs.unsiq.ac.id/index.php/liar/article/view/552
Authors who publish with this journal agree to the following terms:
a. Authors retain copyright and grant the journal right of first publication with the work simultaneously licensed under a Creative Commons Attribution-ShareAlike 4.0 International License. that allows others to share the work with an acknowledgement of the work's authorship and initial publication in this journal.
b. Authors are able to enter into separate, additional contractual arrangements for the non-exclusive distribution of the journal's published version of the work (e.g., post it to an institutional repository or publish it in a book), with an acknowledgement of its initial publication in this journal.
c. Authors are permitted and encouraged to post their work online (e.g., in institutional repositories or on their website) prior to and during the submission process, as it can lead to productive exchanges, as well as earlier and greater citation of published work (See The Effect of Open Access).
STATISTICS
Abstract viewed = 2 times pdf downloaded = 5 times