Loanwords in BBC Arabic Instagram
Tika Fitriyah

UIN Sunan Kalijaga
Abstract
A study of the use of language in society or the media needs to be done to see linguistic phenomena that are always dynamic. This research was descriptive-qualitative research that aimed to describe and analyze loanwords from foreign languages in BBC Arabic Instagram. The data were taken using the observation method with the uninvolved conversation observation technique (Simak bebas libat cakap) using the purposive sampling technique. The results showed that the absorption form in BBC Arabic Instagram is dominated by a direct absorption model by adapting phonological and morphological adaptations. The research also showed that social media preferred to use foreign language absorption words directly even though these words had Arabic equivalents. The excessive use of foreign terms and out-of-control was feared to cause the death of some words in Arabic and the collapse of the sovereignty of the Arabic language because it was colonized by other languages with more advanced civilizations.
Keywords: loanwords, phonology and morphology adaptation, social media
Downloads
Download data is not yet available.
References
Alfarisy, Fitri. 2020. "Kajian Budaya: Kebijakan Bahasa di Tengah Pandemi Covid19." Anuva: Jurnal Kajian Budaya, Perpustakaan, dan Informasi 4(3):343–53.
Assayyed, Muhammad K. 2018. "Phonological Adaptation of English Borrowings in the Egyptian Press with Reference to Al-Ahram Newspaper." Bulletin of The Faculty of Arts 49(2).
as-Suyuti. 1998. al-Muzhar fi Ulum al-Lughah wa Anwa'iha. al-Maktabah al-'Ashriyyah.
Awang, Rokiah, dan Ghada Salman. 2017. "Translation and Arabicization Methods of English Scientific and Technical Terms into Arabic." Arabic World English Journal 1:92–106. doi: 10.24093/awejtls/vol1no2.8.
Cambridge University Press. 2022a. "computer." Cambridge Dictionary.
Cambridge University Press. 2022b. "Congress."
Cambridge University Press. 2022c. "Satellite." Cambridge Dictionary.
ad-Dhamin, Hatim Shalih. 1990. Fiqh al-Lughah. Irak: Jamiah Baghdad.
Faris, Ibn. 1997. as-Shahiby fi Fiqh Lughah al-Arabiyyah wa Masaailiha wa Sunan al-Arab fi Kalamiha. Beirut: Dar al-Kutub al-Ilmiyyah.
Hadi, Syamsul. 2012. "Berbagai Ketentuan Baru dalam Ta'rib: Pembahasan Seputar Perkembangan Mutakhir Dalam Bahasa Arab Seri IV." Humaniora 14(1):77–85. doi: 10.22146/jh.748.
Hebri. 2020. "at-Ta'rib wa ad-Dakhil fi Mauqi' Mawdoo.com Dirasah fi Dhau Fiqh al-Lughah." UIN Maulana Malik Ibrahim, Malang.
Husin, Saifuddin Ahmad. 2008. "Beberapa Mekanisme Ta'rib dalam Modernasitasi." Alfalah 8(14).
Idyar, Nashirah. 2019a. "al-Iqtiradh al-Lughawi fi Wad'i wa Isti'mali Musthalahat al-Ittishalat fi al-Lughah al-Arabiyyah." Majallah al-Lughah al-Arabiyyah 21:115–32.
Idyar, Nashirah. 2019b. "Language Borrowing in the Arab Telecommunications Terminology Creation and Use." Majallah al-Lughah al-Arabiyyah 21:115–32.
Isa, Ahmad. 1923. at-Tahdzib fi Usul at-Ta'rib. Kairo: Syirkah Musahamah Misriyyah.
Iswara, Aditya Jaya. 2021. "Apa Itu Squid Game dan Kenapa Viral di Seluruh Dunia? Halaman all." KOMPAS.com. Diambil 23 Januari 2022 (https://www.kompas.com/global/read/2021/10/01/194052570/apa-itu-squid-game-dan-kenapa-viral-di-seluruh-dunia).
Jinny, Ibn. t.t. al-Khasais.
Malik, Abdul. 2009. "Arabisasi (Ta'Rib) Dalam Bahasa Arab (Tinjauan Deskriptif-Historis)." Adabiyyāt: Jurnal Bahasa dan Sastra 8(2):261–76. doi: 10.14421/ajbs.2009.08204.
Media, Kompas Cyber. 2021. "Facebook Berganti Nama Jadi Meta, Apa Arti Simbol Barunya? Halaman all." KOMPAS.com. Diambil 19 Januari 2022 (https://www.kompas.com/tren/read/2021/10/29/200500465/facebook-berganti-nama-jadi-meta-apa-arti-simbol-barunya-).
Mubarak, Hamdy, Kareem Darwish, dan Walid Magdy. 2017. "Abusive Language Detection on Arabic Social Media." Proceedings of the First Workshop on Abusive Language Online 52–56. doi: 10.18653/v1/W17-3008.
Musofa, Dwi Zain. 2013. "Pergantian Makna Komputer Dari Masa Ke Masa." Merdeka.Com, September 16.
Nasrullah, Rulli. 2020. Media Sosial. Bandung: Simbiosa Rekatama Media.
Shalih, Subhi. 2014. Dirasat fi Fiqh Lughah. 4 ed. Beirut: Dar al-Ilm wa al-Malayin.
al-Shbiel, Abeer Obeid. 2017. "Arabization and Its Effect on the Arabic Language." Journal of Language Teaching and Research 8(3):469–75. doi: 10.17507/jltr.0803.04.
Syaifullah, Syaifullah. 2020. "Ta'rib (Arabisasi) Istilah-Istilah Budaya Dalam Majalah Alo Indonesia." Jurnal Penelitian Sejarah Dan Budaya 6(1):78–98. doi: 10.36424/jpsb.v6i1.162.
Wehr, Hans. 1976. "Amara." Arabic English Dictionary.
Wiracmi, Ajeng. 2021. "Apa Itu Metaverse? Mengulik Asal-Usul Metaverse dari Novel Fiksi Ilmiah Snow Crash : Okezone Edukasi." https://edukasi.okezone.com/. Diambil 19 Januari 2022 (https://edukasi.okezone.com/read/2021/12/29/65/2524248/apa-itu-metaverse-mengulik-asal-usul-metaverse-dari-novel-fiksi-ilmiah-snow-crash).
Zaidan. t.t. al-Lughah al-Arabiyyah Kainun Hayyun.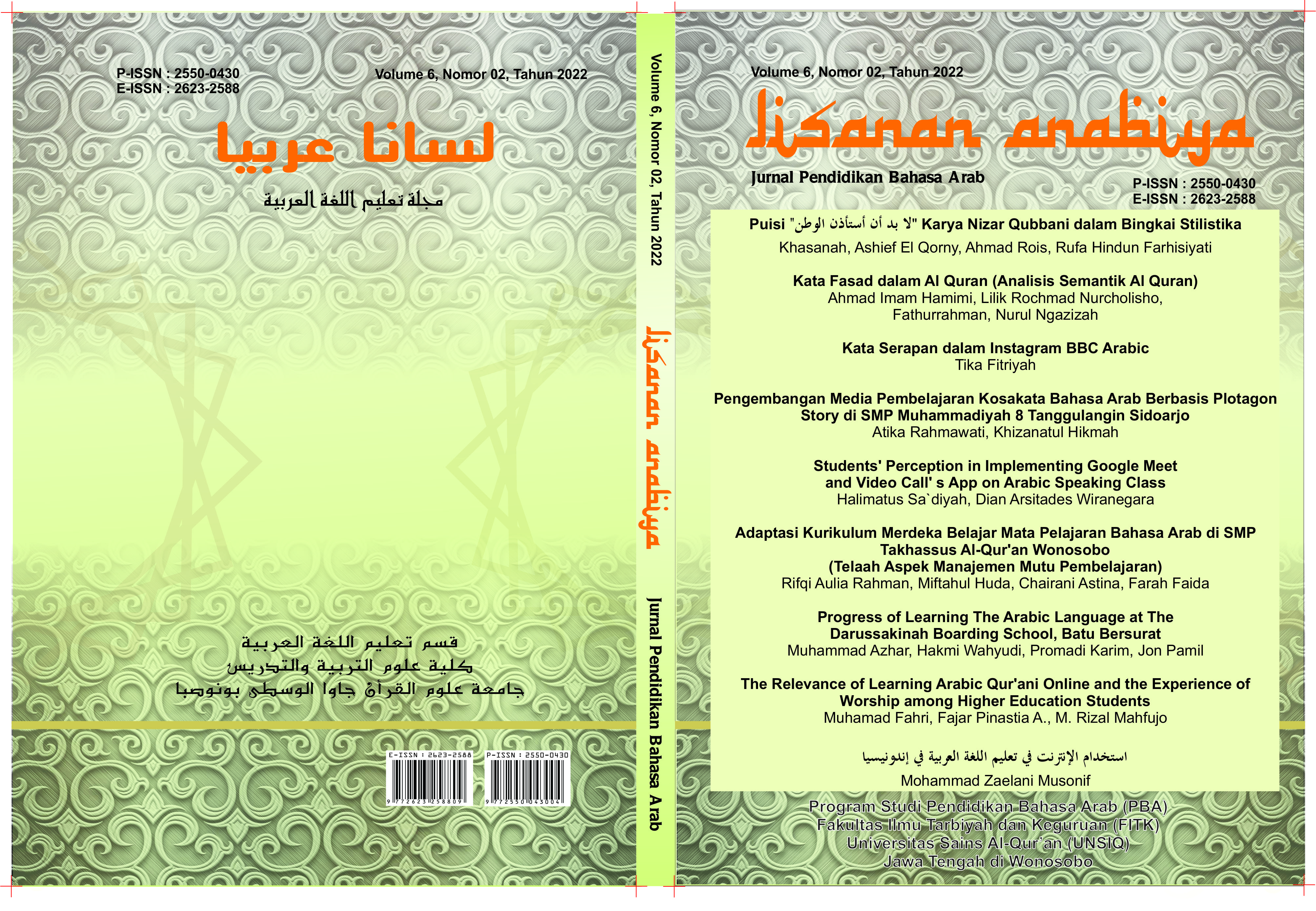 How to Cite
FitriyahT. (2022, December 31). Loanwords in BBC Arabic Instagram. Lisanan Arabiya: Jurnal Pendidikan Bahasa Arab, 6(2), 199-224. https://doi.org/https://doi.org/10.32699/liar.v6i2.3106
This work is licensed under a Creative Commons Attribution-ShareAlike 4.0 International License.
Authors who publish with this journal agree to the following terms:
a. Authors retain copyright and grant the journal right of first publication with the work simultaneously licensed under a Creative Commons Attribution-ShareAlike 4.0 International License. that allows others to share the work with an acknowledgement of the work's authorship and initial publication in this journal.
b. Authors are able to enter into separate, additional contractual arrangements for the non-exclusive distribution of the journal's published version of the work (e.g., post it to an institutional repository or publish it in a book), with an acknowledgement of its initial publication in this journal.
c. Authors are permitted and encouraged to post their work online (e.g., in institutional repositories or on their website) prior to and during the submission process, as it can lead to productive exchanges, as well as earlier and greater citation of published work (See The Effect of Open Access).
STATISTICS
Abstract viewed = 0 times PDF (Bahasa Indonesia) downloaded = 0 times