PELATIHAN AKTIVITAS JASMANI ADAPTIF BERBASIS MERDEKA BERMAIN UNTUK ANAK BERKEBUTUHAN KHUSUS BAGI GURU TK
Keywords:
Adaptive Physical Education, Freedom to Play, Special Needs Children.
Abstract
This public submission aims to provide teachers with knowledge and skills in adaptive physical activity training for inclusive Early Childhood Education institutions by referring to the freedom-to-play principle. The initiative implemented physical activity training and adaptive physical activity designing in the framework of freedom to play based on the children's needs. The community service was limitedly performed offline by imposing safety protocols. It involved 25 teachers who were members of the Kindergarten Education Teachers Association (IGTKI) in Semarang City. All necessary materials, in addition to direct practice of adaptive physical activities and adaptive physical activity designing based on the freedom to play, were given to children with special needs. The public submission activity was smoothly implemented, as it could contribute to providing knowledge for kindergarten teachers in designing and guiding adaptive physical activities for inclusive classes based on the freedom to play.
Downloads
Download data is not yet available.
References
Amirzan; Sumarjono; Jafarudin; Muhammmad; Yahya, M; Lestari, I., & Sports, P. E. (2021). TEACHER ' S ABILITY IN APPLYING ADAPTIVE PHYSICAL EDUCATION LEARNING TO CHILDREN. Kinestetik : Jurnal Ilmiah Pendidikan Jasmani 5, 5(3), 649–656.
Depdiknas. 2006. Permendiknas No.22 tentang Tujuan Pendidikan Jasmani Olahraga dan Kesehatan. Jakarta: Depdiknas.
Hakim, A. R. (2017). Memuliakan Anak Berkebutuhan Khusus Melalui Pendidikan Jasmani Adaptif. Jurnal Ilmiah Penjas, 3(1), 17–27. http://ejournal.utp.ac.id/index.php/JIP/article/view/539
Hurlock, Elizabeth B. (2011). Psikologi Perkembangan : Suatu Pendekatan Sepanjang Rentang Kehidupan. Jakarta : Erlangga.
Jones, R., Okely, A., D. (2020). Physical activity recommendation for early childhood. encyclopedia on early childhood development, early start. Faculty of Social Science: University of Wollongong, pp 1-12.
Kementerian Pendidikan dan Kebudayaan. (2015). Kerangka dasar dan struktur kurikulum 2013 pendidikan anak usia dini. Jakarta: Direktorat Jenderal Pendidikan Anak Usia Dini dan Pendidikan Masyarakat.

Prameswari, T. W. (2020). Merdeka belajar: sebuah konsep pembelajaran anak usia dini menuju indonesia emas 2045. Seminar Nasional Penalaran Dan Penelitian Nusantara, 1, 76–86.
Putri, W. U. (2017). Strategi Pembembelajaran Pendidikan Jasmani Adaptif Bagi Murid Berkebutuhan Khusus di Sekolag Luar Biasa C. Journal of Chemical Information and Modeling, 53(9), 21–25. http://www.elsevier.com/locate/scp
Rahim, A., & Taryatman. (2018). Pengembangan Model Pembelajaran Pendidikan Jasmani Adaptif Bagi Anak Berkebutuhan Di Sekolah Dasar Inklusif Kota Yogyakarta. Trihayu: Jurnal Pendidikan Ke-SD-An, 4(2), 364–368.
Schmutz, E. A., Leeger-Aschmann, C. S., Kakebeeke, T. H., Zysset, A. E., Messerli-Bürgy, N., Stülb, K., Arhab, A., Meyer, A. H., Munsch, S., Puder, J. J., Jenni, O. G., & Kriemler, S. (2020). Motor Competence and Physical Activity in Early Childhood: Stability and Relationship. Frontiers in Public Health, 8(February), 1–8. https://doi.org/10.3389/fpubh.2020.00039
Sukriadi, S., & Arif, M. (2021). Model Pembelajaran Pendidikan Jasmani Adaptif Berbasis Permainan Untuk Anak Tunagrahita Ringan. Jurnal Ilmiah Sport Coaching and Education, 5(1), 12–24.
Utama, Dimas Duta Putra; Sembiring, Fredi Kristian; Wicaksono, L. (2021). Pelaksanaan Pembelajaran Penjas di SLB Kota Bandar Lampung pada Masa Pandemi Covid 19 Tahun 2020. JOSEPHA Journal of Sport Science and Physical Education, 2(1), 37–52.
Widiyanto, W. E., & Galuh, E. P. P. (2021). Pendidikan jasmani adaptif di sekolah inklusif bagi anak berkebutuhan khusus. Sport Science & Education Journal Volume, 2(2), 28–35.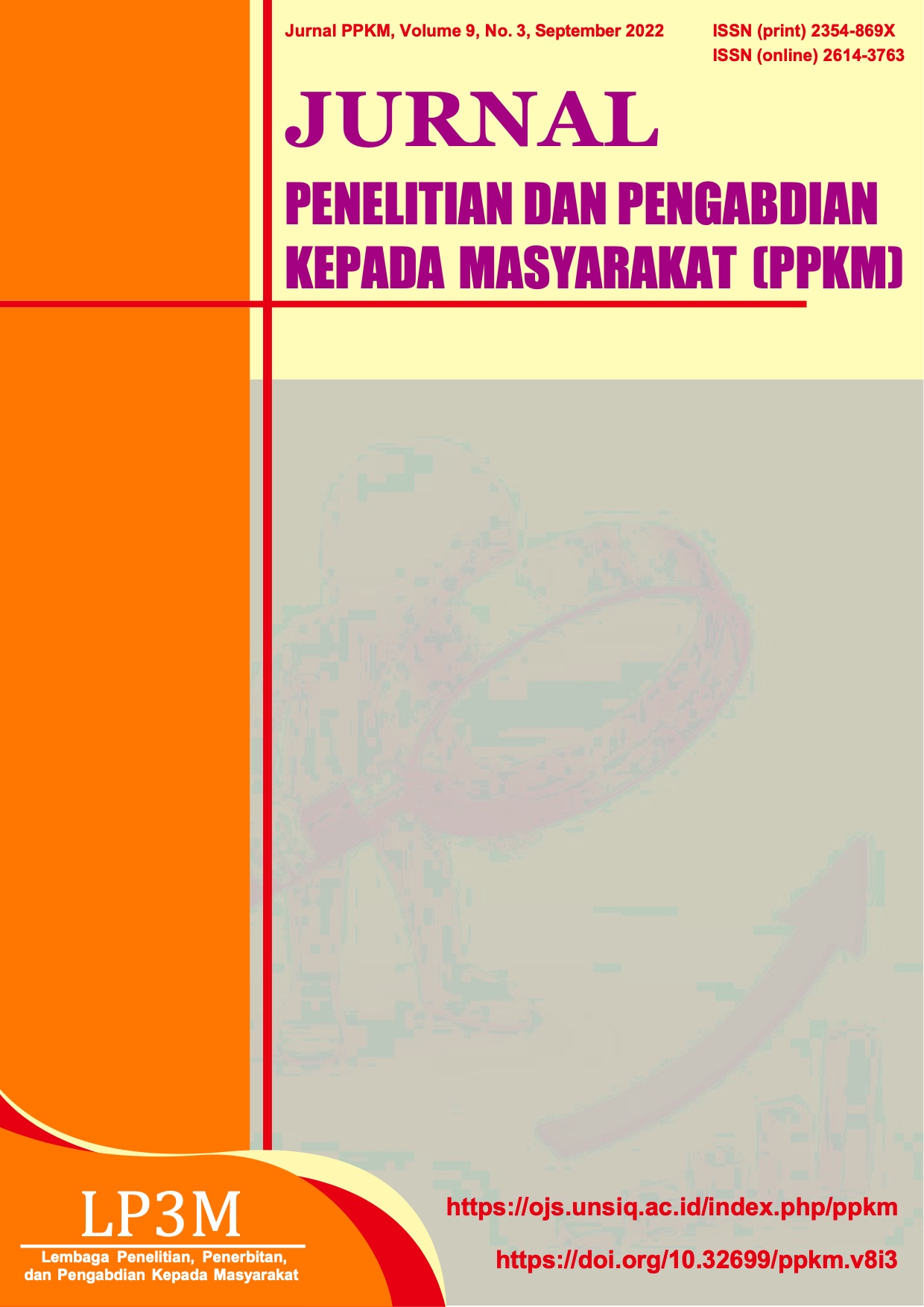 How to Cite
DianaD. (2022) "PELATIHAN AKTIVITAS JASMANI ADAPTIF BERBASIS MERDEKA BERMAIN UNTUK ANAK BERKEBUTUHAN KHUSUS BAGI GURU TK", Jurnal Penelitian dan Pengabdian Kepada Masyarakat UNSIQ, 9(3), pp. 242-248. doi: https://doi.org/10.32699/ppkm.v9i3.3057.
This work is licensed under a Creative Commons Attribution-NonCommercial-ShareAlike 4.0 International License.
STATISTICS
Abstract viewed = 0 times PDF downloaded = 0 times