PENDIDIKAN MORAL AISYAH R.A DALAM BUKU SULAIMAN AN-NADAWI
Siswanto Siswanto

IAIN Curup

Nirna Lensi

IAIN Curup Bengkulu

Ifnaldi Nurmal

IAIN Curup Bengkulu

Eli Susanti

IAIN Curup Bengkulu
Keywords:
Education, Morals, Umul Mukminin Aisyah R.a
Abstract
The purpose of this study is to explain how the concept of moral education contained in Sulaiman An-Nadawi's book. This research is motivated by the need for a solution to overcome the negative impact on the moral field, which currently requires a real person as an example in implementing a moral life. This research is a library research (library research). the main data source is Sulaiman An-Nadawi's book about Aisyah as a Muslim Ummah. The type of data collection in this research is through reading, describing, and reviewing the contents of the book that is being researched or used as a research source, then the type of approach used is content analysis. Sulaiman An-Nadawiini include: (1) The concept of moral education related to God (2) The concept of moral education related to oneself. (3) The concept of moral education related to fellow human beings.
Downloads
Download data is not yet available.
References
Abdul Majid, Diyan Andayani. Pendidikan Karakter Perspektif Islam, (Bandung: PT Remaja Rosadakarya Offset, Cet 2, 2012)
Ardy Wiyani, Novan Pendidikan Karakter Berbasis Iman Dan Takwa, (Yogyakarta:Teras, Cet 1, 2012)
Departemen Agama RI, Al-Quran Dan Terjemahan, (Semarang: Pt. Karya Toha Putra, 1998)
Didin Supardi, dkk, " Konsep Pendidikan Moral Imam Al-Ghazali Dan Relevansinya Bagi Pendidikan Agama Islam Di Indonesia", Jurnal Al-Tarbawi Al- Haditsah 1 No 2, 2017
Hadi, Amirul. Metode Penelitian Pendidikan, (Bandung: Pusaka Setia, 1999)
Hatta, Jauhar, "Pendidikan Moral Qur'ani Dalam Naskah Al-Nfahah Al-Sailaniyyah Al-Minhah Al-Rahmaniyyah Karya Syaik Yusuf", Jurnal Al-Bidayah Pendidikan Dasar Islam 7 No 2, Desember 2015
Hefni, Azizah, Agungnya Taman Cinta Sang Rasul, (Yogyakarta, Saufa, 2016)
Hidayah, Ulil "Rekonstruksi Evaluasi Pendidikan Moralmenuju Harmoni Sosial" Probolingo: Jurnal Pedagogik, 5 (1)
Nursalim, dkk, "Metodologi Pendidikan Agama Islam: Buku Kedua" (Jakarta: Ditjen Kelembagaan Agama Islam, 2002)
Sahara Ziani,. "Pendidikan Karakter Aisyah R. A. Dalam Buku Sirah 'Aisyah Ummul Mukminin R. A. Karya Sulaiman An-Nadawi". Skripsi Fakultas Tarbiyah Dan Keguruan Universitas Islam Negeri Raden Intan Lampung, 2007
Salam, Burhanuddin, "Etika Individual Pola Dasar Filsafat Moral" (Jakarta: Pt Rineka Cipta, Cet 1, 2000)
Sasmita Atmanegara, Weda, Amazing Stories: Kisah Mulia Wanita Surga (Ummul Mukminin) Aisyah (Yogyakarta: Pustaka Al Uswah, Cet 1, 2019)
Tidjani Aisyah, "'Aishah Binti Abu Bakar R.A. Wanita Istimewa Yang Melampaui Zamannya", (Dirosat: Jurnal Of Islamic Studies 1 No 1, Januari-Juni, 2016)
https://regional.kompas.com/read/2020/08/15/10440001/-saling-ejek-gadis-abg-di- solo- diduga-di-bully-9-teman-saksi-ada-yang. Sabtu, 29 agustus 2020 10:18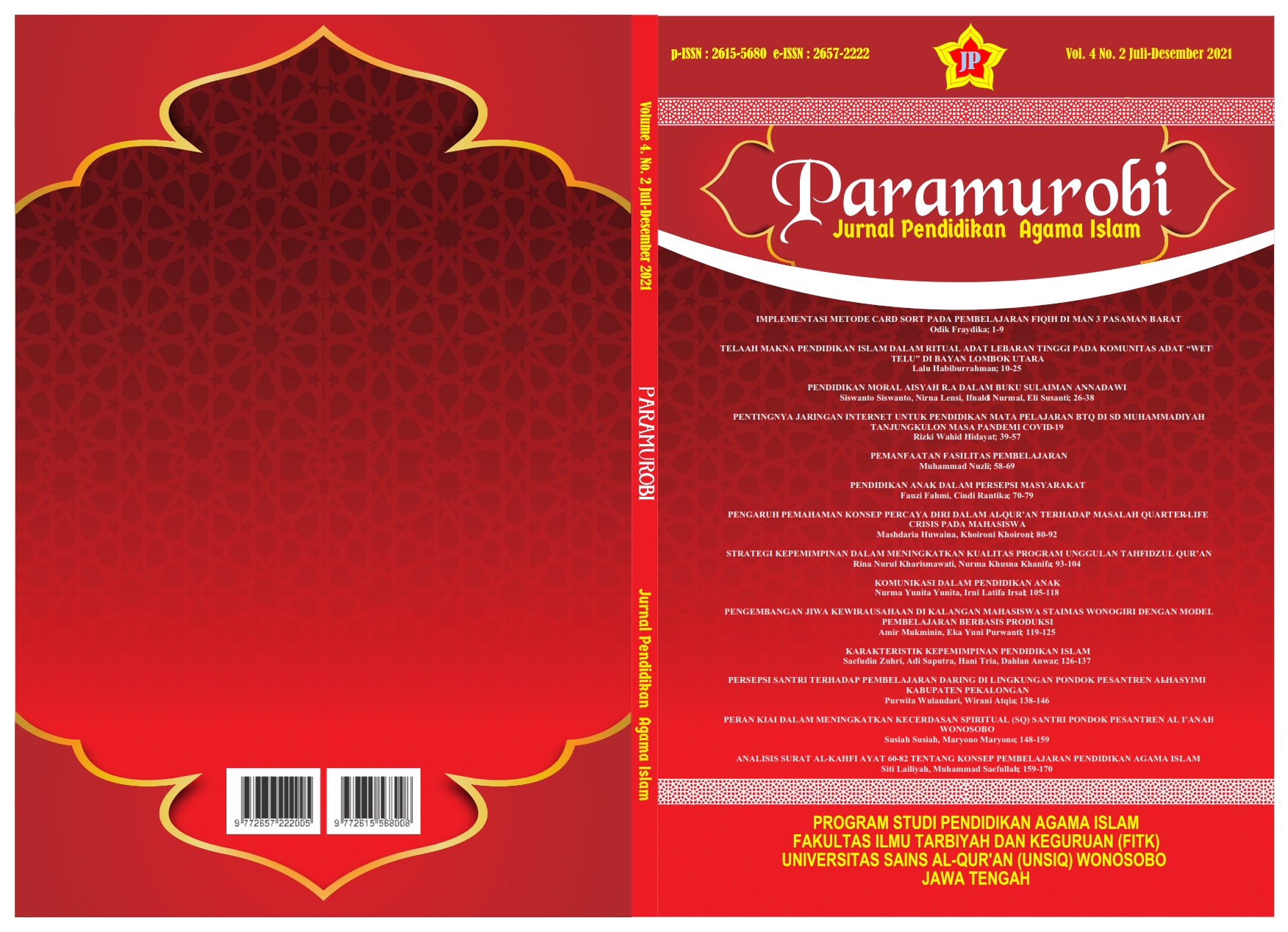 How to Cite
Siswanto, Siswanto, Nirna Lensi, Ifnaldi Nurmal, and Eli Susanti. 2021. PARAMUROBI: JURNAL PENDIDIKAN AGAMA ISLAM 4 (2), 26-38. Accessed August 12, 2022. https://doi.org/https://doi.org/10.32699/paramurobi.v4i2.1906.
This work is licensed under a Creative Commons Attribution-ShareAlike 4.0 International License.
Copyright Notice
1. Authors retain copyright and grant the journal right of first publication with the work simultaneously licensed under a Creative Commons Attribution License (CC BY-SA 4.0) that allows others to share (copy and redistribute the material in any medium or format), and adapt (remix, transform, and build upon the material) the work for any purpose, even commercially with an acknowledgement of the work's authorship and initial publication in this journal.
2. Authors are able to enter into separate, additional contractual arrangements for the non-exclusive distribution of the journal's published version of the work (e.g., post it to an institutional repository or publish it in a book), with an acknowledgement of its initial publication in this journal.
3. Authors are permitted and encouraged to post their work online (e.g., in institutional repositories or on their website) prior to and during the submission process, as it can lead to productive exchanges, as well as earlier and greater citation of published work (See The Effect of Open Access).
STATISTICS
Abstract viewed = 0 times pdf (Bahasa Indonesia) downloaded = 0 times