IMPLEMENTASI MODEL ASSURE DALAM PEMBELAJARAN DARING PADA MATA PELAJARAN BAHASA ARAB DI MI NURUL HIDAYAH
Rachma Nika Hidayati

UIN Sunan Ampel Surabaya
Keywords:
Learning Media, Model ASSURE
Abstract
In the learning process, the presence of the media has a fairly important meaning. The ambiguity of the material or material presented in learning can be helped by presenting the media as an intermediary. Learning media are all tools and materials that can be used for educational purposes such as radio, television, books, newspapers, magazines, and so on. Learning media serves to enhance children's absorption and retention of learning materials because the success of learning is largely determined by two main factors, namely methods and media. The ASSURE model is one of the guidelines and planning that can help for how to plan, identify, determine goals, choose methods and materials, and evaluate. The purpose of this study was to apply the Assure model in online learning in Arabic subjects.
Downloads
Download data is not yet available.
References
Ali,Muhammad,"PengembanganMediaPembelajaranInteraktif,"JurnalEdukasi,25.
Arsyad,Azhar,Media Pembelajaran,Yogyakarta: Ar-Ruzz Media, 2015.
Badaruddin, Muhammad Afandi, Perencanaan Pembelajaran, Bandung: Alfabeta, 2011.
Baharun,Hasan,"PemikiranPendidikanPerspektifFilsufMuslim(KajianKritisTerhadap PemikiranMuhammadAbduhDanMuhammadIqbal,"JurnalAt-Turas;JurnalStudiKeislaman 3, No. 1 (2016).
Baharun,Hasan,"Pengembangan Media Pembelajaran PAI Berbasis Lingkungan Melalui Model ASSURE,"Jurnal Cendekia;JurnalStudiKeislaman Vol 14, No. 2 (2016).
BasyiruddinUsman,Asnawir, MediaPembelajaran,Jakarta:CiputatPers,2002.
Deborah L. Lowther, Dan James D. Russell,Sharon Smaldino,Teknologi Pembelajaran Dan Media Untuk Belajar, Jakarta: Kencana, 2011.
Fathurrohman,Muhammad Model-Model Pembelajaran Inovataif: Alternatif Desain Pembelajaran Yang Menyenangkan, Yogyakarta: Ar-Ruzz Media, 2015.
Komsiyah,Indah,Belajar Dan Pembelajaran, Yogyakarta: Teras, 2012.
Pribadi,Benny AModel ASSURE Untuk Mendesain Pembelajaran Sukses, Jakarta: Dian Rakyat, 2011.
Sadiman,AriefS.MediaPengajaranPengertian,Pengembangan,DanPemanfaatannya, Jakarta: PT. Raja Grafindo Persada, 2009.
Salma Prawiradilaga,Dewi,Prinsip Desain Pembelajaran, Jakarta: Prenada Media Group, 2009.
Sanjaya,WinaPerencanaanDanDesainSistemPembelajaran,Jakarta:KencanaPrenada Media Group, 2010.
Sardiman,Arief,MediaPendidikan,Jakarta:PT.RajaGrafindoPersada,2005.
Smaldino Dkk, Instructional Technology And Media For Learning, New Jersey: Pearson Education, 2008.
Uno,HamzahB.,TekhnologiKomunikasiDanInformasiPembelajaran,Jakarta:Bumi Aksara, 2011.
Zainiyati,Salamah Model Dan Strategi Aktif Teori Dan Praktek Pembelajaran Pendidikan Agama Islam, Tk: Putra Media Nusantara.
Benny A Pribadi, Model ASSURE Untuk Mendesain Pembelajaran Sukses, Jakarta: Dian Rakyat, 2011.
Zhafira, ertika & chaririyaton, persepsi mahasiwa terhadap perkuliahan daring sebagai sarana pembelajaran, jurnal bisnis dan kajian strategi manajemen, vol 4 no 1.
Nasution S, Berbagai Pendekatan Dalam Proses Belajar & Mengajar, Jakarta: Bumi Aksara, 2011.
Slameto, Belajar Dan Faktor-Faktor Yang Mempengaruhinya, Jakarta: Rineka Cipta, 2003.
Hamzah B. Uno, Perencanaan Pembelajaran, Jakarta: Bumi Aksara, 2006.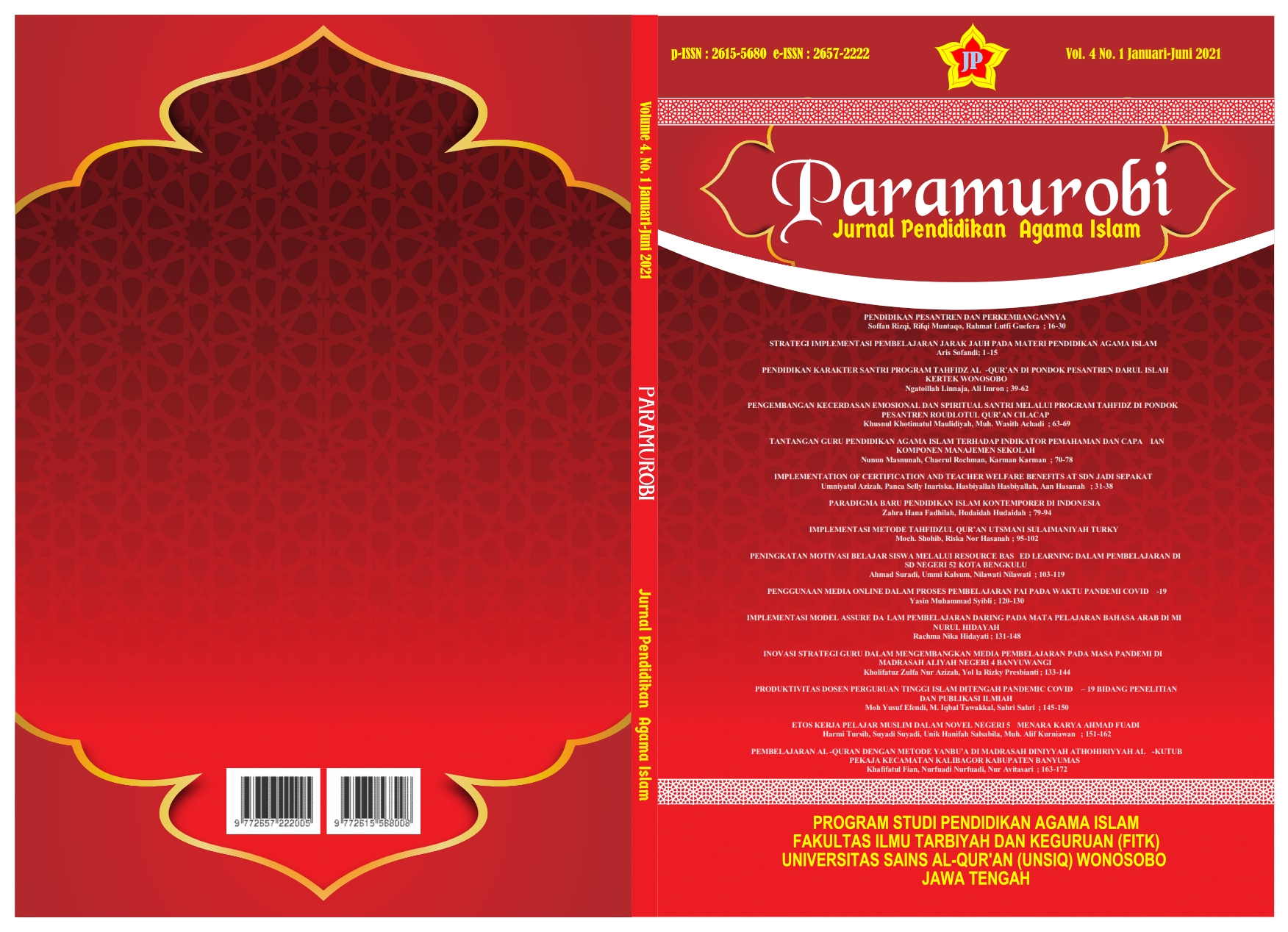 How to Cite
Hidayati, Rachma. 2021. PARAMUROBI: JURNAL PENDIDIKAN AGAMA ISLAM 4 (1), 131-48. Accessed December 10, 2023. https://doi.org/https://doi.org/10.32699/paramurobi.v4i1.1829.
This work is licensed under a Creative Commons Attribution-ShareAlike 4.0 International License.
Copyright Notice
1. Authors retain copyright and grant the journal right of first publication with the work simultaneously licensed under a Creative Commons Attribution License (CC BY-SA 4.0) that allows others to share (copy and redistribute the material in any medium or format), and adapt (remix, transform, and build upon the material) the work for any purpose, even commercially with an acknowledgement of the work's authorship and initial publication in this journal.
2. Authors are able to enter into separate, additional contractual arrangements for the non-exclusive distribution of the journal's published version of the work (e.g., post it to an institutional repository or publish it in a book), with an acknowledgement of its initial publication in this journal.
3. Authors are permitted and encouraged to post their work online (e.g., in institutional repositories or on their website) prior to and during the submission process, as it can lead to productive exchanges, as well as earlier and greater citation of published work (See The Effect of Open Access).
STATISTICS
Abstract viewed = 151 times pdf (Bahasa Indonesia) downloaded = 134 times