Perkembangan Konsep Pendidikan Bahasa Arab di Asia Tenggara
Ihsan Sa'dudin

IAIN Syekh Nurjati

Eka Safitri
Keywords:
Arabic Language Education, Southeast Asia
Abstract
Arabic education is a necessity for people who are Muslim. Islam is spread throughout the world including the Southeast Asian region. Southeast Asia, which includes the Philippines, Brunei Darussalam, Malaysia, Indonesia, Singapore and others who have a majority Muslim population. Islam entered the region peacefully, making it easier for development and its spread. The development and spread of Islam along with learning Arabic, because Arabic is the language of the Muslim holy book. However, the provision of education and learning in Arabic varies from country to country even though it is still in one region of Southeast Asia. The concepts of Arabic language education applied are strongly influenced by the state of government in these countries.
Downloads
Download data is not yet available.
References
Abdurrahman, Dudung. Sejarah Peradaban Islam dari Masa Klasik Hingga Modern. Yogyakarta: LESFI, 2009.
Assegaf, Abdur Rahman. Pendidikan Islam di Indonesia. Yogyakarta: SUKA Press, 2008.
Daulay, Haidar Putra. Dinamika Pendidikan Islam Di Asia Tenggara. Jakarta: Rineka cipta, 2009.
Effendy, Ahmad Fuad. Metodologi Pengajaran Bahasa Arab. Malang: Misykat, 2009.
Haris, A. Faidi. Mozaik Sejarah Islam. Yogyakarta: Nusantara Press, 2011.
Hasbullah. Sejarah Pendidikan Islam di Indonesia; Lintasan Sejarah Pertumbuhan dan Perkembangan. Jakarta: Grafindo Persada, 1994.
Karim, Abdul. Sejarah Pemikiran dan Peradaban Islam. Yogyakarta: Pustaka Book Publisher, 2007.
Mansur & Mahfud Junaedi. Rekonstruksi Sejarah Pendidikan Islam di Indonesia. Jakarta: DEPAG, 2005.
Nizar, Samsul. Sejarah dan Pergolakan Pemikiran Pendidikan Islam (Potret timur Tengah Era awal Indonesia). Ciputat: Quantum Teaching, 2005.
Suryanta, Sri. Sejarah dan Khazanah Pendidikan Islam. Banda Aceh: Diandra Primamitra Media, 2012.
Yatim, Badri. Sejarah Peradaban Islam. Jakarta: Grafindo Persada, 1998.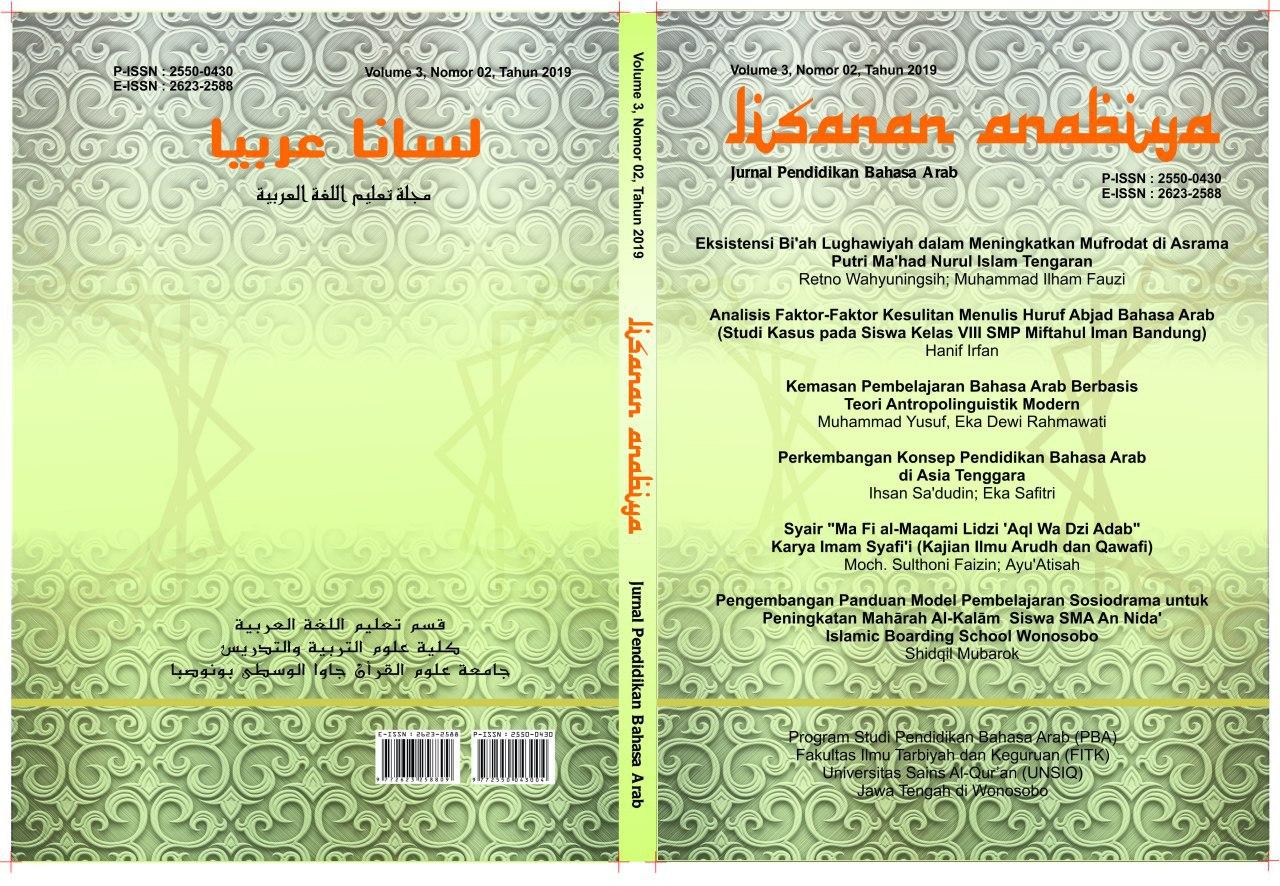 How to Cite
Sa'dudinI., & SafitriE. (2020, April 9). Perkembangan Konsep Pendidikan Bahasa Arab di Asia Tenggara. Lisanan Arabiya: Jurnal Pendidikan Bahasa Arab, 3(2), 177-191. https://doi.org/https://doi.org/10.32699/liar.v3i2.1201
This work is licensed under a Creative Commons Attribution-ShareAlike 4.0 International License.
Authors who publish with this journal agree to the following terms:
a. Authors retain copyright and grant the journal right of first publication with the work simultaneously licensed under a Creative Commons Attribution-ShareAlike 4.0 International License. that allows others to share the work with an acknowledgement of the work's authorship and initial publication in this journal.
b. Authors are able to enter into separate, additional contractual arrangements for the non-exclusive distribution of the journal's published version of the work (e.g., post it to an institutional repository or publish it in a book), with an acknowledgement of its initial publication in this journal.
c. Authors are permitted and encouraged to post their work online (e.g., in institutional repositories or on their website) prior to and during the submission process, as it can lead to productive exchanges, as well as earlier and greater citation of published work (See The Effect of Open Access).
STATISTICS
Abstract viewed = 8 times PDF downloaded = 9 times